Whether a spacious ensuite or a curated powder room, the bathroom is a space replete with design possibilities. A place for reflection and rejuvenation, the bathroom deserves to be thought of as the retreat it is. Implementing savvy design choices in your bathroom can transform your morning routine, turning the space into a point of inspiration and leaving you refreshed for the day.

Ensure your bathroom keeps pace with the rest of your design-forward home via strategic updates, taking cues from these of-the-moment trends.
Dynamic Wallpaper and Tiles

Delicate artwork in the bathroom can be at risk of moisture damage, making wallpaper or tile the perfect solution for homeowners looking for a splash of the creative. Alongside traditional subway tile, Moroccan tiles in starburst patterns and colourful mosaics bring life to smaller rooms, and can also brighten up a bathroom that is lacking in windows. This Toronto condo uses geometric marbled tile to add a bit of intrigue to a sophisticated space; in place of a monochromatic slate-grey palette, the marble adds depth and texture. For a less intensive project, consider incorporating dynamic wallpaper behind the vanity or on a statement wall. Geometric, Art Deco-style patterns are glamorous and chic; for a bold look, opt for graphic Missoni-inspired prints or bright, layered florals. Choose paper that has been designed for high-humidity rooms in order to extend the life of your décor.
High-Impact Mirrors

Standard, rectangular-framed mirrors are a classic for a reason, but for drama, add new shapes to your bathroom's reflective surfaces. The vanity often acts as a focal point in a bathroom, so play up this surface with a mirror that doubles as art. A half-moon glass adds a whimsical, geometric element, while circular mirrors framed with leather or wood feel modern and warm. Ornate mirrors can be paired to balance out space; echo the metals of your fixtures in your frames to lend a sophisticated, classical touch to your room.
Vintage-Inspired Fixtures

What's old is new again when it comes to bathroom design. Refined details—think brass and gold piping, traditional basin taps, and baroque light fixtures—are a great way to give your bathroom a bit of decorative clout. Use fixtures that complement each other to create a cohesive design: pair an antique-inspired gold shower head with a matching basin faucet, or an Edison bulb brass light fixture with equally industrial towel racks.

Alongside more modern choices like sleek marble and invisible glass shower walls, vintage detailing stands out as a luxe and polished choice. Freestanding clawfoot tubs are ideal for long soaks and add an air of Victorian refinement, while pedestal sinks are a welcome departure from the standard vanity install.
Industrial Influence

Industrial design has been having a moment, and deservedly. Borrow from this aesthetic when inviting freshness into your bathroom: architectural elements like metal shower framing and brushed steel mirror edges can keep a space from feeling fussy. Dynamic wood can also give your bathroom a bit of an edge, whether through blocky wood countertops or a slatted accent wall: wood detailing is just as striking in a downtown urban warehouse as in a country powder room. Pewter fixtures, deep industrial basins, and visible shower piping—an element used in this home in North Vancouver—are distinctive design choices that are both utilitarian and stylish.
Bold Black

Don't shy away from the dark—black may seem a daring choice for a bathroom, but it's one that pays off in drama. Sophisticated and impressive, intense black can actually be a very warm—and versatile—colour. For the full effect, don't hold back: a fully-saturated black wall can set the stage for softer details like gold fixtures, chandelier lighting, and cream floor tiles. Temper the all-black with a dark marble countertop with white veins—Nero Marquina is an excellent place to start—or an equally moody wallpaper with lush detailing. Opting for dark tiles, a focal wall, or midnight fixtures instead of a floor-to-ceiling wash of black will also evoke a sense of theatre.
Pastel Palettes

At the other end of the colour spectrum, pastel tones are proving to be a major trend in bathroom design. From pale pink tubs to strawberry tiles, light and playful shades are a creative way to enliven bathroom spaces and put a bit of pep in your morning routine. Evoking the whimsy and glamour of Art Deco-era Miami, these hues are a great way to brighten up a room, and are complemented by metallic gold fixtures and punchy florals.

Infuse your bathroom design with timeless appeal by giving it the high-contrast treatment. Show-stopping detailing, strong colour choices, and artful touches that are meant to withstand time—these are the crucial components for today's most stylish bathrooms, turning functional spaces into refined and elegant settings.
---
Looking for more design inspiration? Peruse ideas from the experts on the Sotheby's International Realty Canada Insight Blog. This article was initially published on May 27, 2019 and updated June 23, 2021.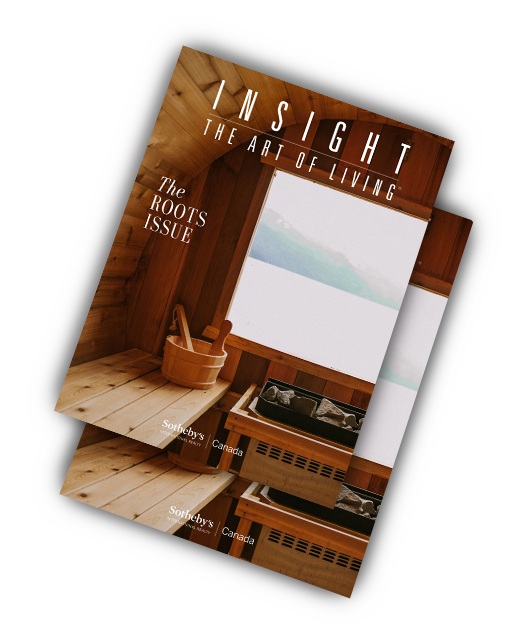 Recevez un abonnement gratuit au
magazine INSIGHT