With design-forward hotels popping up on every corner of the globe, it can sometimes be hard to choose where to land—and even harder to leave at the end of your stay. Resorts are prioritizing not only a sense of relaxation but are also balancing authenticity and a sense of communion with the environment. It's not enough to offer basic amenities anymore; seasoned travellers are looking for spaces with a story to tell. From unique architectural builds to environmentally-conscious practices to sleek and smart interiors, luxury hotels have become destinations unto themselves.

And for the traveller who wants to put up their feet at home in the same comfort as abroad, bring the luxury experience home with design tips borrowed from the most design-savvy resorts on the map.
Pay Homage to Artisanal Craft

Be it ornate rugs, hand-thrown pottery, or intricately-beaded pendant lamps, design is in the details. Resorts like the Anantara Tozeur in Tunisia, opening in late 2019, celebrate both local artisans and ancestral traditions by incorporating design elements that reflect Tunisian culture. The hotel's surroundings—oasis villages and shimmering desert landscapes—have served as its primary design inspiration, evident in the sand-toned walls and marble walkways.

Whether you source handcrafted soft furnishings and sculptures on your travels or stay closer to home with work by artists in your own community, bringing in the specific and bespoke can result in a living space that feels personal, and supremely soothing.
Honour Industrial Elements

The storied Warehouse Hotel in Singapore gives industrial design a new, unexpected spin. The designers embraced the building's history as a spice warehouse in the Straits of Malacca trade route and as a disco in the 1980s and gave it new life as a boutique hotel. The heritage aspects of the building, like the interior brickwork walls and vaulted ceilings, make the perfect backdrop for more elevated elements like caramel-coloured leather seating and a bar constructed out of steel plumbing pipes. Earthy tones and unique light fixtures made from old film reels make the space feel more thoughtful and less trendy. It's an esthetic easily brought into today's urban lofts and condos.

Line your living space with the trappings of the past—crisp whites, grays, and blacks can turn a blank canvas into a tonal escape, while exposed bulb chandeliers and repurposed furnishings make the most of industrial chic.
Layer High-End Textiles and Textures

Layered textures, patterns, and fabrics are the mark of a well-thought-out design and are an important part of what makes the leading luxury hotels so extraordinary. Setting the bar continually high on sophisticated travel, The Plaza Hotel offers an array of rooms where the textile choices are beyond compare. Of note is The Fitzgerald Suite King, designed by Oscar-winning production and costume designer Catherine Martin, where a mix of moody curtains, pillows, and carpets usher the graphic motifs of Art Deco into the present. The Royal Suite Three Bedroom has hosted heads of state, and its velvet seating, white linens, and herringbone floors offer visual depth to its classic décor.

Infuse your own residence with the refined luxe of The Plaza with patterns in complementary shades, furniture finished in lush fabrics, and dynamic floors paired with bold area rugs. When it comes to textiles, it's tempting to agree with the world's top hotels: more is more.
Indulge in Unconventional Color Palettes

Minimal design is having a moment, but sometimes it's refreshing to see designers embrace their more irreverent side and indulge in a little colour maximalism. Take your cues from the Fendi Private Suites, situated above the house's flagship store in Rome, where the Palazzo Privé is clad almost entirely in cloudy teals and greens. In the suites, red-backed lightboxes and earthy marble add presence to neutral walls, while on the top two floors, in-house restaurant Zuma serves Japanese fusion against a backdrop of live-edge wood, vibrant citrus tiles, and scrolling patterns across light fixtures and counters.

While it's easy to think of white when it comes to relaxing design, there is much to be said for rich hues; try a saturated tone in your living spaces to welcome in the ambiance of an international destination.
Mix Antique and Contemporary

If it's historical elegance you're after, then Paris' Ritz Hotel is the pièce de résistance. For those looking for something that strikes a balance between the old and the new, the Saint James Hotel is the ticket. Built-in 1892 on the site of Paris' first aerodrome, the mansion embraces its history while incorporating updated, eclectic design details. A fresco is complemented by a crown-shaped light fixture in one room, while wall-to-wall damask wallpaper and curtains are met with mirrored doors and a sculpted chandelier in another. Take a page from the Saint James and mix stand-out antique pieces like a carved wooden vanity with more modern or unconventional elements, like a mid-century coffee table or zebra-patterned lampshade.

No matter how long your sojourn, hotels serve as your home away from home. A good one will provide you with a comfortable stay; a great one can inspire your rooms for the rest of the year.

---

This article was originally published on Sotheby's International Realty's Extraordinary Living Blog and has been adapted for Sotheby's International Realty Canada's INSIGHT Blog.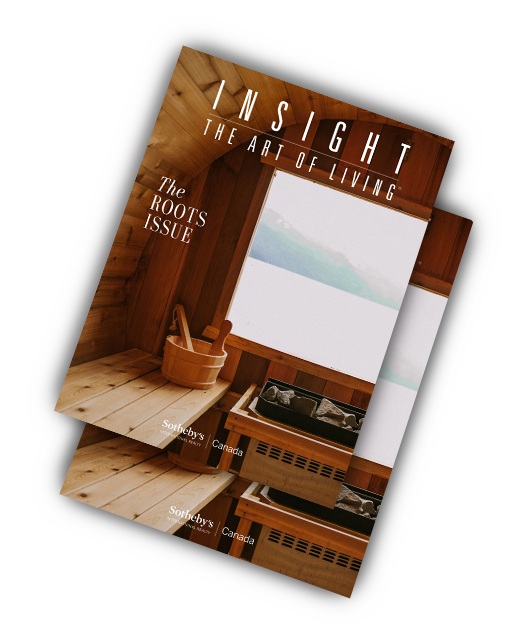 Recevez un abonnement gratuit au
magazine INSIGHT