One of the reasons the Hollywood set loves filming in Vancouver — aka Hollywood North — is because this Canadian city is blessed with bountiful natural beauty. Lovely movie-set locales aside, however, a slew of other factors ranks Vancouver right up there among the best places in North America to live in, as well as to visit.

A perfect backdrop for alfresco living, the moderate climate is enhanced by expanses of glorious parkland and magnificent vistas. And much like San Francisco, the city is positioned on the Pacific coast, which opens it up to diverse culinary influences that range from Asian and contemporary Canadian to German and Latin. Celebrity chef Vikram Vij, who was born in India, has singlehandedly revolutionized the local South Asian food scene. His mini-empire of fine-dining and casual spots — Vij's Restaurant, Vij's Rangoli, Vij's Sutra and My Shanti — follow traditional Indian cooking techniques but with a focus on fresh local ingredients. David Hawksworth, another high-profile award-winning chef, is acclaimed for his creative approach to Pacific Northwest cuisine. His stand-out dishes, which include hamachi ceviche with seaberry and jalapeño, and duck breast with a crisp duck croquette, are served up at his eponymous restaurant in the chic Rosewood Hotel Georgia. Divvied up into uniquely designed intimate spaces, Hawksworth Restaurant echoes the chef's innovativeness, evidenced by the décor — a dramatic heart-and- butterflies diamond-dusted silkscreen print by conceptual artist Damien Hirst.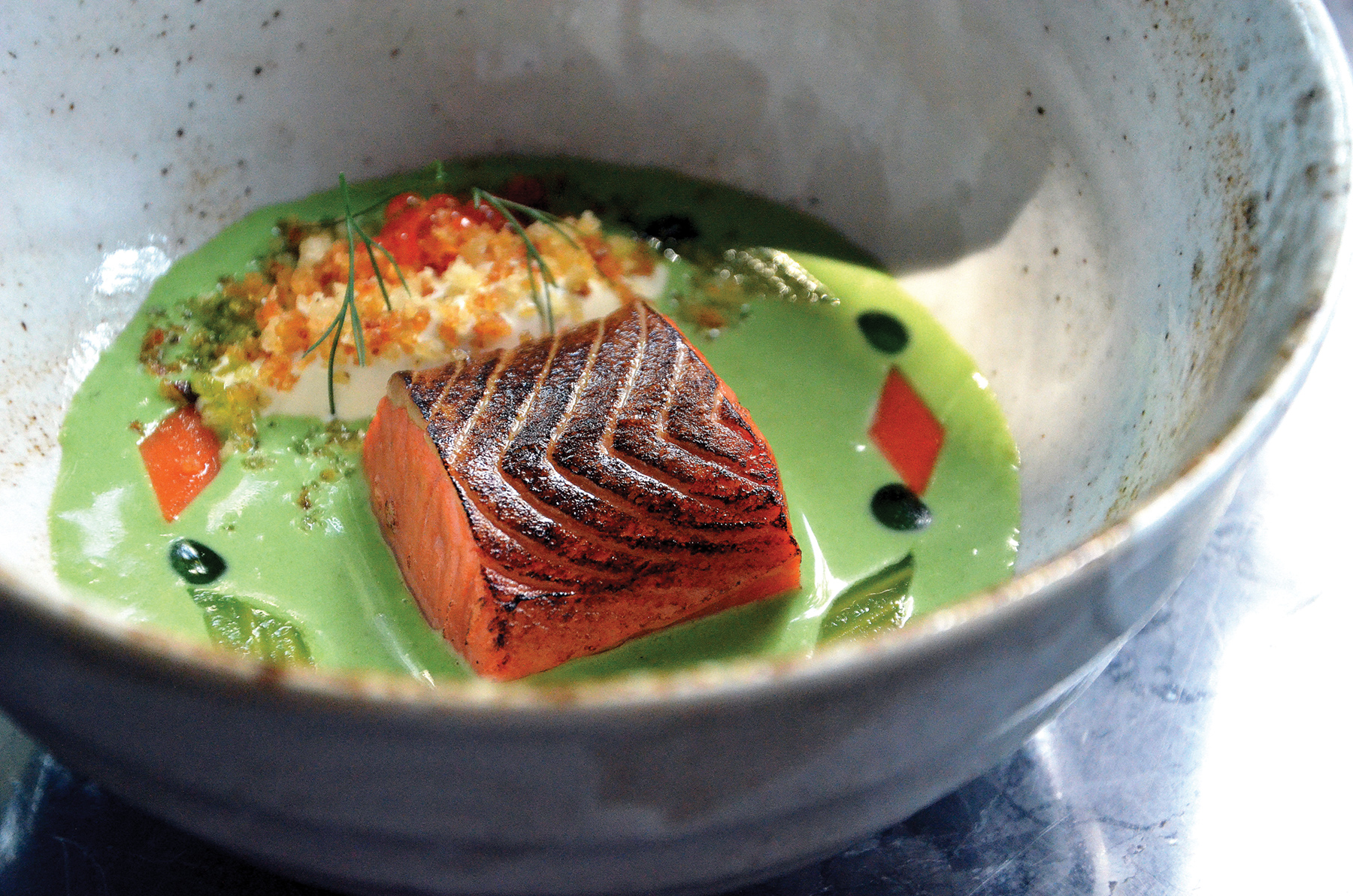 Bauhaus Restaurant in Gastown serves West Coast-influenced mod-Euro dishes
For well-executed mod-German food, head over to Bauhaus Restaurant, located in the historic Boulder Hotel in the gritty-edged Gastown district. Owned by well-known retired filmmaker Uwe Boll, Bauhaus offers à la carte alongside four- and six-course tasting menus, all anchored around premium local ingredients. Opt for spot-prawn tartare with pale pink ginger broth or the pork Zwiebelrostbraten infused with a fine onion broth instead of being bathed in it, which is the classic version. This dining spot's European wine list is among the best in town.

Excellent casual-dining alternatives await at Tacofino Taco bar (mouthwatering West Coast– inspired Mexican food), Banana Leaf (authentic Malaysian), Purebread bakery (truly-fresh- from-the oven goodies) and, for seriously good ramen, Marutama and Taishoken.

In keeping with Vancouver's relaxing West Coast–style ambience, be sure to carve out enough time to enjoy its green spaces, in particular, the ever-popular Stanley Park — a spectacular 400-hectare (988-acre) natural urban oasis of magnificent trees, including a 600-year-old Douglas fir, numerous nature trails, beaches and an aquarium right in the city centre. View the park's iconic seawall, a crucial component of the city's 28-kilometre (17-mile) Seaside Greenway, the longest pathway of its kind in the world.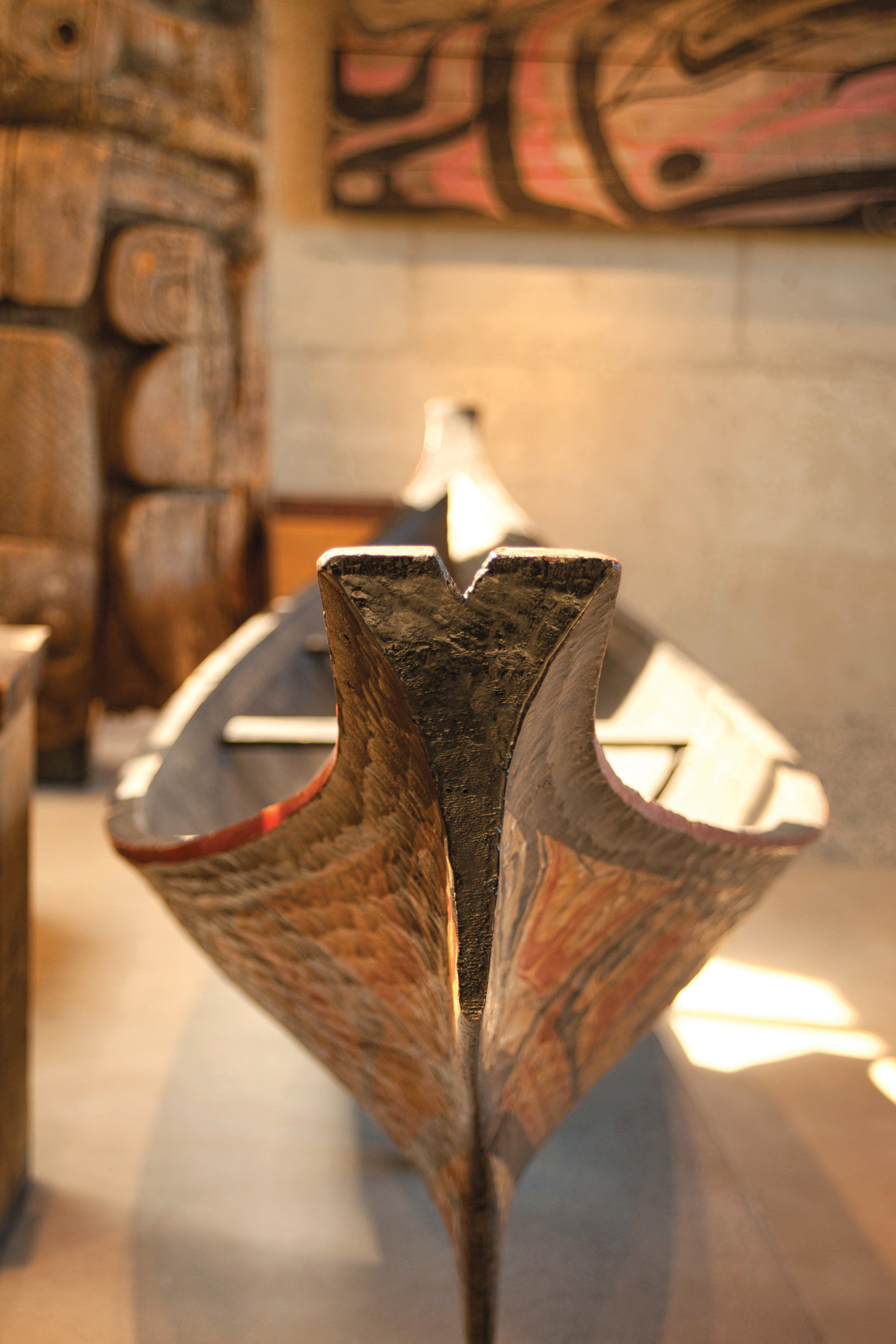 The Museum of Anthropology is known for showcasing First Nations Artworks
Retail therapy is available, front and centre, at the Luxury Zone, situated along Alberni Street, where flagship stores of well-known global brands like Prada, Burberry, Jimmy Choo and Rolex have put down roots, as has Canada's own Holt Renfrew on Dunsmuir. For unique finds, go to Roden Grey in Gastown to browse, say, well-curated menswear at Oak + Fort, which features Canadian designs, and the "street-inspired' shoes at local cult favourite STR/KE MVMNT.

Cultural arts aficionados will appreciate the city's 50 theatre groups and Vancouver Opera, the second-largest opera company in Canada. Time your visit, if you can, to coincide with two major cultural events in the fall — the 16-day Vancouver International Film Festival and the 10-day Fringe Festival on bucolic Granville Island. The Fringe, which turns 35 years old in 2019, presents some 700 performances in front of 40,000-plus visitors and fans and includes up-and-coming theatre companies and new video series.
Find the time too to drop by the Vancouver Art Gallery, located in a stately neo-classical building downtown, and the Museum of Anthropology, which was designed by native son and late architect Arthur Erickson and which showcases the cultural heritage of the region's First Nation communities. Part of the woodland campus of the University of British Columbia, the museum features a serene Japanese tea garden, Haida houses and poles, plus a jaw-dropping, albeit kid-friendly, walkway suspended high above the lush forest canopy.
---
By Chris Taylor – *This article originally appeared in INSIGHT: The Art of Living | Winter 2018

Photography by: Tourism Vancouver;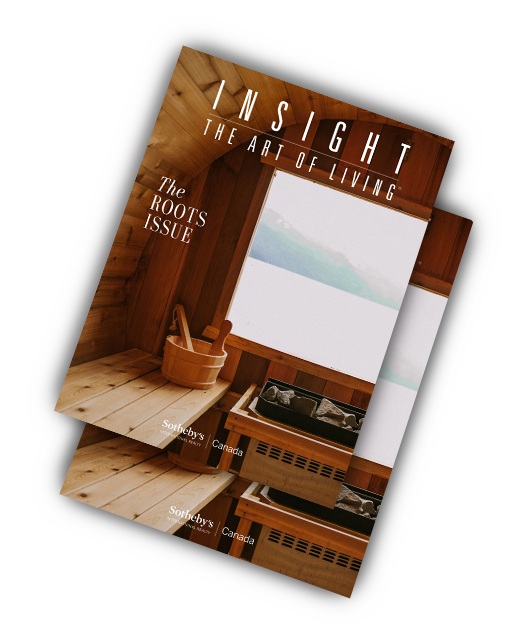 Recevez un abonnement gratuit au
magazine INSIGHT