If your world appears a lot more colourful of late, thank the muralists. Over the past several years, murals have emerged as an attention-getting art form with a lot of cachet, taking over entire walls inside and out at galleries, restaurants, hotels and public spaces across the country. What's even better is that it's a genre where female artists are leading the charge — a visual manifestation of the current cultural zeitgeist.

Once maligned as a dubious practice, street art has exploded in the digital age as a social media-friendly way to draw attention to neighbourhoods, causes and culture. Montreal has been holding its annual MURAL Festival since 2012, an 11-day celebration that has contributed around 80 major works to the area along Saint Laurent Boulevard. In Vancouver, August is when the city's annual Mural Festival takes place in the Mount Pleasant neighbourhood, while in the Rockies, artists participating in Calgary's Beltline Urban Murals Project have painted about 15 new murals since 2017. Meanwhile, Toronto's famous Graffiti Alley has become a tourist destination in its own right and a regular feature in walking tours organized by the Art Gallery of Ontario.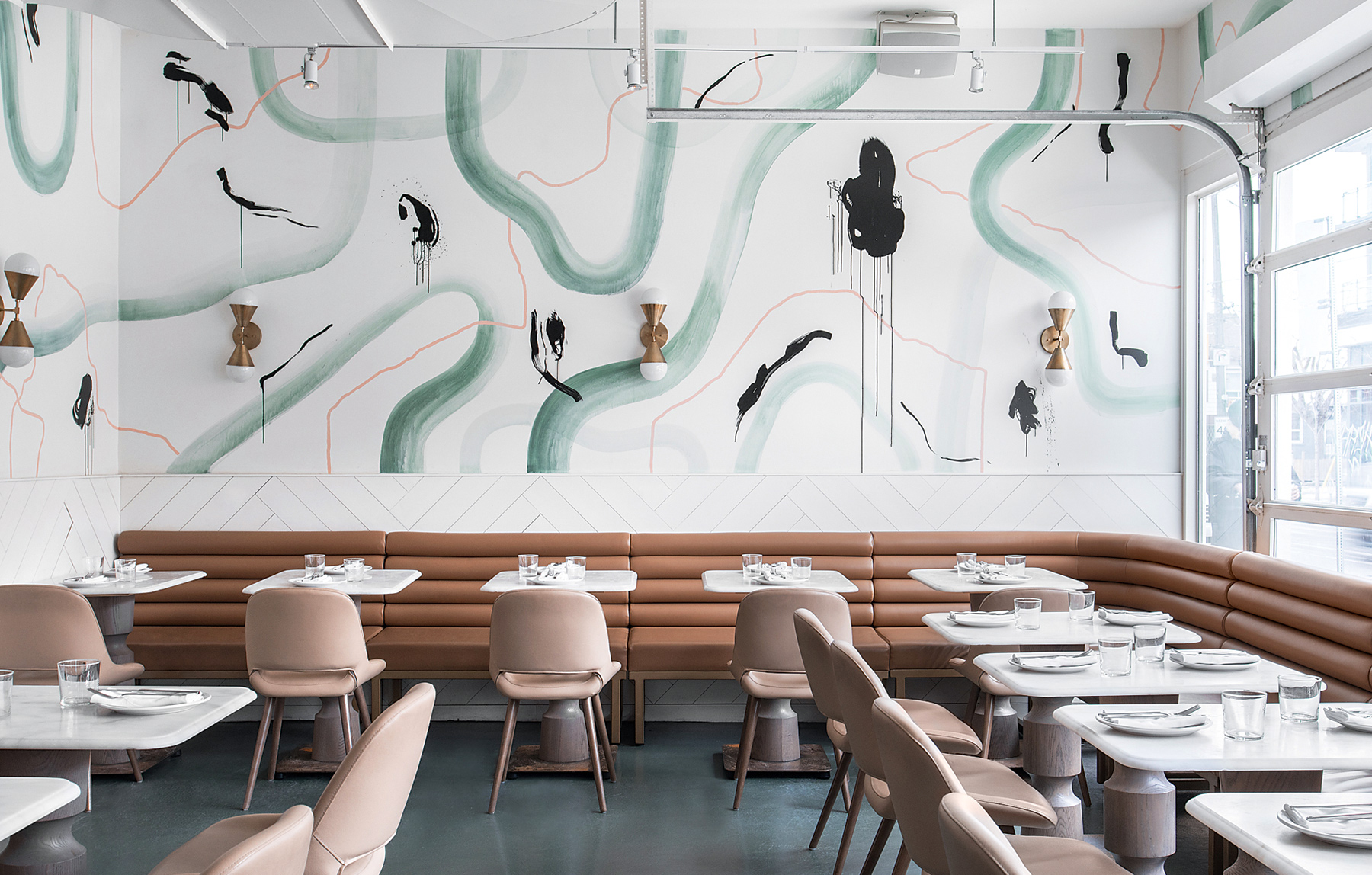 Large brushstrokes in mint green and pink by Madison van Rijn is one of the highlights at Toronto restaurant La Palma.
In Toronto's restaurant scene, many of the most buzzed-about hot spots are as recognizable for their one-of-a-kind murals as they are for their cuisine. "Companies are really trying to [give] back to the customer [by providing] a genuine experience in a genuine space. More importantly, I think people are looking to find something that's unique," says Madison van Rijn, a Toronto-based artist whose work can be seen at restaurants around town, including Bar Isabel, El Rey and La Palma and at the recently opened Avling Brewery & Restaurant. Earlier this year, van Rijn was tapped by the DesignAgency studio to create an 18.5-by-25-foot mural on the ceiling of Louix Louis, a new restaurant located on the 31st floor of luxury hotel The St. Regis Toronto. "Essentially, the whole thing is based around being in a glass of whisky," she says of her mural. "It's definitely the most opulent and involved one I've ever done."

For Allen Chan, founding partner at DesignAgency, murals have always been a part of how his team considers design. "They add texture [and] ambiance and can also be used to create a unique and memorable moment that underscores the history or theme of a place."

Nowhere is that moment more apparent than at The Drake Hotel in Toronto. This West Queen West staple has had a revolving cast of murals since it opened its refurbished doors in 2004, including a new lobby design by artist Anna Valdez that was unveiled this past December. For Mia Nielsen, curator and head of cultural programming at The Drake, the walls offer an exciting stage for emerging artists to push their craft on a large scale. "They don't get to do that every day," says Nielsen. "These large spaces [create] opportunities for artists to really push their work and to experiment with ideas."

When the Drake Mini Bar opened in the city's downtown last May, Nielsen commissioned artist Rajni Perera to create a custom wall-to-wall mural. "I was thinking about new money in the city and people of colour taking up the space of the arbiters of style and luxury and glamour," says Perera of her warm jewel-toned portrait. Since her studies at OCAD University, Perera's murals have come and gone from the walls at art venues like the Triennale Banlieue/Suburban Triennial in Laval, Quebec, and the Art Gallery of York University in Toronto, but saying goodbye to her work isn't something she minds. "I was raised a Buddhist, and absolutely nothing is permanent," she says. "This is the ultimate indulgence and the opposite of permanence. You're going to put a lot of work into something that's going to be there and then it's gone. But while it was there, it was great."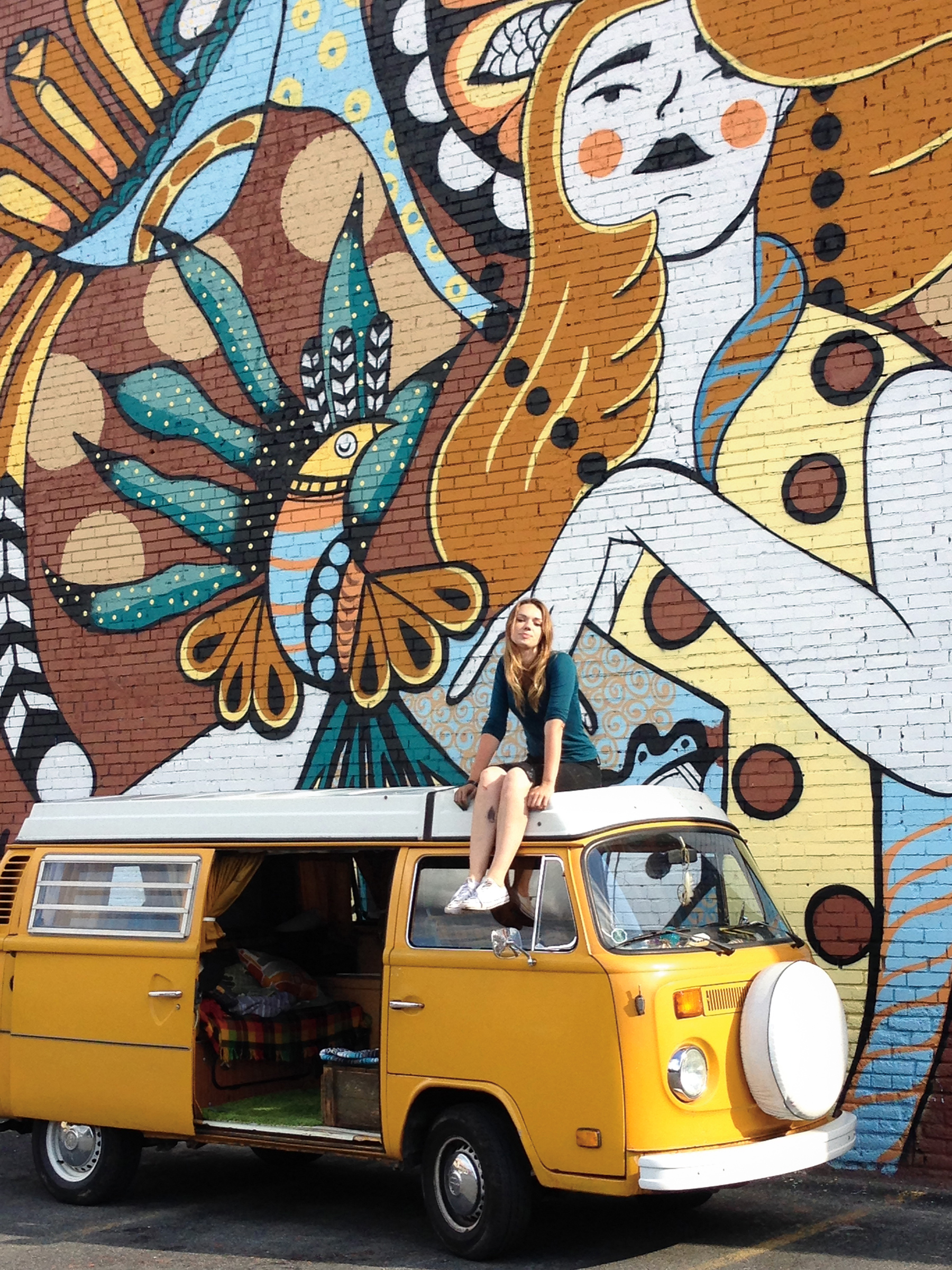 Artist Ola Volo, sits in front of the mural she created on the back wall of Sudbury's Mackey Building.
For Kazakhstan-born illustrator Ola Volo, who splits her time between Montreal and Vancouver, painting murals has taken her across North America, from L.A. to New York City and, this past summer, to Hamilton, Ont. Volo works primarily outdoors in public spaces where her work, she says, has the power to transform entire neighbourhoods. "I look at the walls and how accessible they are to the public and how anyone can stumble upon it. Even if you're not interested in art, you want something that catches your eye and makes you stop," she says of her stylized folk art–inspired pieces in places like Vancouver's Kitsilano area and downtown Sudbury. "[Artworks are] an unapologetic way to take over space and change a block or a neighbourhood that used to be abandoned, not looked at as anything or maybe even considered unsafe."

It's this transformative quality that makes murals so attractive to artists and viewers alike, says The Drake's Nielsen. "That's part of what's exciting about why we go out — to have these experiences we can't have at home.
---
By Caitlin Agnew – *This article originally appeared in INSIGHT: The Art of Living | Spring 2019

Photography Courtesy of: Steve Tsai, Ola Volo, Raffi Tutundjian.
Recevez un abonnement gratuit au
magazine INSIGHT