Kapwani Kiwanga was intrigued with light and how it can be weaponized. For her first solo exhibition, in New York in 2022, the Canadian-born artist drew a parallel between the city's 18th-century lantern laws —which required enslaved people travelling at night, unaccompanied by a Caucasian person, to carry lit candles, so they could be monitored — and the connection to 21st-century policies that employ light and are directed at communities of colour.

"I started asking, What is the contemporary technology that connects to those lantern laws?" Kiwanga said in a New York Times review of her show, Off-Grid, commissioned by Manhattan's New Museum.
On a different scale was her exhibit at the 2021 Art Basel in Switzerland — Potomitans, named after the sacramental wooden pillar used in Haitian-Creole voodoo ceremonies. Suspended from the ceiling, 39 delicate silver chains embellished with handmade sculptures of leaves, berries, flowers and foliage looked very pretty — until you learn the hidden meaning of the installation. Enslaved people used the plant's touch-me-not and pokeweed to poison their masters, so they could escape. That attention to detail and the ability to tell powerful stories are intrinsic to Kiwanga, though she did not explore her artistic side until she was in her 30s.
She was born in the working-class city of Hamilton, Ontario, pre-gentrification, surrounded by tobacco farms and First Nation reserves. There she spent her early years and, later, in nearby Brantford, with the occasional trip to visit relatives in Tanzania. Kiwanga didn't come from an artsy family and pursued academia, studying anthropology and comparative religion at Montreal's McGill University until she met a documentary filmmaker who sparked her interest in the silver screen as a way to explore the socio-political issues that intrigued her. After graduating in 2000, she spent five years in Scotland making TV cultural documentaries, then moved to France to study visual arts at the Beaux-Arts de Paris. Later, she completed an arts and audiovisual post-graduate program at Le Fresnoy's Studio National des Arts Contemporains, in the city of Tourcoing, on the French-Belgian border.
Now 45 and a resident of Paris, Kiwanga likes to create truly outside of the proverbial box. Her grand-scale art installations are, literally, think pieces steeped in politics, cultures and environmental issues. And, like their creator, they gift the art world with a lot to think and talk about. Which makes Kiwanga the perfect choice for the National Gallery of Canada's panel of Canadian and U.S. curators to represent this country at the 60th Venice Biennale (April 20–November 24, 2024). This is no small achievement. Kiwanga is one of just five Canadian women in the nation's seven-decade history of participating in the Biennale to be granted the distinction of a solo show.

"[We are] proud to present Kapwani Kiwanga's work for Canada at [this year's] Biennale di Venezia," affirms Jonathan Shaughnessy, director of curatorial initiatives at the National Gallery of Canada. "Kapwani is recognized as one of the country's most acclaimed contemporary artists, whose research-driven work is instigated by marginalized or forgotten histories and articulated across a range of mediums, including sculpture, installation, video and performance."
This high acclaim extends to the artist's first major survey exhibition in Canada, "Remediation," which was on view earlier this year at Toronto's Museum of Contemporary Art (MOCA) and spanned half of the gallery's ground level and entire second floor. Inspired by her research on how human behaviour and the natural environment navigate tensions between toxicity and regeneration, it opened with Elliptical Field (2023) — a pair of large sisal-and-steel oval sculptures strung from the ceiling against the backdrop of a curved sisal-covered curtain wall. Another highlight was a trio of pieces covered in raw sisal that looked like bushy animal pelts. The assemblage of flax-coloured structures stood as an allegory for traditional colonial crops that continue to exploit labour and the environment.

While the meaning behind her works may not always be immediately obvious and perhaps would be better appreciated by reading the complementary text on gallery walls, they are typically initiated and fuelled by the artist's curiosity. Kiwanga is a research geek with a degree in anthropology, augmented by creative skills, which she employs to present her complex narratives. Her unique visual worldview has garnered prestigious laurels, from Canada's Sobey Art Award (2018) to France's Prix Marcel Duchamp (2020) and the Zurich Art Prize (2022). Much of her acclaim can be attributed to her artistic process. An omnivorous gatherer of information, Kiwanga alights on a specific historical question or incident, then deep-dives into her projects, ferreting out marginalized histories. She dedicates months to scrupulous research, unstitching established narratives and pulling the threads of forgotten ones in order to weave her multi-disciplinary visual stories — and a whole lot of plants — to create thought-provoking art.
Exploring how plants and the environment intertwine with past and present politics, sociology and economics is, in fact, a hallmark of Kiwanga's work. She has demonstrated how botany can be an act of defiance, as in the poison herbs of Potomitans, as well as an act of renewal, as in how plants purify atmospheres that humans pollute. For her Keyhole piece in the MOCA show, Kiwanga assembled a large water-filtration system, pea gravel, LED grow lights, air pumps and assorted vegetation into a typically African raised-bed keyhole garden to illustrate the role of plants as air and water filters. The exhibit also featured Vivarium: Apomixis/Adventitious (2023)— a pair of giant balloon-like clear plastic habitats the artist suggested could be used as decontaminated container gardens in a toxic future.

"Going into the archives, reading scholarly articles — that's something I really, really enjoy," Kiwanga said in an interview in 2021 with Devyani Saltzman, who was then AGO's director of public programming. "To combine this love for research and…aesthetic and formal manifestations of the research, often, what happens is that I start with a theme and it will become… kind of a project and the project will end up delineating into different chapters that can unfold over years."
This unfolding can be traced back to 2012, when, during a residency in Dakar, Senegal, Kiwanga conceptualized Flowers for Africa. This acclaimed and ongoing project reconstructs the floral tributes of African independence celebrations, for which Kiwanga secures images from archival film and photos and then commissions a florist to replicate them. The floral arrangements are wide-ranging, from Flowers for Africa: Tunisia, 2015 (a boutonniere worn by Tunisian Prime Minister Habib Bourguiba, as the nation feted its 1956 emancipation from France) to Flowers for Africa: Rwanda, 2019 (a grand triumphal street arch recreated from black-and-white photos taken after Rwanda's 1962 rejection of Belgian colonial rule). The flowers are displayed, then left to wilt at Kiwanga's exhibit at MOCA, which also included Flowers for Africa: Angola, 2020 / Uganda, 2014 / Cameroon, 2020.

"The veracity of the [archival] images is not so interesting to me. It's more [about] how can we reactivate a particular moment in our present," she explained to Slatzman. "So, [it's] a historic moment in our present, but in that reactivation, because they're cut flowers, they are constantly fleeting… We can't hold onto it. It's not a fixed image. It's a question of flux and ephemerality."

As with Kiwanga's more monumental installations, the work is temporary. Hers is not art that hangs pleasingly on a wall, it's art that makes a point and poses questions. And while the medium may be ephemeral, or at least deconstructed and relocated, its meaning is not. The artist's first name may translate as "person who enjoys making people happy" in the Swahili language of her ancestral Tanzania, but the more fitting moniker might be "woman who enjoys making people think."

---


By Viia Beaumanis – *This article originally appeared in Insight: The Art Of Living Magazine – The Roots Issue.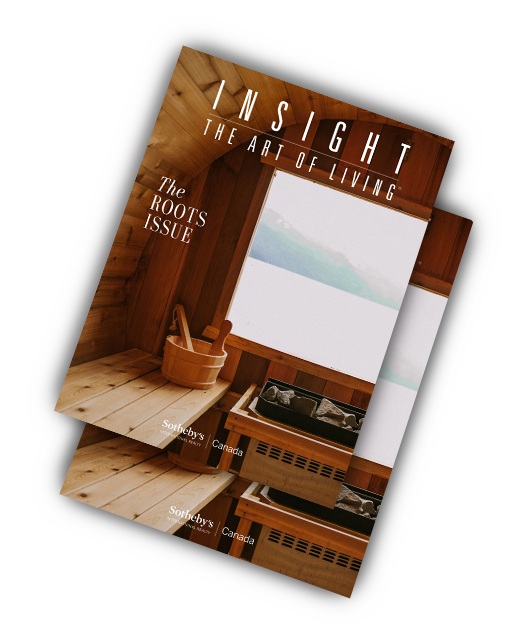 Receive your complimentary subscription to
INSIGHT: The Art of Living magazine