Multihyphenate. Hybrid. Interdisciplinary. Intersectional. As cerebral descriptors, these capture and convey the current cultural shift — an era that compels many to do more and be more with less. Martina Sorbara is one of those people.
Known as Dragonette — which is both her stage name and the name of the chart-topping, Juno-nominated pop band for which she is this frontwoman — the Italian-Canadian singer, songwriter and visual artist has spent over a decade blazing a trail for electronic musicians. However, she considers the last three years to be the catalyst for her new creative heights. "I'm in full-on redefinition mode," she explains from her home in Toronto's west end, where she lives with her partner, celebrated chef Cory Vitiello and their five-year-old son. Her home is teeming with art, from The Broadbent Sisters, Louise Despont and Christopher Page to pieces by her nephew and her architect sister, Ginger. Sorbara's music and art studios provide a lush view of the black oaks, red maples and white pines surrounding the home.
Inside, a dozen or so in-progress sketches and paintings are strewn across her worktable, intermingling with her preschooler's classroom drawings. "I've always made art," she says, recalling how one of her former music managers told her to never talk about her paintings, sculptures, photographs or drawings, fearing it would confuse her "brand" — a term Sorbara sneers at.
"It took years for me to share this side of myself, but eventually, I started standing up for what I was doing visually," she says. "It wasn't until this year that I finally felt like I could openly talk about my artwork,"
Her first statement, by way of a stunning debut art exhibition at the MCA Gallery this past spring/summer proved that her visual self-expression is more than just a hobby, side hustle, or career footnote. The show, titled Portraits, featured a series of augmented photographs — old MGM headshots from the 1950s, 1960s and 1970s that Sorbara had obsessively hunted down and collected. To reframe the narrative of the silver screen snaps. Sorbara carefully spliced geometric shapes over their faces. Assuming the role of casting agent and film director, she poured through hundreds of famous and not-so-famous actors and actresses, experimenting with their images before making her final cuts.
"I wanted to find specific moments from these would-be matinée idols, [who thought]they were going to take the world by storm," Sorbara says, explaining her photo-selection criteria. "I wanted to let the viewer in on how these photos represent such an important part of an actor or actress's work life. Getting an 8-by-10 picture done was like an avenue to stardom," she adds.
Layers of commentary seep into each of Sorbara's pieces, as she examines the recipe of celebrity through a sociological lens."This series isn't about capturing fabulousness," Sorbara asserts."By splicing the faces in the way that I did, I wanted to look at how true stardom is really about being the everyman. It's not about standing out or being different or radical or super anomalous. People like Matt Damon and Tom Cruise prove that superstardom is about being relatable. I was also trying to find expressions that spoke to me while I was changing the shapes. In a way, I'm trying to tap into pareidolia —the human perception that imposes interpretations of what is not on an image. In other words, you have to find meaning in the white space."
Dragonette's iconography and videos foreshadow Sorbara's foray into the art world. In many ways, her pop music imagery already incorporated elements of performance art (as seen in videos for tracks such as "Fixin' to Thrill," "Twennies" and "T-Shirt"), photo collage (in album covers like 2007's Galore, 2012's Body Parts and 2016's Royal Blues) and illustration (through Dragonette's tour merchandise). Sorbara's forward-thinking, gender-blending vision for Dragonette— fuelled by rock, country, pop, house, disco and hi-NRG — predated much of the new-wave feminist imagery emerging in today's pop culture. Instead of playing it safe, Sorbara, who once described Dragonette's second album as a "tomboy in high heels" pushed the envelope with the band's sound and image by distorting gender norms, dismissing fashion trends and ignoring sexist standards permeating the music industry.
Sorbara's next series of paintings and sketches — which she hopes to exhibit sometime this winter — share a similar meticulous approach to the methods she uses in pop music, and she sees music and art-making as modes of expression stemming from two different universes. In fact, her pop legacy — despite its profound influence— is something Sorbara herself hasn't yet fully processed.
"I can't internalize any of it," she admits."I mean, I have hundreds of recorded songs in the vault that I haven't released and I still think, Is any of this any good?"
While her modesty may, at times, overshadow her own greatness, Sorbara possesses the receipts to claim her iconhood if she wishes. She has shared the stage with New Order, Scissor Sisters and Duran Duran, counts Björk as a fan, written songs for Kylie Minogue and Cyndi Lauper (who called her "the future of pop"), and collaborated with The Knocks and Martin Solveig, as well as Jean-Paul Gaultier and the late Alexander McQueen.
Although she has learned from and worked with the best, Sorbara's determination to create and share her artwork was partially inspired by a figure who successfully crossed over from art to pop—and back again.
"I got over my internal struggle about committing to visual art in such a strong way," Sorbara reveals."[I]used to feel so self-conscious about having the audacity to respect this side of me so outwardly. Then I watched this video of [interdisciplinary artist] Laurie Anderson, and she was talking about how many people try to make you stay in one lane because it's easier for them to market and understand you. When she called out people, whittling you down for their own purposes, I decided to let my artwork be part of my story. [I will] not be whittled down because I don't intend to stop and I doubt she will either.
---
By Elio Iannacci — *This article originally appeared in Insight: The Art Of Living Magazine – The Roots Issue.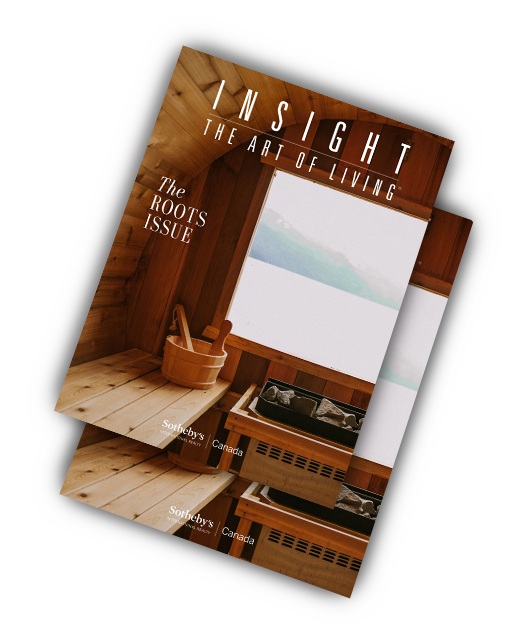 Receive your complimentary subscription to
INSIGHT: The Art of Living magazine