Looking for luxury? This exclusive private lodge rental in Revelstoke, BC will keep you and your crew safe and very well served.

With six of my long-time friends, I have just dined, at a massive live-edge wooden table, on private chef Tommy Veillette's duck-confit hash to start the day. We throw on hoodies and head to the helipad in our chalet's backyard, where glacier Helicopters' chartered Bell 206 JetRanger swoops in to take us on a heart-pounding tour of alpine peaks and lakes.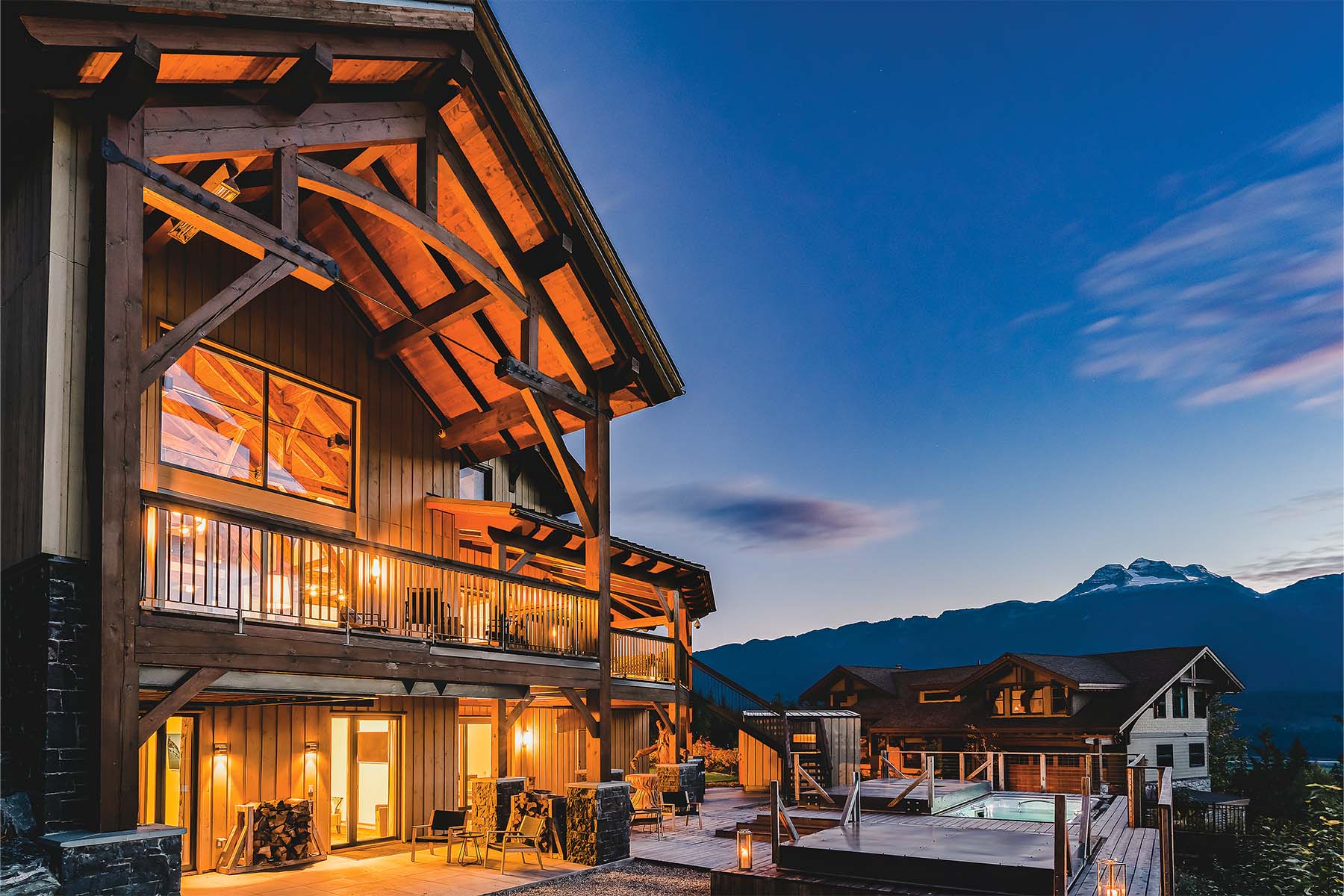 This is what passes for a typical Sunday on a pandemic-smart getaway in Revelstoke, a mountain gem of a town in southeastern B.C. "It reminds me of Machu Picchu," one friend remarks, while we're 5,000 metres aloft. "[It's] not just the location between mountain ranges, but the cool energy that it creates."

The historic small city of Revy has good vibes to spare' especially if you have, say, $10,000 a night in ski season (which, this year, runs until mid-April) to do it properly. But the circumstances that brought us here are unusual. In a typical year, our group might be back in Alberta, celebrating a landmark university graduation year, but pandemic-born travel realities led us to Flying Moose Chalet — a mogul's mountain home–turned–private luxury lodge.

Perched at the peak of a cul-de-sac in an exclusive enclave, this full-service property is close enough to Revelstoke Mountain Resort for ski-in access during the winter months and, in spring and summer, wonderful hiking options. It offers eight expansive bedroom suites plus plenty of spaces for guests to gather or engage in individual pursuits — ideal for a corporate retreat or an incentive perk for office staff. Think: a great room with an immense wood-burning fireplace; media room; a gym replete with a giant steam shower and juice bar; an outdoor climbing wall and a fire pit.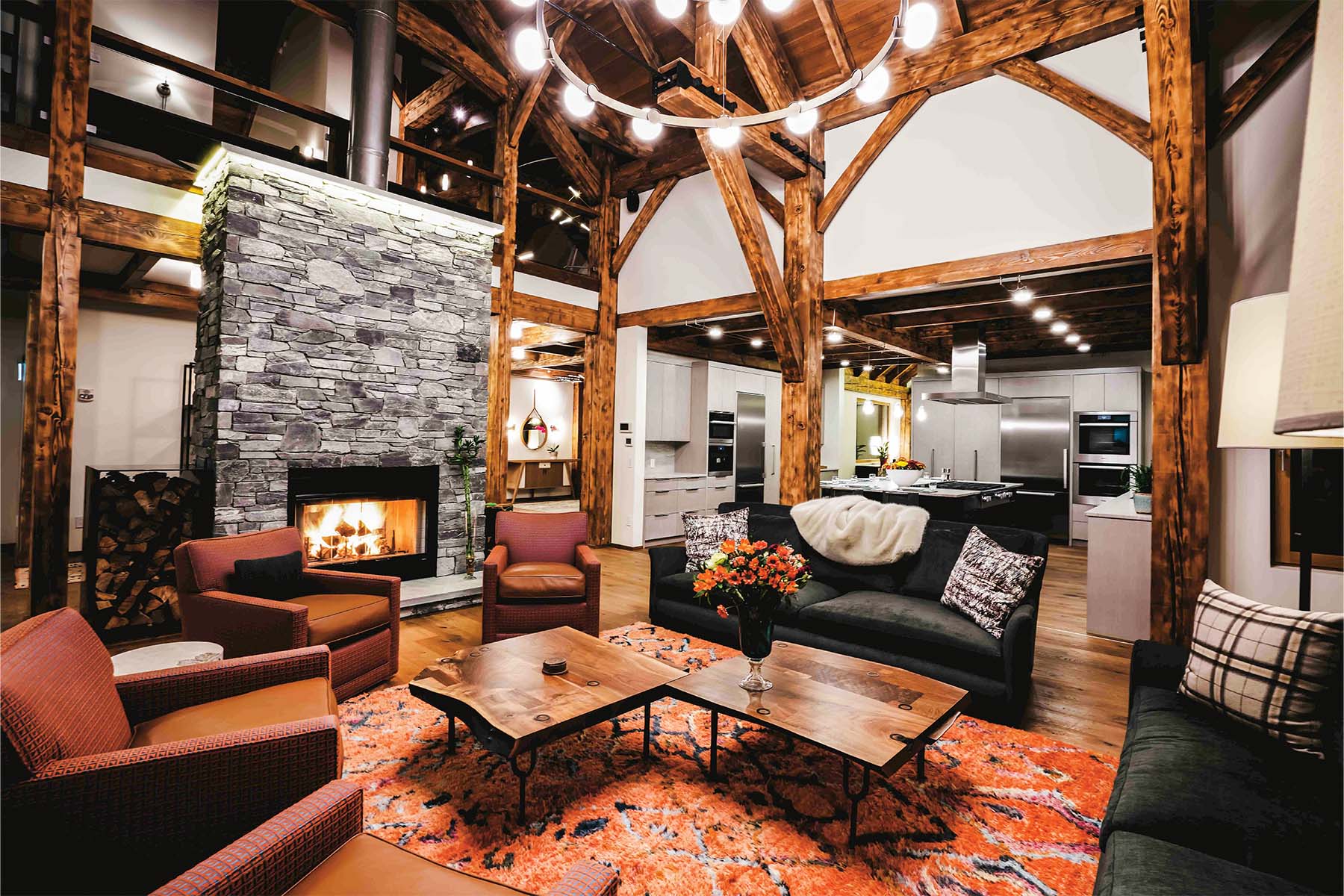 And Flying Moose Chalet is happy to accommodate families. According to its owner, who is an avid fan of heli-assisted backcountry skiing, most good heli-ski destinations, where one can go with friends, are not family-friendly.

"The idea that you can send the kids and Grandma to the ski mountain and [then] go heli-skiing for the day is a very unusual combination," notes Flying Moose Chalet's owner, who is based in theU.S. "Plus, [there's the] amazing snow, massive vertical drop — all [these] make Revelstoke a really unique place."

The chalet was built a few years ago, initially as a home for his family, but it became apparent they couldn't use it year-round. With a few careful tweaks, he converted it into an immaculate premium rental property. "It took some work to do that," he says, "and to do it well."

And very well done it was, indeed. My group, for starters, was convinced we were the first humans to ever stay in these impeccable digs. Sanitized, sealed powder rooms and remote controls. Scores of cabinets stocked with pristine glassware. Gleaming appliances, including a Miele built-in espresso machine that convinced us we cannot live without it. Ultra-plush robes and slippers. Bathrooms stocked better than a drugstore. Our very own Finnish-style cedar sauna. A cocktail bar that seats six.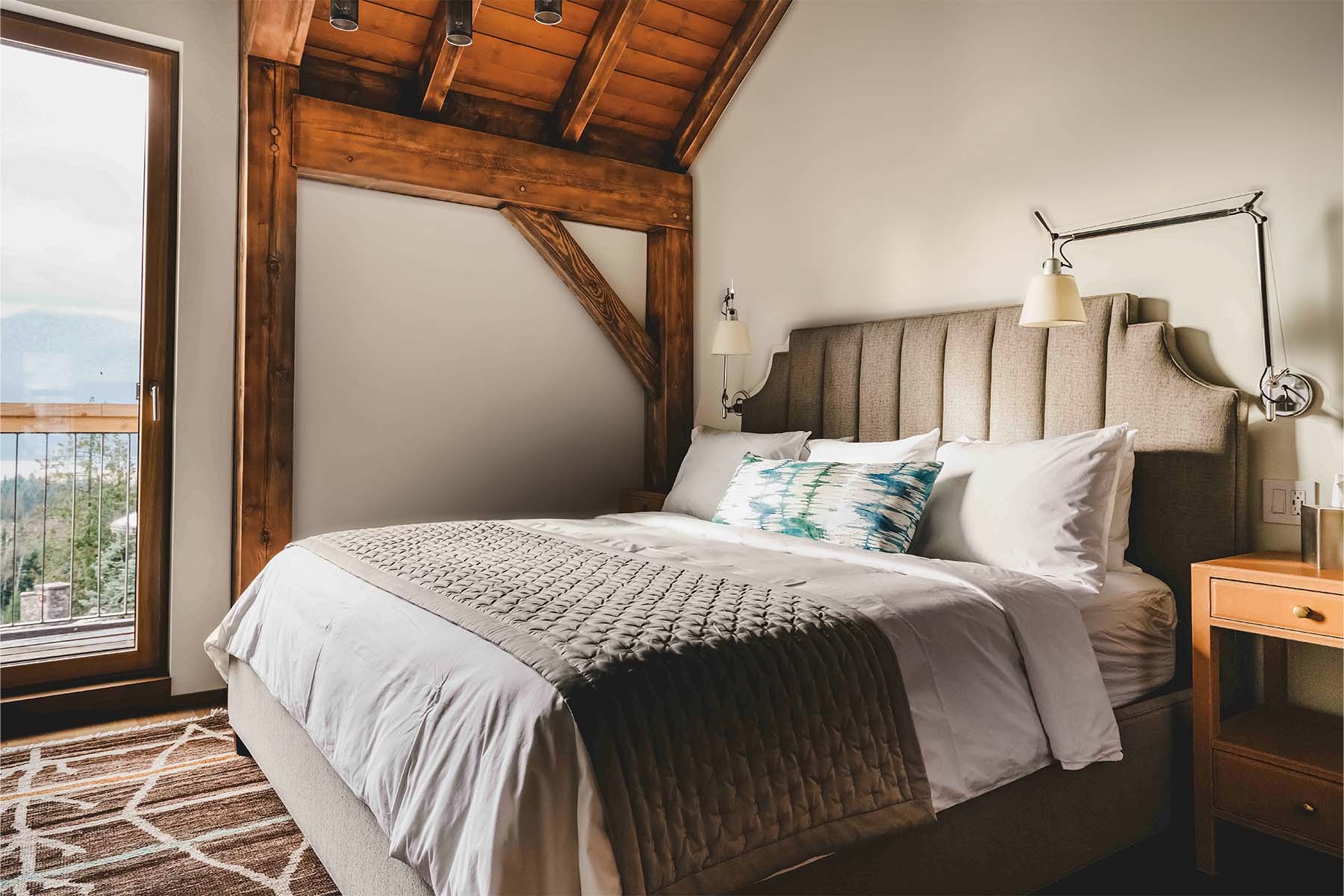 Behind the scenes at Flying Moose, orchestrating the magic — from booking a private chef and the massage therapists to organizing yoga classes and managing restaurant reservations — is Revelstoke Select. " Heli-skiing really takes it out of you," says Sally Robertson, who co-owns the elite property management company."Our focus is on recovery."

For chalet guests, "recovery" might be a sommelier-led B.C. wine tasting or, perhaps, in a heated garage cleverly converted into a cool lounge, cold beer while viewing big-screen footage of the day's adventures.

"People are surprised and elated by the extent of the amenities here," says Robertson. They're not necessarily looking for a resistance swimming pool designed by Michael Phelps, or a huge steam shower, or an eight-person hot tub — all of which Flying Moose Chalet offers. What they're after is a private place with fewer shared services than at a traditional hotel or resort — in essence, she notes, they want "a safe holiday."

To wit, our group's personalized guest binder contains not only an itinerary and user-friendly details on the chalet's services, but also the latest local health bulletins —reminders that nobody is taking travel for granted these days.

Meanwhile, though it might be tempting to simply hole up in digs of this calibre, exploring Revelstoke and its roots is a must. "You're in an area [with] a very rich history, from the [railway] to the mountains to the Swiss guides who arrived here [in 1899]," says Robertson, who moved to Revy in 2006 to sell mountain real estate in the ski resort's infancy. "You're in a small town with an international character that's very unique."

There are other worthwhile options for exploration, specifically on bustling Mackenzie Avenue. In search of local spirits, my group and I rolled downtown for happy hour at Monashee Spirits, ranked by Forbes in 2019 as "Canada's best après distillery" — that is, après any winter pursuit in town. Doubling as an always-packed local bar, this family-run craft distillery also makes Ethos Gin, named, also in 2019, "Canadian artisan spirit of the year" by Artisan Distillers Canada.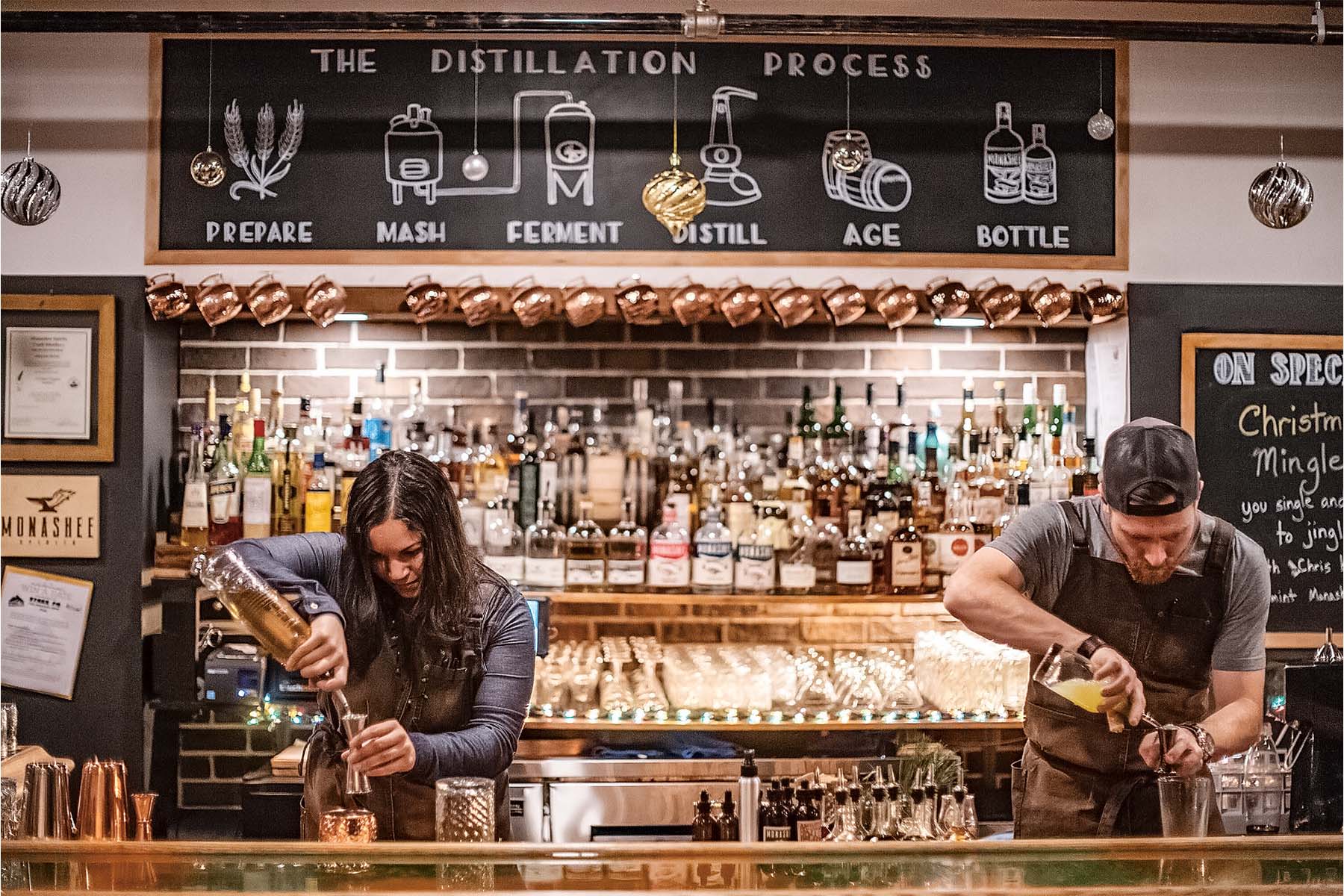 "You can't find my spirits [in] other places," notes Monashee's owner, Josh McClafferty. "You have to come here to get the experience." We sip urban-calibre cocktails and drink in the stories of Hollywood royalty partying with local van-lifers.

This small town is attracting big money — both a boon and a concern to Revy natives, like David Battersby. A principal in the renowned Vancouver firm Battersby Howat Architects, he grew up here and his father was the mayor for several years. Battersby remembers wild-mushroom foraging and huckleberry picking, riverside beach days and hidden waterfalls. "[This is] a remarkable, natural place," he says.

His studio is currently designing a local residence, one that's large enough to accommodate a regulation three-point-line basketball court. "These are serious chalets, built at a very high level," Battersby points out. "We're trying to show a sensitivity to the landscape, something that will evolve here over time, showcasing not only the mountain light and the views but also natural materials, like stone and wood."

A few days later, and with much regret, my friends and I pile into our vehicles to depart. Before leaving, I share a solemn gaze with the giant wooden statue of the Norse god Ullr in the backyard of the chalet. Mountain mythology demands that skiers pray to Ullr for snow. Instead, I pray for more time, next time, at Flying Moose Chalet.
---
By Charlene Rooke – *This article originally appeared in INSIGHT: The Art of Living | Spring 2022.
Receive your complimentary subscription to
INSIGHT: The Art of Living magazine