Montréal's Anemone takes its place among the newest restaurants in Mile-Ex turning heads and pleasing palates.

Less than a year old, Anemone seems to be on everyone's list of best new restaurants in Montréal. In a city renowned for its lively dining scene, that's saying a lot for a newcomer, especially one that took over the space occupied by the former Manitoba, a trail-blazing restaurant that specialized in hyper-local and foraged ingredients.
Without missing a beat, Anemone has effortlessly settled into its predecessor's comfortable, cozy space in the hip Mile-Ex neighbourhood. The dining room is outfitted with a long bar, woodsy accents and, suspended from the ceiling, the rustic grid of rough-hewn wood slats replicating a forest canopy.

"We feel at home here. There are so many stories attached to this place. We didn't want to change anything," says chef and co-owner Minh Phat Tu. Chef Mike Madokoro, the second co-owner, chimes in. "We're very inspired by what Manitoba was trying to do. Anemone is not hyperlocal, but [our ingredients are] locally sourced and seasonal as much as possible."
The third partner of this young Anemone trio is sommelier Elena Raceviciute Ouellette, who is not new to the city's culinary scene. Tu and she are co-owners of Asian restaurant Mui Mui, located just a few blocks up, and Madokoro is the chef at Bar Suzanne. Tu and Madokoro also worked together a decade ago at Le Filet, where they had always discussed the possibility of partnering up on a project someday. "All the pieces sort of came into place [with Anemone]," says Madokoro.
Kismet also had a hand in the naming of the restaurant. Indeed, Raceviciute Ouellette had "Anemone" saved for a future hypothetical dining venue. She sports a tattoo of the official flowers of the three provinces where her dad grew up (including Manitoba) and has always had a soft spot for its official flower, the prairie crocus, aka the anemone. The first time she and Tu visited the space, they took it as a sign that this was meant to be, as a tribute to the previous tenant and their own origins.

On a recent Friday night, the dining room is buzzing with happy diners. The best seat in the house is at the bar, overlooking the open kitchen, and vibing with action and camaraderie. This particular evening, the rhythmic sounds of the biáng biáng noodles being pulled and slapped against the counter provide the perfect dinner soundtrack. The fresh, thick noodles are toothsome and chewy and served with braised rabbit, Swiss chard and a ginger relish dotted with mustard seeds and thin slices of chili. Once tasted, it's the kind of memorable dish sure to elicit future cravings. Foie gras, Korean- style rice cakes and crudo in leche de tigre ("tiger's milk," a citrus-based spicy marinade) are featured on a creative menu that is hard to peg as one specific cuisine. "Minh and I have so many different influences that it would be impossible to define," Madokoro agrees.
And the menu is incredibly collaborative, involving a daily open conversation with the entire team. In fact, the three partners take pride in having created a sane team environment. "We all work together and for each other and, ultimately, for the customers," says Raceviciute Ouellette.

Just like the owner trio, the staff is young, yet brimming with well-honed skills and knowledge. They glide effortlessly around the dining room, ensuring that everyone is well-tended. Our waitress suggests a funky wine from the natural- wine menu curated by Raceviciute Ouellette, who has also included more traditional-tasting low-intervention bottles. "As much as I like natural wines and their funkiness," she notes, "the best pairing, in my opinion, is always what the client wants to drink."
When asked what is the best item to order, Madokoro names several courses, then suggests sharing a few dishes. Tonight, a quartet of nori-wrapped temaki proffers a fun prelude. They are topped with trout and caviar; tuna, sunflower-oil wafu and pancetta; beef, oysters and potatoes; and mixed mushrooms with garlic purée. Glistening bright-red tuna slices bathed in leche de tigre, then topped with a slaw of Quebec Honeycrisp apples and celery, are a great follow-up. The pork dish partners tender pieces of meat with cabbage prepared three ways — a true cold-weather dish. Next comes duck magret, served with beets and chestnuts. The dish seems straightforward enough at first,but the depth of flavours is outstanding, imparted by the koji fermentation, the confit chestnuts in duck fat and the lacto-fermented slices of beetroot.

"We're hoping people will be surprised by the quality of the [food]," says Madokoro. Tu adds, "But we're not pretentious. We just want them to feel comfortable!"

---

By Mayssam Samaha – This article originally appeared in Insight: The Art Of Living Magazine – The Passion Issue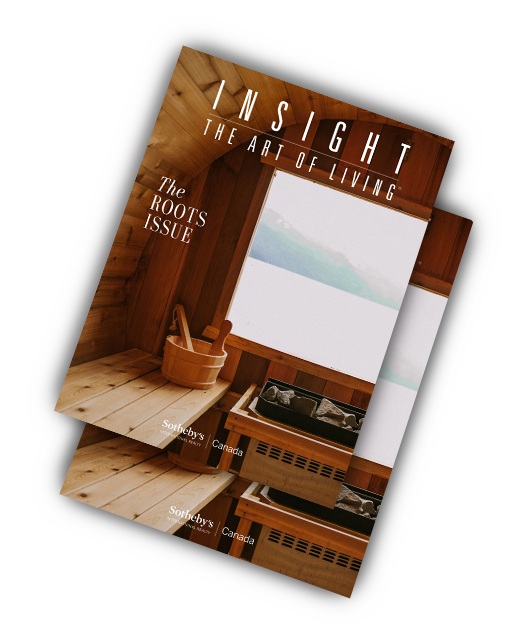 Receive your complimentary subscription to
INSIGHT: The Art of Living magazine