Underneath the brilliant green glow of the aurora borealis, our all-terrain Tundra Buggy rolls along the pristine, sparse landscape, scouring the horizon for a glimpse of the king of the Arctic food chain — the polar bear. When he finally appears, he comes in close, puts his paws up against our vehicle's window and locks eyes with us. Welcome to Manitoba.

Tour operators across this Prairie province still cater to those seeking adventure but have upped the ante for comfort and innovativeness. Frontiers North Adventures' Tundra Buggy Lodge offers a unique immersive experience out on the tundra with options to view resident wildlife 24 hours a day, dine on gourmet fare (bison lasagna, elk and Arctic char) and sip cocktails with research scientists from non-profit conservation group Polar Bears International.

Churchill — a small and friendly town on the western shore of Hudson Bay, in the far north of Manitoba — is the best place to spot the world's largest bear and to marvel at the majesty of the wild North. "Churchill really delivers on its promises as a wildlife-viewing destination," says John Gunter, CEO of Frontiers North Adventures, which is committed to eco-responsibility. The travel group started the town's first recycling program and, in 2016, eliminated plastic-bottle use on its trips. It also operates on trails traversed in the '50s by the Canadian military to prevent further damage to the tundra ecosystem. Visitors encounter polar bears relatively close up and view some 57,000 beluga whales that make their home in Churchill every summer, at which time the local terrain is awash in spectacular wildflowers.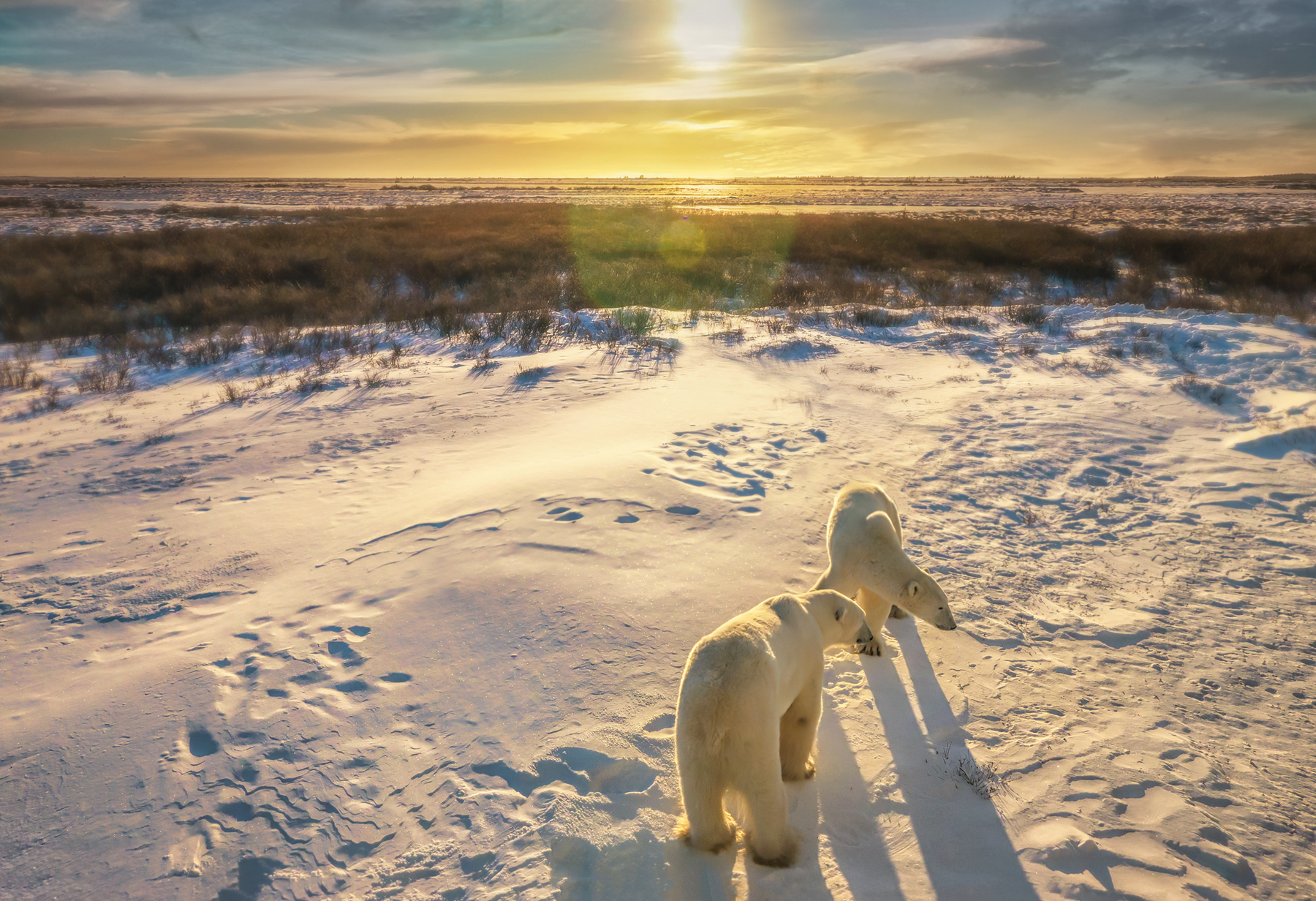 Polar bears roam freely on the tundra
Manitoba has something for everyone, whether you're an eco-enthusiast, adventure seeker or urban aficionado. In fact, it is the only Canadian destination on the list of 10 top regions "ready for the spotlight," according to travel-guide publishers Lonely Planet.

Winnipeg, the province's capital, has been building toward this renaissance for the past five years, starting in 2014 with the Assiniboine Park Zoo downtown and the launch of its exhibit, Journey to Churchill, where underwater viewing tunnels allow visitors to observe rescued polar bears swimming and playing above them. That same year also marked the opening of the architecturally exceptional Canadian Museum for Human Rights. "Winnipeg has undergone an astounding transformation over the past few years," notes Angela Cassie, the museum's vice-president of public affairs and programs. Then, in 2015 a $2.5-million makeover to The Forks Market was unveiled, with the addition of a central dining hall and beer market, turning the venue into a popular destination for visitors and locals alike. Another boost for the city that year was the launch of Thermëa Spa, a Nordic-inspired relaxation and healing centre just 20 minutes from downtown.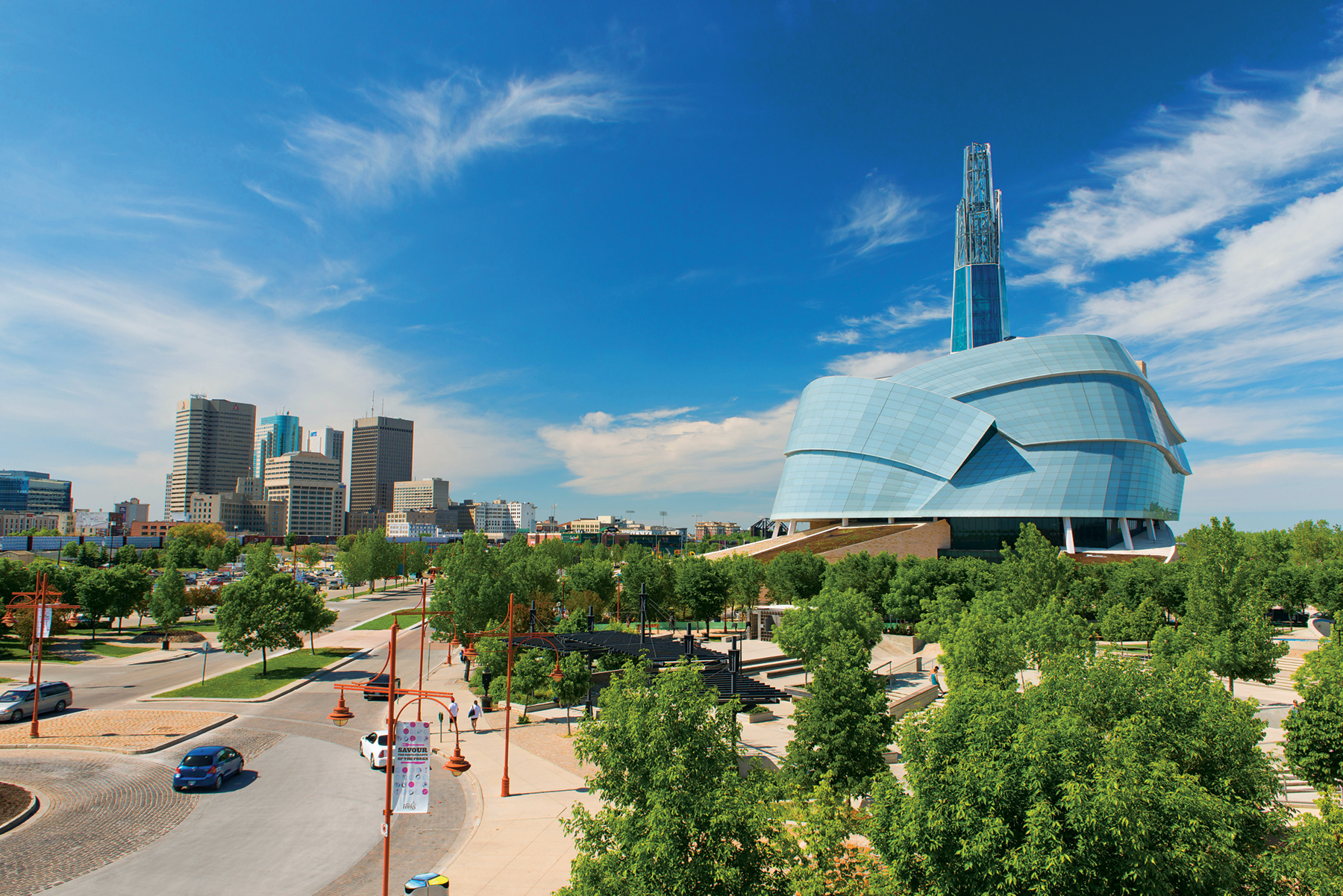 The bold architectural design of the Canadian Museum for Human Rights
Southern Manitoba does not get much media coverage, but it too has enticing travel incentives. "We're definitely a humble little spot and often overlooked," says Emily Christie, who, along with her two sisters, owns tranquil Falcon Trails Resort, which is tucked away in the woods, in the province's southern border, less than two hours from the city. "There are a lot of grand attractions in the world to compete with, but what makes Manitoba special is the fact that it is such an authentic place — the character of its people, [their] stories and the lifestyle. [That's] what travellers are looking for these days. They don't just want to go to a destination and look. They want to be a part of something."

Being "part of something" at Falcon Trails includes the chance for guests to encounter local wildlife (wolves, foxes, lynx and deer) and to hike two-and-a-half kilometres in total serenity to reach one of the resort's six solar-powered High Lake Eco Cabins for a memorable off- the-grid stay. In wintertime, visitors can avail themselves of world-class snowshoeing and cross-country-skiing trails.

Unforgettable visitor experiences abound year-round, notes Angela Cassie at the Canadian Museum for Human Rights. "Farm fields and oak forests transform into the rocks and pines of the Canadian Shield," she says, referring to the ancient geological core of the North American continent. "Crisp, cold winters suddenly melt into hot summers. Tiny rural towns converge in a bustling metropolitan centre of 750,000 with a nationally renowned music-and-arts scene that encompasses a thriving Indigenous culture."

It's all newfound attention that this once-unassuming Prairie province deserves as a travel destination. Manitoba, welcome to the spotlight.
---
By Lola Augustine Brown – *This article originally appeared in INSIGHT: The Art of Living | Spring 2019

Photography courtesy of: Dan Harper; Tourism Winnipeg; Emily Christie; istock