Entering into a new life stage often prompts us to reevaluate what we're looking for in a home. And while many of us still follow the traditional real-estate trajectory — buy a spacious property when starting a family, scale back after retirement — there have been notable shifts in how buyers are now approaching upsizing and downsizing.

The idea of "right-sizing" is actually a misnomer, according to Christian Vermast, a Toronto-based Senior Vice-President of Sales at Sotheby's International Realty Canada. "The term suggests a conversation focused around size. In my opinion, upsizing or downsizing just means finding a living arrangement better suited to your current lifestyle." His business partner, Paul Maranger, echoes that sentiment. "Somebody might be selling their home and moving into a condo, but not really giving up anything in terms of space."

Other Sotheby's International Realty Canada Realtors® are also noticing how the market is adapting to new requests and changing preferences, as today's homebuyers set out to find homes that suit their current needs, all the while keeping an eye to the future.
Will McKitka, a Senior Vice-President of Sales at Sotheby's International Realty Canada, is seeing the rebound from some of the homebuying moves that played out during the pandemic. "Now that companies are pushing for a return to the office, people who left the city for larger, more remote properties are moving back. They might end up with less space here, but maintaining a large house takes a lot of work," McKitka points out. "And no matter what, that golden rule of real estate eventually applies: location, location, location."

People moving back into more compact quarters should pay particular attention to how a home allocates space, advises Kevin Hardy, a Realtor® at Sotheby's International Realty Canada. "These days, a lot of buyers see a big formal dining room and say, 'Who cares?' " Condo shoppers would be wise to assess a building's amenities with the same critical eye, he adds. "Ask yourself if you're really going to use the pool because if you're not, you can reduce your monthly maintenance fee."

That said, it's still smart to pay attention to features that might give your home an edge once it's time to relist. "You might not care that a house's lot size is four feet wider than the one next door, but that can make a huge difference to somebody down the road looking at that property with an eye towards densification," says Hardy.

Downsizers are paying extra attention to how a home's design might affect their ability to age in place. "Elevators are huge," reports Corinne Poffenroth, a Senior Vice- President of Sales at Sotheby's International Realty Canada. "We'd been struggling a bit with our inventory of townhomes with elevators, but now that developers are noticing this demographic, those are starting to pop up more."

Another popular request is storage space, whether it's a locker unit in a condo building or a large garage in a townhome. More specialized storage solutions are also in demand. "Many people who are downsizing really want to see a wine cellar or temperature-controlled fridge," says Poffenroth. "And thankfully, a lot of the buildings here have that."

For upsizers, the biggest concern is space for their extended family. "With multi-generational living on the rise, buyers are finding real value in secondary suites," she says. "Sometimes that's above the garage and, other times, it's a carriage house [where] you can move your parents — or even a nanny or property manager." Bathrooms are an even bigger priority. "The expectation when you get to that $2-million mark is, definitely, that all of the kids will have their own ensuites. And [that's] always a good option to have if you resell because [your home will appeal] to a bigger family."
Christian Vermast likes to begin discussions about right-sizing by determining a buyer's current headspace. "Empty nesters are often seeking to be more carefree, which translates to somewhere that offers ease of maintenance, whereas a couple with a toddler who is starting to kick a ball around might be looking for a house with a backyard on a street with children of the same age."

Yet as much as current needs and wants should inform your search, a home's long- term viability also depends on anticipating how those needs might evolve. "Many people downsizing from the suburbs initially think that they want something smaller and fairly close by. Then, once they move, they realize that, actually, they don't want to be using their car all the time." In that scenario, Vermast recommends communities away from the downtown hustle and bustle, but still offer easy walkability.

Paul Maranger stresses that it's just as important for young buyers upsizing to their first family home to project themselves five years into the future. "There is always a lack of inventory on nice streets in good school districts, so find a space that you can grow into. You want to be able to go from one child to two children without having to reinvent the wheel."

Liza Kaufman has noticed that today's downsizers are keen to maintain a sense of spaciousness. "Nobody wants a big house that requires a lot of maintenance," says the Certified Real Estate Broker with Sotheby's International Realty Québec, "but they do want big rooms that make them feel like they can breathe."

Inspired by changes triggered by the pandemic, buyers are also paying special attention to certain areas of the home. "They're entertaining formally less but using their kitchen more," says Kaufman, noting that there is currently a high demand for homes ready to start hosting family dinners immediately. "First-time buyers want to have clarity about the final cost. You don't always know where you're going to end up financially if you have to renovate.

On the other hand, if buyers are looking to do their own upgrades, Kaufman advises keeping future transitions in mind. "You want to customize things to your own taste to some level, but if you are planning to move again, you have to toe the line. Homes that sell well are renovated in a simple, neutral manner, so always envision that next buyer."

The bottom line: Important as it is to find the right home for the current stage of your life, it never hurts to keep the future in mind as well.

Discover Canada's finest housing listings at sothebysrealty.ca.

---

By Eric Mutrie – This article originally appeared in Insight: The Art Of Living Magazine – The Passion Issue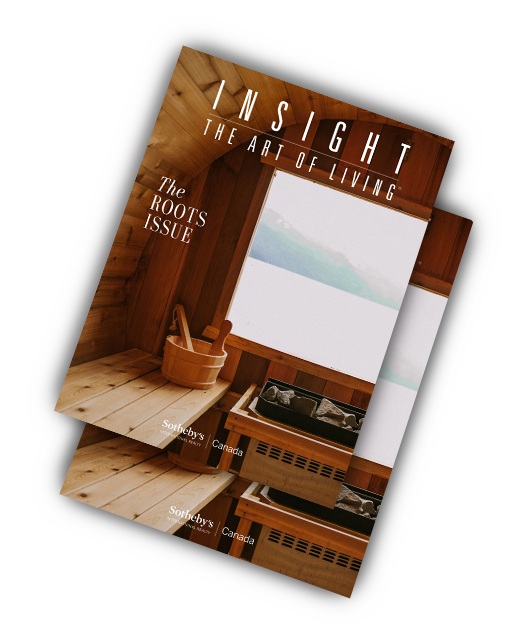 Receive your complimentary subscription to
INSIGHT: The Art of Living magazine