Minimalism has its appeal, but it's hard to argue that maximalism doesn't deserve its share of the design spotlight. In contrast to the pared-down aesthetics of minimalism and its Scandinavian neutrals, maximalism makes the claim that more is better. Instead of white walls and sparse decorative elements, think saturated colours, layered textures, and eclectic pieces that contribute to a bold and undeniably unique space.

If you feel ready to embrace maximalist design in your home, a good place to start is by introducing some colour. Whether through a new coat of paint, punchy fabrics, or vivid greenery, a splash of colour can be a great way to turn a space into a modern and carefully considered maximalist haven.

On Walls
A new coat of paint is always a good place to start for a room refresh, but instead of relying on standard cream and beige tones, opt for something a little more vibrant. A statement wall painted shamrock green, for example, can redirect the focal point of a room, while accent details like inset shelving or door frames can be painted in contrasting shades for emphasis.

For those looking for more of a colour tidal wave rather than just a splash, an entire room redone in cool, bold, or inviting shades can set the tone for other more adventurous design choices. Even with its "more is more" ethos, maximalism isn't about clashing—decorators frequently deploy colour theory to great effect, and using colours that complement each other, like blue and orange, will make sure a space looks artful and considered rather than chaotic. Wallpaper, murals, and other standout wall treatments are also strong alternatives to paint.

In Art
For more of a reserved approach to the maximalism aesthetic, incorporating colourful artworks can be an impactful way to bring a bit more colour into your home. A large abstract painting that uses colour in a bold way would work well in a large, neutral-hued space, for example, especially as a way to anchor a room. Sculptural works in geometric shapes and primary colours lend Memphis-Design flair, while a collection of pottery from world travels arranged atop a mantlepiece lends a curated atmosphere to a room. Using art to bring colour into the home is a stylish way to adopt a dash of maximalism.

With Fabrics
Whether you choose an orange velvet couch, a beaded throw cushion, or vibrant blue curtains, bringing colourful fabrics and textiles into a room can either be a subtle or bold way to use texture as a complement to colour. Saturated swaths of colour in the form of bed linens and Morrocan rugs can serve to balance out a space while still making a statement. Brights hues and patterns have a way of making rooms feel cheerful and lively, and a mix of textiles only adds to the overall mosaic of colour.

With Plants
It's well established that bringing greenery into your home can have a calming effect and encourage well-being, but plant life also does much to add to the overall design direction of a space. Use oversized palms, tropical flowering plants, and wild hanging baskets in your interiors to bring a little vibrancy inside. Potted plants provide a visual lift to any room and can act to ground other colourful elements.

With Furnishings and Fixtures
From antique divans to statement light fixtures, using unique furnishings can be a modern and bold approach to design. One strategy is to let a standout piece guide the rest of your interior choices—maybe that tangerine armchair has moved you to bring in other citrus hues, or perhaps a designer dining set has prompted a moody update to your dining room. One-of-a-kind furnishings, such as a transparent banister, can be an entrypoint for other creative, more unique approaches to interiors, and there's no rule against tastefully mismatching.

Whether you're partial to big gestures or are looking to liven up a space with small details here and there, bringing colour into your home is an inspired way to introduce a bit of maximalism without going over the top. Ultimately, maximalism has a playful spirit, and using colour to suit your taste will bring renewed energy into your home.

Looking for more ways to make a bold statement with your home décor? Check out our Lifestyle Collections for the latest design trends and real estate inspiration.

---

This article was published on August 10, 2022. It was originally published on Sotheby's International Realty's Extraordinary Living Blog and has been adapted for Sotheby's International Realty Canada's Insight Blog.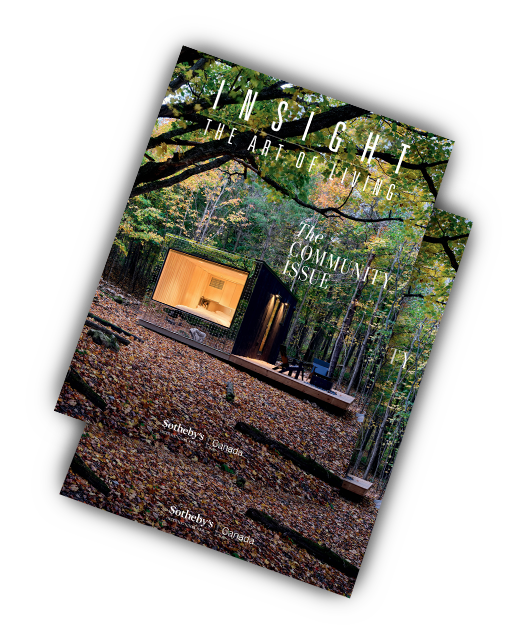 Receive your complimentary subscription to
INSIGHT: The Art of Living magazine