Be transported to the heart of the forest at Sauvage —chef Tracy Little's Canmore restaurant dedicated to all things local and wild.

Chef Tracy Little's Instagram handle is @WildLittleChef — clearly a play on her surname, but also a clever summation of what makes her tick, both personally and professionally. Raised in northern Alberta, near the city of Fort McMurray, Little grew up hunting and foraging with her forester father, first because it was practical — why spend money at the grocery store when there's perfectly good food growing and available right beside you? Later, the young culinarian developed an appreciation for food that tells a story about the place it comes from. That passion for hyper-local food that evokes a multi-sensory experience is the driving force behind Sauvage, Little's fine-dining spot in Alberta, in the mountain town of Canmore, just east of Banff National Park.

Like many Canadian chefs, Little started with a fairly conventional path towards professional cooking. She went to culinary school and began paying her dues in restaurant kitchens. She eventually landed in the kitchen of the remote luxurious Milton Lake Lodge in northern Saskatchewan, where she took to foraging ingredients to fill in the gap between food deliveries and add some extra flair to the menu. Later, after heading back south, Little spent some time in what she calls"regular restaurants" — most notably, Rouge, in Calgary — but city living didn't suit her and she couldn't resist the call of the mountains.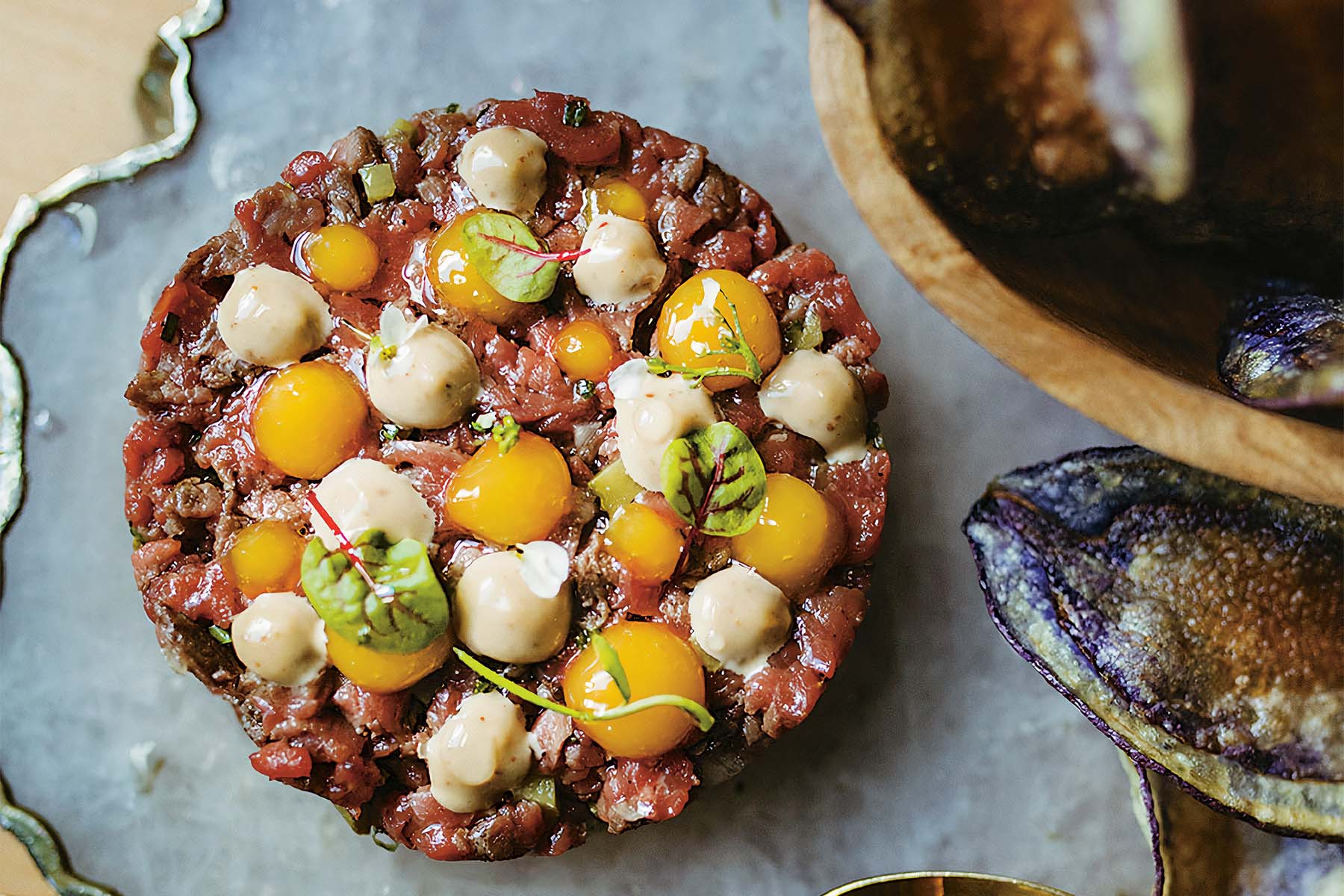 What Little jokingly refers to as "the full Tracy experience" emerged in 2019, at the sensory, in Canmore. There, as executive chef, she helped launch the upscale restaurant and impressed adventurous eaters with her tasting menus, including the three-course gourmet meal simply called "Trust Me." But the journey towards Sauvage really began in 2020, when Little's family assisted her in purchasing Tapas, a well-established and much-beloved restaurant in Canmore. To play it safe, she stuck with the restaurant's name and Spanish concept, hinting at what was to come with a high-concept, mountain-themed tasting menu that in-the-know diners enjoyed while those at the tables next to them dined on traditional croquetas and patatas bravas.

"I called it the boil-a-frog method because we made the changes at Tapas so slowly that people didn't realize we were turning up the temperature on them," Little confides.

She finally took the plunge and rebranded Tapas as Sauvage in September 2021. While à la carte offerings remain, the real star of the show is the tasting menu —an ever-changing multi-course meal that takes diners on a virtual walk through the forest and evokes the smells, sights and flavours of the Rocky Mountains.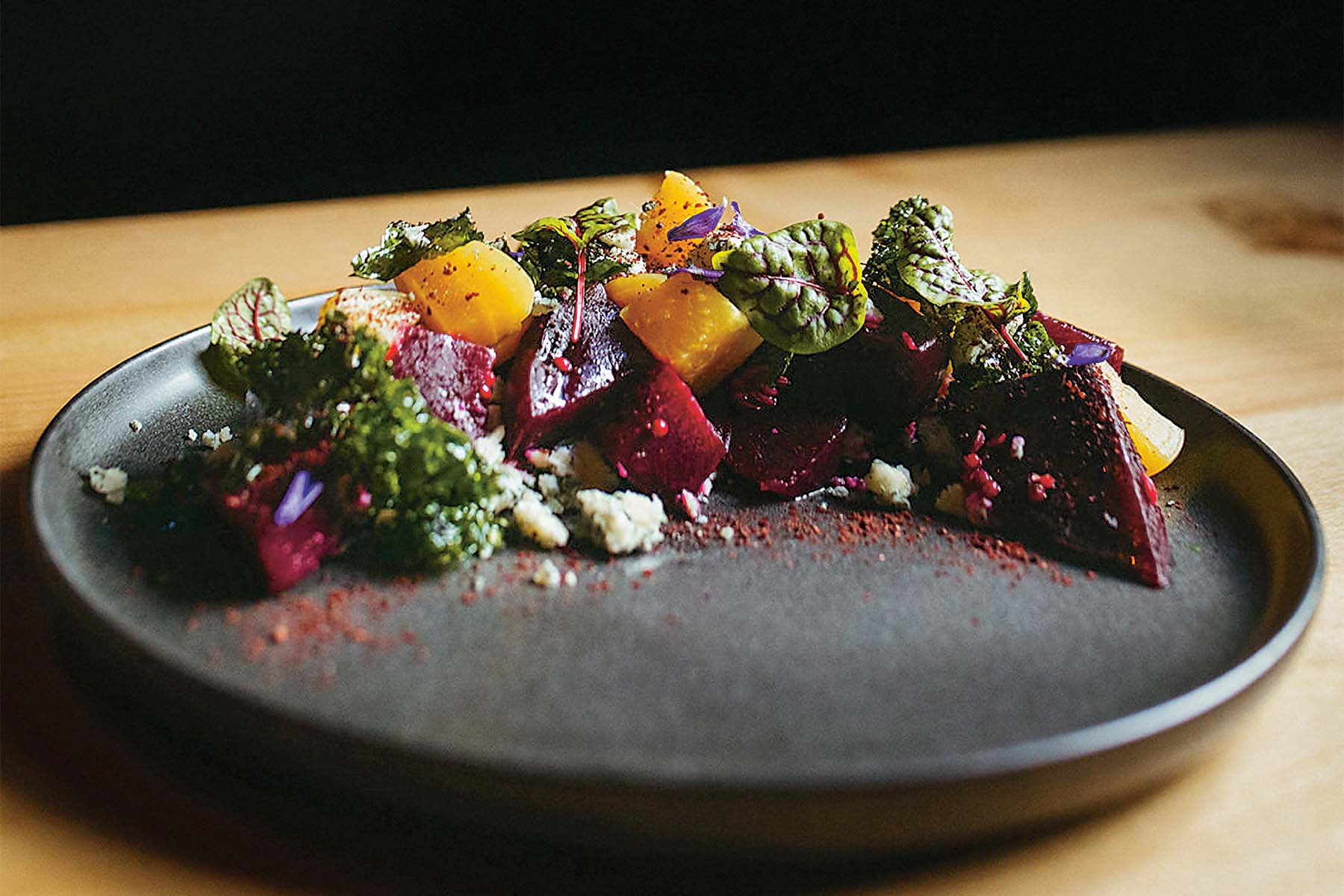 Sauvage's food is not rustic. Little's style falls into the tradition of fine dining, though she uses classic techniques on uniquely mountain-sourced ingredients.

Chicken, beef and conventional pork are out, as these meats aren't usually farmed sustainably or indigenous to the BowValley, where Canmore is situated. Instead, the chef opts for bison, elk, wild boar, freshwater fish and yak, all sourced from small farms that she trusts.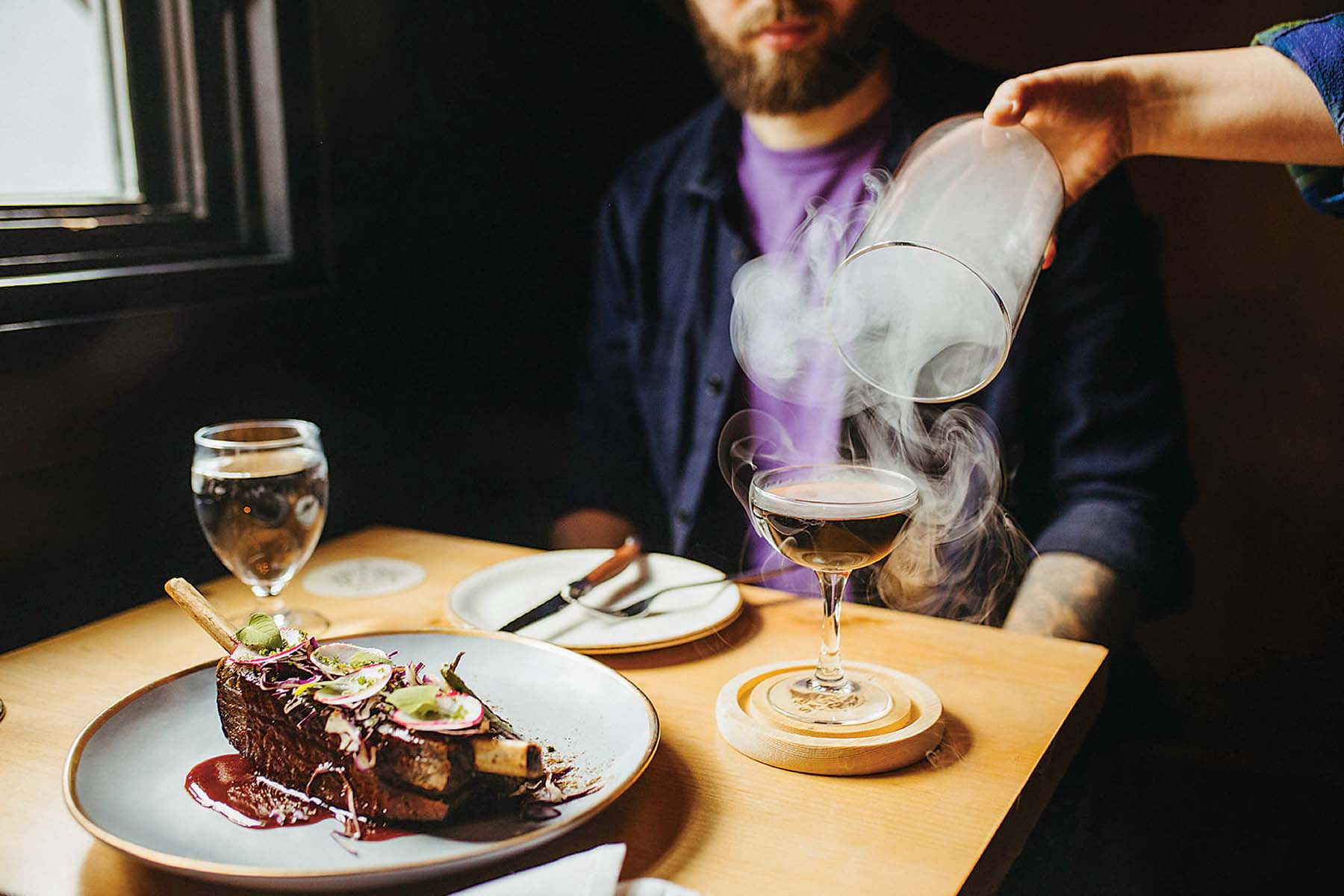 And while animal proteins are an important part of the menu, Little also gets considerable fanfare for her clever use of foraged ingredients. Utilized as garnishes or flavour enhancers, the found ingredients— such as spruce, lovage, wild caraway and mint — appear alongside traditional fine-dining indulgences like truffle, demi-glace and mimolette cheese. Little and her kitchen staff (and, usually, also her border collie, who is always keen for exercise) goon daily foraging excursions, sometimes up to higher elevations, to look for wild lichen, though she notes there are plenty of goodies too, lurking in the empty lots and river banks of the town, invisible to those without her expert eye.

"Foraging is a lot like cooking in that you are constantly learning," Little explains. "If I'm confused by something,I won't feed it to other people until I'm absolutely sure it's safe. It's not like riding a bicycle because if you don't keep [in mind] what ingredients look like and what they taste like, you'll forget.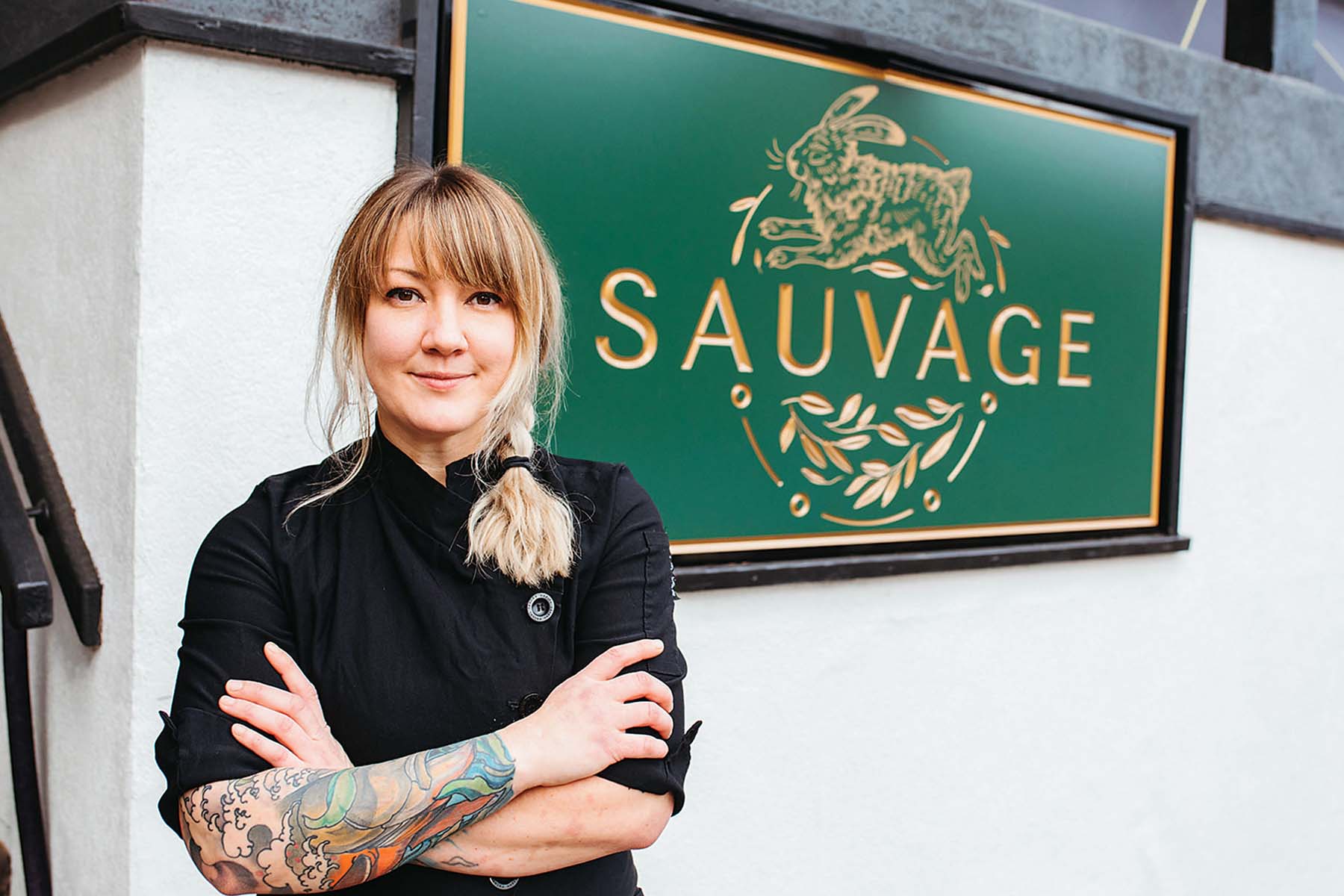 "Not everyone loves Little's wild-first approach — she says she's had guests walk out after seeing the menu — but having her own place means she can stick to her beliefs, which include honouring environmental sustainability and indigenous ways of eating. Beyond that, her vision has always been about creating that taste of place and offering visitors a completely immersive way to experience the land that is so dear to her own heart. Sauvage can only exist exactly where it is — if Little was cooking anywhere else, the food and the feeling wouldn't be the same.

"[Sauvage] has given me more confidence to just put myself out there, and all of a sudden what I'm doing is being accepted," Little says. "When I'm feeding visitors who are experiencing the mountains for the first time, it's an opportunity for me to really give them that sense of indelible awe because they can either eat an ingredient that they've walked by or taste, more deeply, where they are."

---

By Elizabeth Chorney-Booth – *This article originally appeared in INSIGHT: The Art of Living | Spring 2022.
Receive your complimentary subscription to
INSIGHT: The Art of Living magazine