Imagine, if you will, the perfect winter home. What does it look like? Is it a classic colonial with a foot of snow on the roof and smoke spiralling from the chimney? Perhaps the interior is crisp and bright, with sunshine streaming through the windows, blankets to warm cold toes, and a hot drink steaming on the stove. With a few thoughtful touches, any home can feel welcoming and warm, despite the chill outside.

Make a Grand Entrance
An inviting entryway sets the tone for the rest of your day, whether you're heading out or coming in. Outside, install spotlighting to increase visibility on slippery walkways. Fill vases and pots with cut branches—pine and holly work well in the colder months, and can be replaced with flora after the frosts pass. Inside, designate places to sit and store winter layers: boot brushes, shoe trays, umbrella stands, and industrial-chic coat racks make the work of cold-weather dressing less of a chore. Ensure everything you need to get cozy is nearby and accessible: stow slippers and pashminas for guests, and have a digital assistant handy so you can cue the music as soon as you step indoors.

Splash Out on Winter Whites
There's a reason whites are a classic décor choice in the winter: they make the most of the available natural light. Bright white walls reflect daylight and make any room feel more spacious, and white accents bring in a touch of neutral refinement. Try decorating with a selection of throws, pillows, accent pieces, and light fixtures in this lightest of shades to balance out the shorter days and cooler temperatures.

Cozy Up to the Hearth
The kitchen may be heart of the home, but a good fireplace can give it a run for its money. Update your firewood storage with the latest shelving or brass bins, and give your tending tools a quick scour to start the season off with a fresh slate. If you have a gas fireplace, make sure to get it serviced regularly. A mantelpiece is the perfect place for decorations—cut evergreen boughs, candles, and twinkling lights make for a cheering sight whenever you're in the room. To keep in the heat, ensure your flue is closed when the fireplace is not in use, and use a chimney balloon or insulator to reduce any drafts.

If you don't have a functional fireplace in your space, you can still create that toasty ambiance. Try setting up a row of pillar candles where a fireplace might go, or lighting up a sideboard with an array of tapers—opt for naturally-scented varieties to add a pleasant aroma to the room.

Get inspiration from these homes with gorgeous hearths >

Nestle In
A bed is a wonderful spot year-round, and leaving it gets harder as the mercury drops. Luxuriate in this coziest of spaces by taking some time to dress it for winter. Swap your cotton sheets for a flannel set, and keep a few extra-soft throws within reach so you can layer up without emerging from your cocoon. A chunky arm-knit blanket brings rustic charm to any bedroom, and a sheepskin rug on the floor makes a soft spot for those toes to land when you eventually do have to get out of bed.

Soft textiles aren't only for the bedroom, so keep extra blankets on hand in all your living areas. For a special touch in the bathroom, keep your towels feeling like they're perpetually just out of the dryer with a heated towel rack.

Reflect on the Year
Avoid cabin fever by making your space feel bigger and brighter. No renovations are required: all you need are a few well-placed mirrors. Your entryway, above the mantel, or in the dining room are all popular spots. To maximize light, hang mirrors opposite a window. Make a bold statement with a single large mirror, or group several evenly-spaced smaller mirrors together.

Adjust the Thermostat
A big part of having a snug winter home is keeping heat in and cold out. As the temperatures plunge, ensure your home is at peak efficiency by doing an energy audit: check electrical plugs, door frames, and piping for opportunities to close the gaps. If your home has an attic, ensure that wood floors have been bolstered with appropriate insulation. Rugs and drapes can add another layer of defence by warming up floors and blocking the chill around windows. And installing a smart thermostat can save you as much as 10% a year on your heating bill, and lets your house do the work of adjusting, whether you're out for the day or in for a cozy afternoon.

Take the Warmth Outdoors
No matter how beautiful your home is, you're not going to want to stay inside it all season long, so make the most of your outdoor spaces, too. That fire pit isn't just for summer nights: bundle up, bring a hot drink out, and watch as the crackling flames spiral up to the starry skies. A patio heater keeps your covered outdoor areas toasty, making a scenic place to watch the snowflakes tumble to the earth.

A warm home in winter isn't just about putting the heating on—it's about creating the kind of space that makes you feel warm inside. A few thoughtful touches will keep you and your family in good cheer all season long, no matter what the weather may be doing outside.
---
This article was originally published on December 24, 2019 and has been updated on November 19, 2021.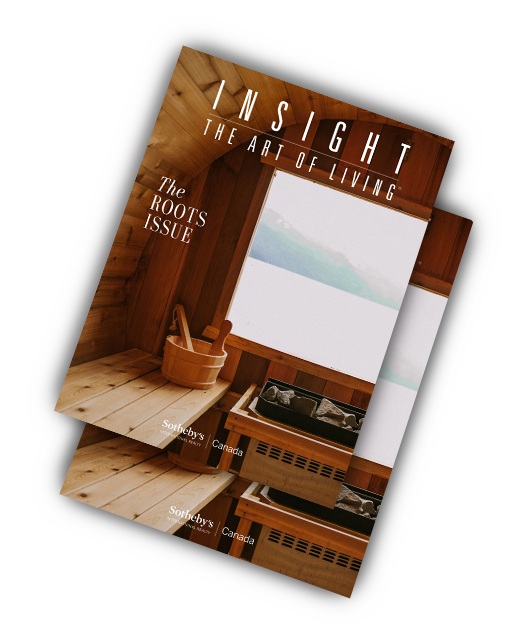 Receive your complimentary subscription to
INSIGHT: The Art of Living magazine