There is something inspiring about a spacious loft in the heart of the city. Loft living conjures images of exposed brick and floor-to-ceiling windows, of brilliant artistic minds at work, of sunsets and bohemian joie de vivre. The loft as we know it sprang up in New York City in the 1960s, inspired by artist lofts in Paris—so it's fitting that a city like Montréal, which has touches of both cities within it, boasts such an excellent collection of luxury loft condos.
Converted 19th-Century Tannery Loft, Le Sud-Ouest

On the edge of the Lachine Canal, just steps from the Atwater Market and a short jaunt from downtown Montréal, this character loft condo in the heart of the city was converted from a late 19th-century tannery. The plentiful brick, 14-foot ceilings, wood columns, and visible pipes at Le Clos St. Ambroise preserve the industrial feel of the original building, and the addition of beautiful outdoor common gardens with fountains provides a touch of serenity to a once-bustling centre of activity.
Bohemian Loft Living, Ville-Marie

For a home with plenty of character, look no further than this captivating loft condo in Old Montréal. In a building constructed in 1895, this converted space retains its heritage via exposed brick and wooden beams. A stone-clad bathroom, wrought iron accent lighting, an impressive curved staircase, and studded doors add visual elements to the traditional minimalism of many loft spaces. Mix a vintage cocktail at the wooden bar, then bring it up to the rooftop terrace that overlooks Frères-Charon Park.
Open-Concept NYC-Style Loft, Mile End

Revel in the best of urban living in this natural-light–soaked loft in Le Plateau-Mont-Royal, Montréal. The fantastic central location boasts a nearly-perfect walk score—but why leave when home has so much to offer? Two units were combined and renovated in 2010, resulting in this 2,870-square-foot condo in the middle of everything. The huge wall of panelled casement windows and an enormous skylight let in plenty of natural light. Special features include a Liebherr refrigerator with integrated wine cellar, Miele ovens and dishwasher, a classic industrial spiral staircase, and a rooftop deck with mountain and city views.
Exclusive Cité Multimedia Loft, Ville-Marie

One of only two units in the building, this loft condo in Montréal's Cité Multimedia charms classic loft finishings. Plenty of brick and wood columns are complemented by a series of Japanese style shoji screens used to delineate rooms in the open floor plan. Enjoy cozy evenings around the wood-burning stove, and in the warmer months turn your hand to the building's quaint stone garden.
Stunning Loft-Style Penthouse, Cité Multimedia, Ville-Marie

It may not have ever been an industrial building—this condo development was built in 2014—but this gorgeous penthouse condo in Montréal's Cité Multimedia combines the best features of lofts everywhere. The result is a luxurious two-storey suite with soaring 19-foot ceilings and panoramic views from two private terraces. Clean, modern lines prevail throughout, featured in the floor-to-ceiling windows, the beautiful kitchen laid out in wood and marble, and the open staircase that combines industrial and natural materials. Building amenities include a gym, outdoor pool, and sauna.
Penthouse Loft in the Heart of Old Montréal

Classic loft styling prevails to great effect in this penthouse loft overlooking the St. Lawrence River. The double-height ceilings, open floor plan, and floor-to-ceiling windows create a spacious, airy hideaway made cozy with exposed brick, considered lighting, and a wood-burning fireplace. The gleaming stainless steel kitchen will inspire you to try out the latest Yotam Ottolenghi recipe—bring the final results up to the rooftop terrace for a dinner overlooking the Old Port, with front-row seats to the annual summer fireworks festival.

What makes a loft a loft? Is it the always-elegant combination of exposed brick, high ceilings, and wooden beams? Is it the years of history contained between its walls? Or is it the convenient location in the midst of the downtown core? Whatever the answer, Montréal's urban lofts confirm: outside-the-box living is just a converted warehouse or boundary-pushing build away.

Considering a move to downtown Montréal? Explore these luxury condos and find your next elevated pied-à-terre.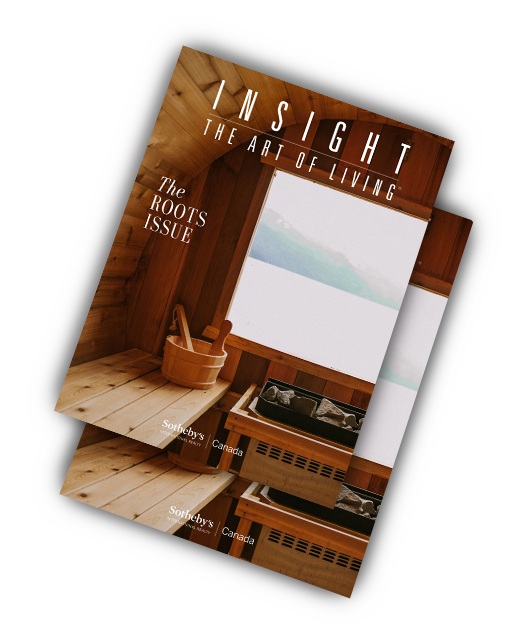 Receive your complimentary subscription to
INSIGHT: The Art of Living magazine