In our busy world, finding time and making space to unwind and disconnect is increasingly vital. Carving out a dedicated spot at home for meditative practices is a great way to cultivate mental wellness, and incorporating certain elements can help establish the right energy and mood. To create your own calming space for meditation start with these tips and get started on enjoying the present.

Serene Lighting
Appropriate lighting is necessary for creating a soothing space, and that means using soft, ambient light to encourage relaxation—think dimmed lighting or candles—as well as the mood-boosting effects of natural light. Depending on where your windows are facing and the level of sunlight you may get in the room, you may need to consider curtains of various opacities to create the right level of soft natural light when you need it. In spaces constructed with dark-coloured woods, take a note from this Wentworth-Nord lakefront home and add lamps as small sources of lighting in a room at various places instead of one large ornamental light fixture. For your lamps, use soft yellow light bulbs and natural textured lamp shades to soften the flow even more.

Airy & Comforting Textures
Adding soft, plush and light fabrics in your space evokes comfort, and even more so when they are in colours within the same family – think creams, off-whites and eggshell whites. It lets the room feel airy and calm and alleviates stress on your senses with minimal striking or harsh distracting colours and textures. This North Saanich beachfront estate perfectly exhibits how to achieve a meditative space using airy and comforting textures and fabrics.

Incorporating Nature
Nature has a grounding energy and the power to help us realign our priorities by offering a fresh perspective. Harnessing that power by meditating outdoors can be ideal, especially in a space like the extended living room space of this restored oceanfront residence in Chester, Nova Scotia. The entire home has a warm, contemporary feel with natural finishes, which is carried through from the living space to the outdoor patio, acting as an extension of the interior. With a wide outdoor space and 120 feet of ocean frontage, there's plenty of room for oceanfront meditation, yoga, or simply lounging in the fresh air without leaving the comfort of home. Nature can be incorporated into any mediation space by introducing organic elements like plants and water features, and if you can go as far as extending your living space to the outdoors, you should definitely do so.

Minimal and Earthy Colors
Soothing colour palettes are key for setting a meditative space. When selecting paint and textiles, take note of the minimalist hues used at this Niagara-on-the-Lake estate, a four-bedroom escape on the Niagara River Parkway offering breathtaking vistas from every room surrounded by vineyards and unobstructed river and parkland vistas. Relaxation is immediate upon entry as muted whites, beiges, creams, oat, and grays harmonize with earthy accents and colours from deep blues to gold, wood and marble. Luxe calmness paired with subtle invigoration.

Calming Views
Where possible, pacifying natural views are the ideal backdrop for meditating. Water is an important grounding element—both in sound and sight—and for many, mountain or water views are the pinnacle for finding zen. This breathtaking waterfront estate in Tay, Ontario, is located on Midland Bay and the gateway of the 30,000 Islands (known as the best fresh water cruising in the world). Ultimate privacy paired with sunset and waterfront views makes many places in this home perfect for unwinding.

If routine meditation has become a priority, having access to a private meditation room right at home is key. Whether opting to transform a room with calming features, or gathering inspiration to build your own sanctuary, prioritizing mental well-being starts with creating a special space dedicated to serenity.

---

This article was originally on Sotheby's International Realty's Extraordinary Living blog and has been adapted for Sotheby's International Realty Canada's Insight Blog.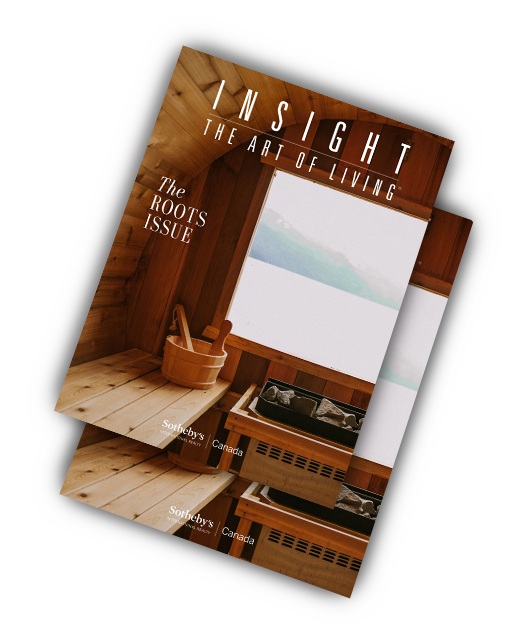 Receive your complimentary subscription to
INSIGHT: The Art of Living magazine