If the phrase "hotel lobby" does little to stir the emotions, there's a good reason. With the exception of iconic stays, like the Park Hyatt Tokyo with its 41st-floor city views and marble-clad grand dames Plaza Athénée in Paris and Raffles in Singapore, most hotel lobbies have more in common with transit hubs than palaces. They're places you pass through to, perhaps, pick up a coffee or directions on your way to somewhere else. As the first place you see upon arrival, however, the hotel lobby has a role that goes far beyond offering a venue to meet, have a drink or scroll through your phone while waiting for your taxi. It sets the tone for a guest's entire experience, instantly establishing a vibe. Increasingly, as hotels seek to entice with exceptional features and personalized experiences, the lobby is becoming a destination unto itself.
While the idea of a lobby where guests linger over cocktails or sip lattes while catching up on emails isn't new, its popularity can be traced back to the Ace Hotel, a boutique brand with numerous outlets, which include New York City, L.A., Kyoto and, as of summer 2022, Toronto. At the Ace, lobbies are typically furnished with comfy leather sofas, funky antiques and potted plants, cultivating a mood akin to a craft coffee bar.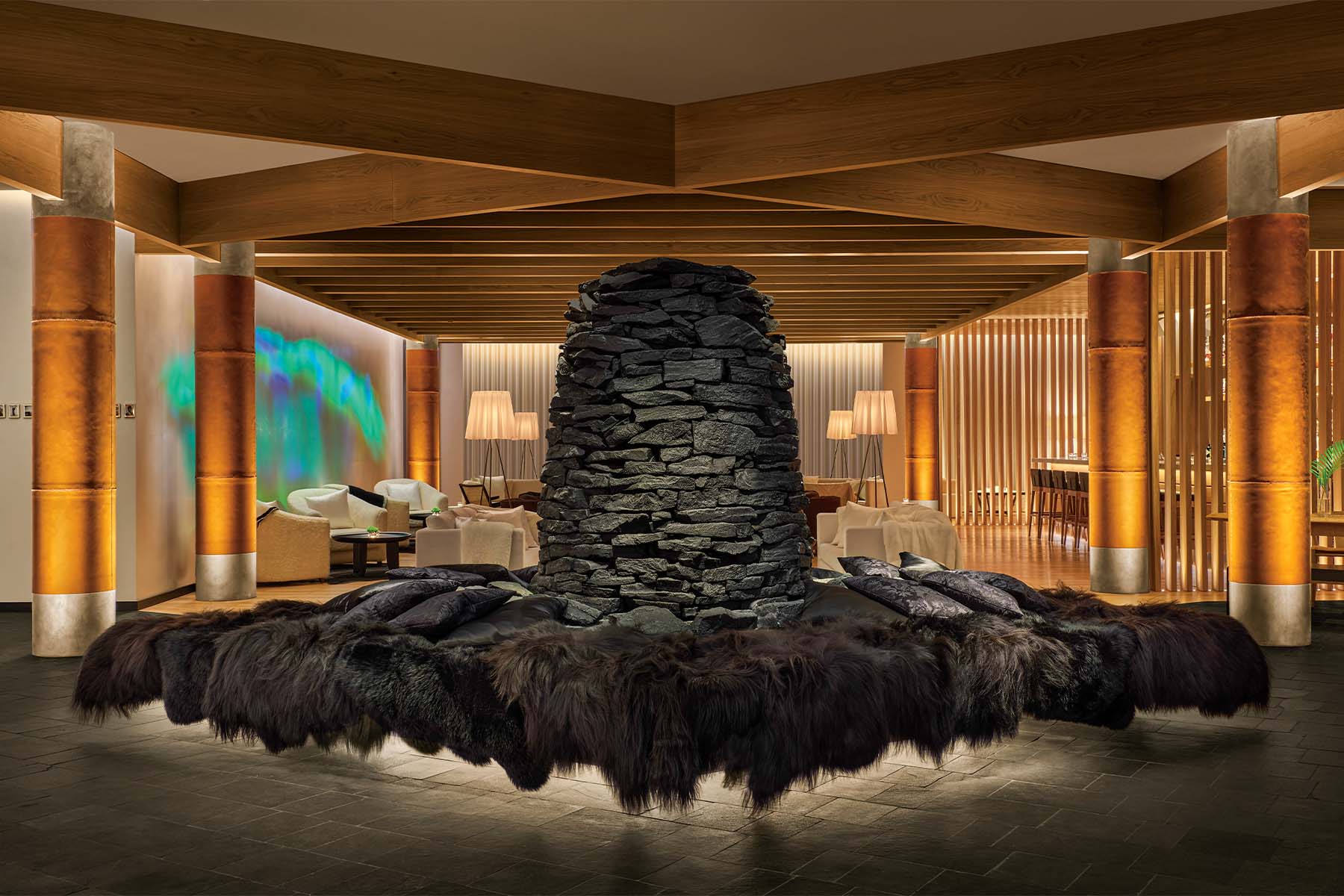 Since the Ace's launch in Seattle, in 1999, the format has proved both popular and influential, spawning 10 locations and countless imitators, each one putting its own spin on the concept. At Reykjavik's new Edition hotel, guests are greeted by a giant slab of black volcanic rock, strewn with Icelandic sheepskins and doubling as a seating area, while a projection of the northern lights dances across one wall. At the recently opened Maybourne Riviera, near Monaco, the hotel does away with a reception desk altogether, furnishing its light-flooded white lobby instead with show-stopping art by Louise Bourgeois and Le Corbusier, a tightly curated library of art and design books, and sweeping Mediterranean views. In Toronto, The Drake Hotel's new five-storey Modern Wing features 32 chic art-filled rooms and a lobby that feels more like a hip neighbourhood cocktail bar than the entrance to a hotel.
"The lobby is very intimate in size and feel, so when we fill the space with art and objects that are conversation starters, strangers and neighbours are able to connect easily," says Joyce Lo, The Drake's creative director. This intimate approach to design, Lo says, extends to the hotel staff, who endeavour to connect with every guest to enhance the personalized experience. Entering the hotel through a revolving door with brass grillwork that recalls grand hotels of another era, guests find themselves in a space much like a living room — plush fabrics, handwoven rugs and an eclectic mix of vintage furniture. Dominated by a brick-clad fireplace and with artwork by Canadian artists Stephanie Temma Hier, Malik McKoy and Saimaiyu Akesuk, the Drake's lobby proffers a stylish respite from the hustle and bustle of Queen Street West outside, with or without the house's signature absinthe frappé cocktails in hand.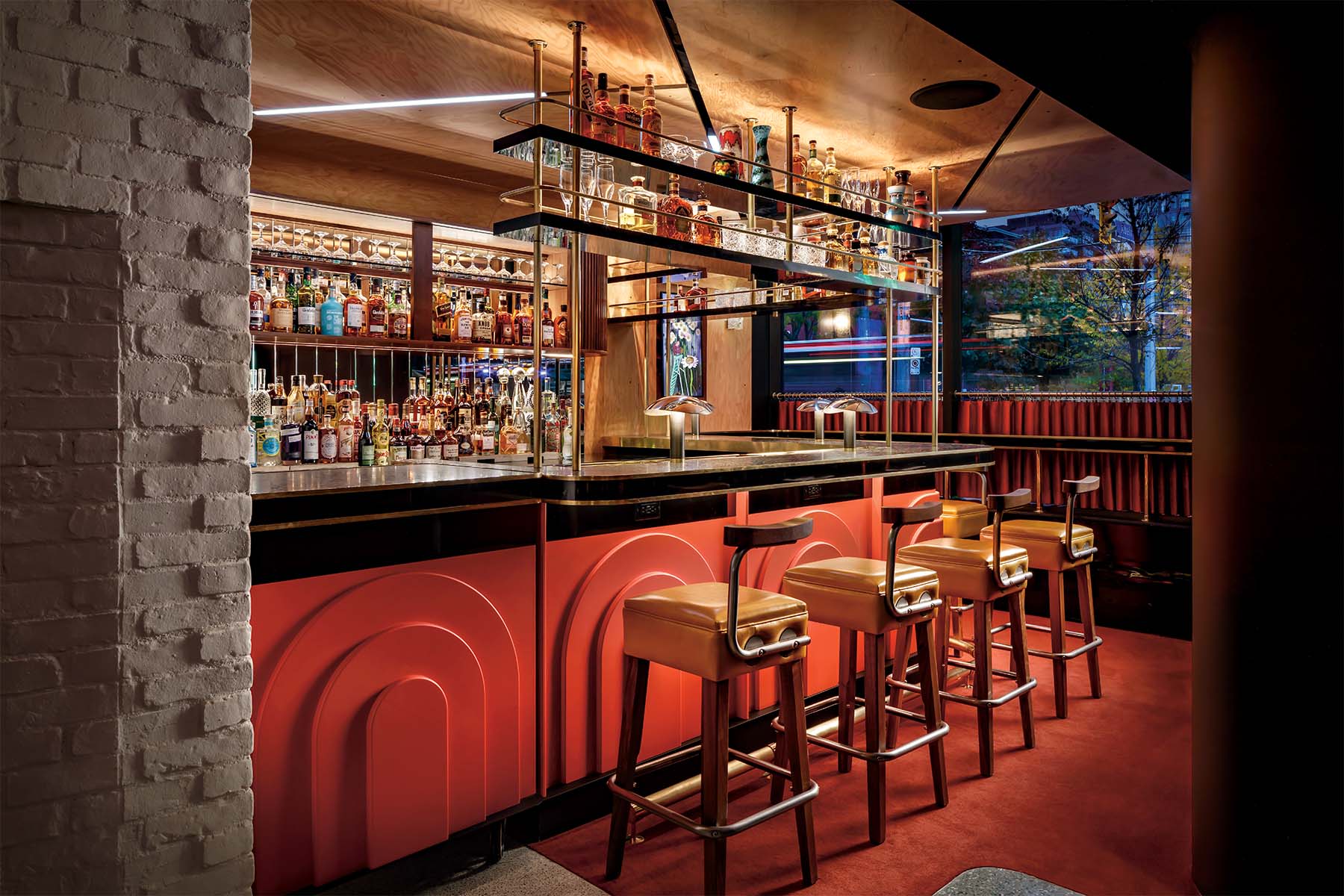 "The intimate scale and idiosyncratic personality of the Drake lobby set it apart from others," says Anwar Mekhayech, a co-founding partner of Design Agency and the lobby's lead designer. "It's curated and layered, bold and eclectic. It doesn't feel corporate or generic in any way."Mekhayech points to the sculptural Corian reception desk by Odami, which is illuminated by a brass light fixture by Concord, and the custom wall sconces by Milke Bau — all designed by studios in Toronto. Other furnishings — like the massive teak-backed sofa that looks like it's straight out of someone's 1970s rumpus room — were sourced at antiques fairs in the U.S.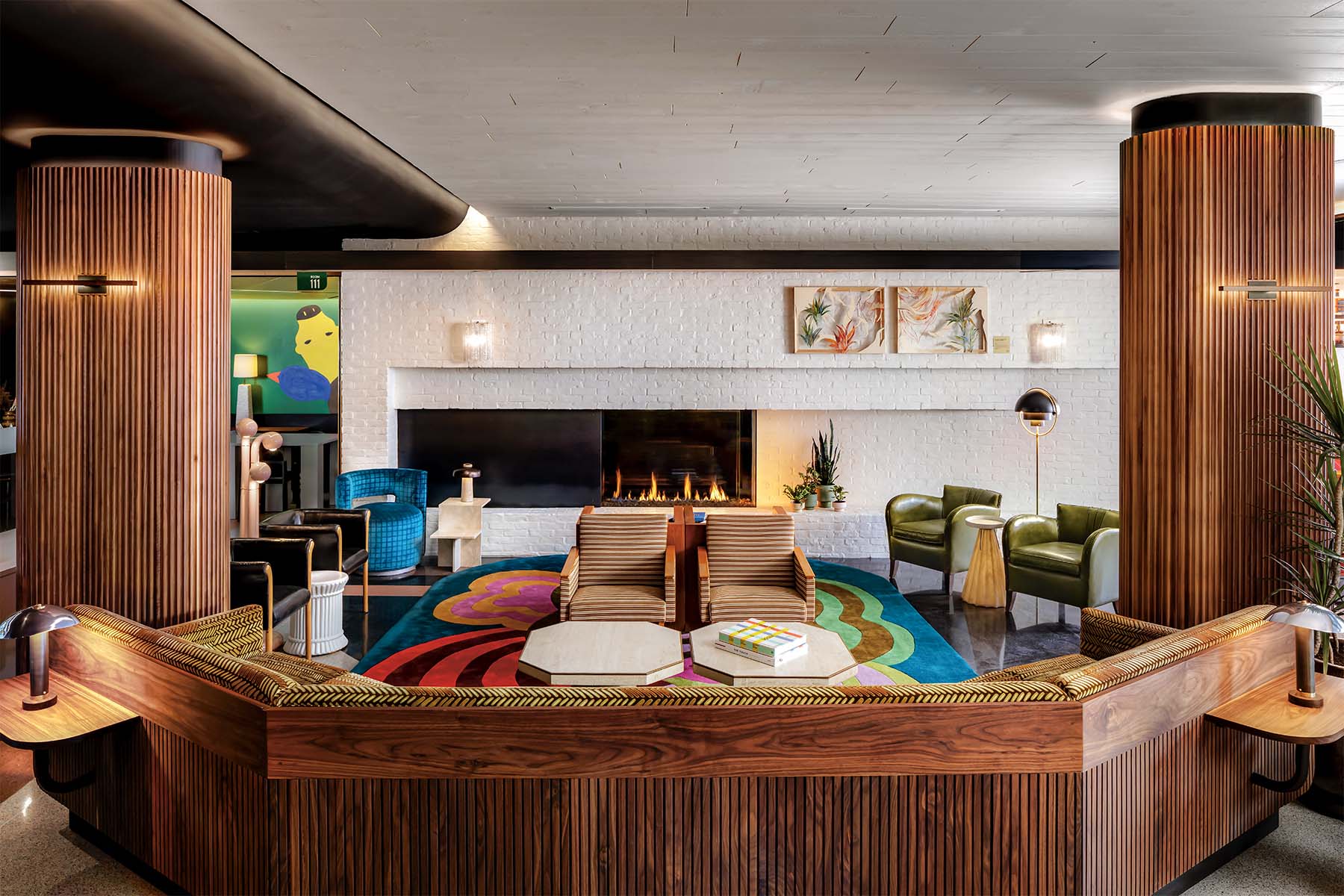 "The furniture groupings are residential in scale, evoking the comforts of home, and the side and coffee tables are arranged within arm's reach, offering a convenient place to rest a glass," Mekhayech notes. "Lighting is also key. An eclectic mix of table and floor lamps creates an affable ambience." All of these elements combine to give the lobby a comforting nostalgic feel layered with unexpected accents to create a sense of fun.
Meanwhile, in Richmond, B.C., Versante, a new boutique hotel, is taking its lobby in a distinctly different direction, with a space designed to appeal to one kind of traveller in particular — the social media influencer."[Versante] celebrates everything the social media community has to offer," says designer Adèle Rankin of Vancouver-based CHIL Interior Design. "As a society, we are now more interested than ever before in what other people are doing, how they look, what they are consuming and where they are going. In the ever-expanding outlets [where] people choose to display their lives, even areas like lobbies are now a backdrop to modern-day popularity."

To this end, Versante's lobby is filled with contemporary art and sculptural modern furniture and accented with bright reflective materials and subtle nods to Asian heritage — all intended to be catnip for jet-setting Instagrammers. With artwork, a statement area rug designed by Vancouverite Andy Dixon, whose vividly hued creations have been featured in collections for Versace, and pieces by famed Vancouver-based sculptor Marie Khourianchoring the front desk, the space has as much impact on a smartphone screen as it does in-person.

There is no proven formula for what makes a hotel lobby amazing, but the best of them have one thing in common. They combine the most exciting elements of travel — new people, new experiences, new cultures — in a way that's familiar and welcoming, as well as distinct.

As designer Mekhayech puts it: "A hotel is your home away from home — even if your home is just around the corner. That's not a new concept, but today we want our homes to comfortably function as an office, a social space and a retreat. The same is true for hotels. If you give people a fun place to gather, an inspiring place to work, a quiet spot to enjoy a cup of coffee or an engaging milieu to have a cocktail and people-watch, they will return again and again."

---

By Jeremy Freed – *This article originally appeared in INSIGHT: The Art of Living | Fall 2022.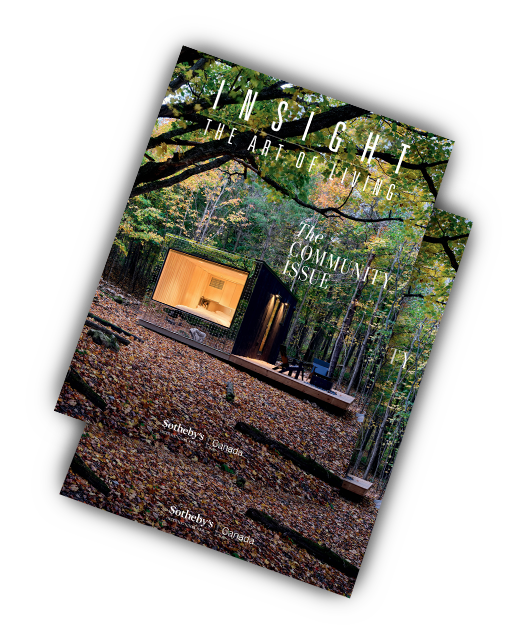 Receive your complimentary subscription to
INSIGHT: The Art of Living magazine