Coming out the other side of Covid-19, the pandemic has changed Canada's downtowns and left them vibrant, not vacant.

Even though many urbanites left downtown when Covid-19 hit, Canada's cities are rebounding rapidly. We asked Sotheby's International Realty Canada Brokers how four major urban centres weathered the pandemic storm.
Vancouver

Between July and October 2020, three properties over $2 million sold," remarks Will McKitka, Senior VP Sales, Sotheby's International Realty Canada. "That's in the entire downtown peninsula."

The pandemic also put a premium on private outdoor spaces, such as balconies and patios, he adds. "If you've got a condo [without] outdoor space, it would be more difficult to sell."

But despite a mass exodus to the suburbs and smaller cities like Chilliwack and Kelowna, there are people who prefer the upside of living downtown. "There are still the 20- and 30-year-olds who have no desire to own a house," McKitka points out. "They enjoy the more vibrant, pedestrian-[centred] downtown lifestyle."

Urban developers are only too happy to offer it. "There are some exciting towers that are coming and they have full amenities," says Broker Kevin Hardy, Senior VP of Sales. "[Refrigeration] concierge services for groceries, [taking care of] laundry, child daycare [within] the building — that's what people want. Even if it's a one-bedroom, they want the luxury of being taken care of."

At the forefront of such premium condos is the Danish-designed 52-storey Vancouver House with its fleet of BMWs for residents to use, five-star concierge service, a high-end gym — and units at around $1,300 per square foot.
Edmonton

When Covid hit, space was on the minds of many Edmontonians. "The big trend was moving not just to the suburbs, but to acreage, or rural properties," explains Realtor Jeremy Amyotte, Senior VP of Sales. "We'd go as much as 10 percent over asking price [and] get 7 to 10 offers, which had never happened in places like Parkland County (45-minutes from downtown)."

But much of the market stayed strong during, including places near downtown. Amyotte notes a "trickle-up effect," the quest for more acreage and many people "rethinking their spaces," he says. "Renters and first-time buyers were also getting into the market and that helped everybody else sell and move up."

In the picturesque riverside neighbourhood of Glenora, the condos at West Block have been performing well despite averaging about $1 million per unit. Why? Because West Block's condos offer more generous floor plans at a time when consumers are placing a significant premium on having more space.
Toronto

Did the pandemic change the Toronto market? Yes — in the short term. The effect is temporary, predicts Broker Paul Maranger, Senior VP of Sales. "In 2020 the pendulum swung in the direction of smaller towns and suburbs. By 2022 the pendulum will swing back in favour of the city. It offers things that a smaller town or suburb cannot, [like] live theatre, concerts, sports, gallery exhibits."

In fact, only some 50,000 people moved to the suburbs. Far more Torontonians viewed the pandemic as a chance to rediscover local nature — the waterfront, biking and hiking trails — or to invest back into their homes the money they weren't spending on going out.

"The single-family housing sector weathered the storm very well, even prospered," reports Realtor Christian Vermast, Senior VP of Sales.

A major factor for the resiliency of the Toronto market is the multitude of neighbourhoods, which offer opportunities to transform, say, abandoned malls and rundown areas into prime real estate. One example is The Junction in the west end. "Some wonderful condo developments are going up there," says Vermast. "Its section of Dundas Street West is filled with fantastic indie shops and restaurants, and it's just north of one of the city's largest parks, High Park."
Montreal

Despite challenges brought on by Covid-19, available subsidies enabled some Montreal businesses and neighbourhoods to weather the pandemic well.

"I have clients who came to me and said, 'I want to buy up all the opportunities downtown,' " says Sotheby's Realtor Saguy Elbaz. "But those opportunities never really showed up. The tenants never stopped paying the rent. The subsidies kept everyone alive."

But though many businesses in the city core held on to their spaces, some central residential areas found it difficult to cope. "Downtown neighbourhoods, like the Plateau and Griffintown, remained strong because they're more residential. People are biking, planting plants outside," Elbaz explains. "But the downtown core is like a concrete jungle. It was very, very quiet once the lockdown was in effect. Even today, my properties in the $1.5-million range have not fully recovered."

Downtown took the biggest hit, as residents in smaller studios went from being close to work and a bustling city to feeling confined.

"All of a sudden, [in] neighbourhoods up in the Laurentians, the average home that would take about 500 to 600 days [to sell] was now selling [and getting] multiple offers because the price was approachable," says Elbaz.

As pandemic restrictions ease, Montreal's downtown market is making a bold return. Sotheby's International Realty Quebec recently announced the sale of a penthouse at The Ritz- Carlton Residences by leading agent Liza Kaufman that set a new record as the highest priced condominium sale through the MLS® system in the province's history. Demand for the YOO Montreal, the soaring 1 Square Phillips, and the ws' 60-floor dual towers has been brisk.

Ranging from $700 to $1,000 per square foot, these condos are more expensive than most units in the city. But with high-octane modern amenities, gorgeous common areas and innovative architectural designs, they are banking on a rebound that Elbaz sees as inevitable
Looking to sell your home? Our real estate advisors offer in-depth knowledge, exemplify professionalism and deliver attentive service tailored to your needs. Connect with one of Sotheby's International Realty Canada's top real estate agent today.
---
By John Crossingham- *This article originally appeared in INSIGHT: The Art of Living | Fall 2021.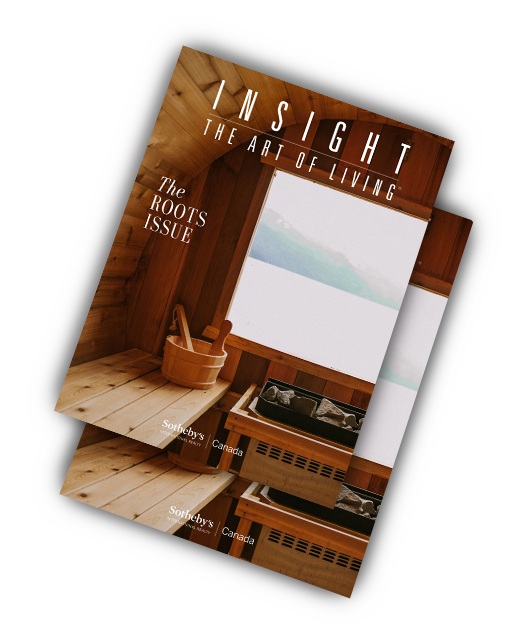 Receive your complimentary subscription to
INSIGHT: The Art of Living magazine