According to Sotheby's International Realty Canada's 2019 Year-End Top-Tier Real Estate Report, Canada's two largest top-tier metropolitan real estate markets rallied in 2019, gaining steady traction throughout the year. After a tentative start to 2019, the Greater Toronto Area (GTA) led the country in top-tier real estate performance with consistent and confident increases in sales activity and pricing, bolstered by the region's strong population gains, healthy economic growth and robust labour market. Vancouver overcame several years of uncertainty fostered by ongoing government and regulatory interventions to see revitalized confidence and activity in the $1 million-plus real estate market by the last half of 2019. Montreal's luxury real estate market achieved notable milestones in its condominium sector in 2019, and the city set new records in top-tier market performance. Despite improvements in the market for real estate under $500,000, Calgary's uneven economic performance and political turbulence dampened a top-tier market already burdened with supply; as a result, recovery continued to lag.

Record-setting population gains in Canada's largest urban areas were pivotal drivers of the conventional and top-tier housing markets, absorbing inventory and expanding the long-term foundation for local housing demand. Furthermore, the decade-long financial bull market and its bouts of recent unpredictability are growing influences on the Canadian top-tier real estate market. Underlying consumer anxiety regarding future financial market performance has increased demand for top-tier real estate as an asset to diversify portfolios, hedge against inflation, and buffer against risk.
Vancouver
Following several years of lackluster performance, the City of Vancouver's top-tier real estate market recovered in the latter half of 2019. Activity resumed as prospective buyers and sellers returned from the sidelines to engage in the market with a willingness to calibrate prices to match current conditions. Overall $1 million-plus residential real estate sales in Vancouver were down 6% in 2019 from 2018 levels, while sales over $4 million declined 25%. However, activity in the last half of 2019 reflected a strengthening top-tier market as sales over $1 million increased 37% year-over-year, led by notable gains in the city's single family and attached home segments.

Calgary
The City of Calgary's top-tier market faltered with building economic and political anxiety leading up to and following the provincial and federal elections. Residential real estate sales over $1 million decreased 13% from 2018 levels overall; however, sales in the latter half of the year reflected a milder 2% decline from the same period in 2018.

Toronto
The Greater Toronto Area's (Durham, Halton, Peel, Toronto and York) top-tier real estate market thrived in 2019. In contrast to the market contraction experienced in 2018 following the implementation of tighter mortgage lending policies shortly after the 2017 introduction of the Ontario Fair Housing plan, residential real estate sales over $1 million (condominiums, attached and single family homes) increased 23% year-over-year. The City of Toronto continued to see $1 million-plus activity escalate in 2019, with sales over $1 million increasing 20%. The migration of luxury real estate sales away from Multiple Listings Service (MLS) to exclusive sales and marketing platforms offering consumer privacy continued to skew sales data. As a result, GTA and City of Toronto sales over $4 million on MLS reflected a 3% decline and subtle 5% increase in spite of healthy activity through 2019.

Montreal
Strong economic fundamentals and consumer confidence, as well as record-setting provincial population gains, fostered healthy demand for top-tier real estate in the City of Montreal. Residential sales over $1 million saw a 13% increase from 2018 levels, while $4 million-plus luxury sales soared 64% year-over-year. In 2019, Montreal's luxury condominium market surpassed previous year's records as the construction and completion of high-end high-rises reshaped the skyline. For the first time in the city's history, top-tier condominiums comprised over 20% of residential real estate sales volume over $1 million. As the city continued to raise its profile as a major Canadian luxury condominium market, sales of condominiums over $1 million set a new record with a 39% year-over-year gain.
---
*Disclaimer
The information contained in this report references market data from MLS boards across Canada. Sotheby's International Realty Canada cautions that MLS market data can be useful in establishing trends over time, but does not indicate actual prices in widely divergent neighborhoods or account for price differentials within local markets. This report is published for general information only and not to be relied upon in any way. Although high standards have been used in the preparation of the information and analysis presented in this report, no responsibility or liability whatsoever can be accepted by Sotheby's International Realty Canada or Sotheby's International Realty Affiliates for any loss or damage resultant from any use of, reliance on, or reference to the contents of this document.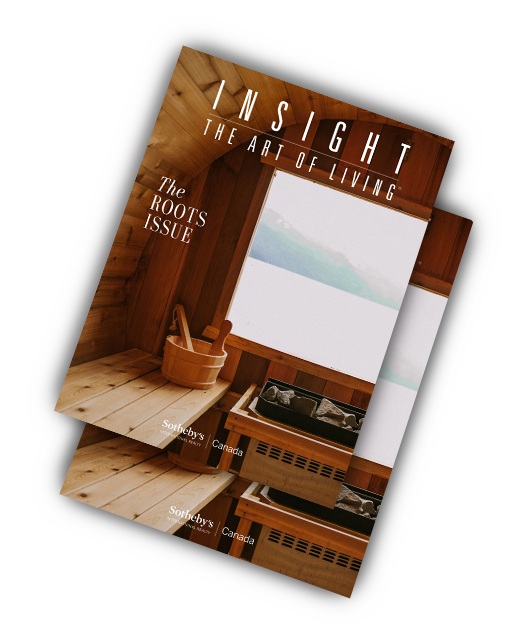 Receive your complimentary subscription to
INSIGHT: The Art of Living magazine