Some believe that the future of our cities, neighbourhoods and homes is contingent on revolutionary change. And yet, urban development and revitalization can just as often involve the re-envisioning and renewal of the past. It is in this way that a community's history becomes the foundation of the future and lives on harmoniously to become a part it.
In this winter issue of Insight: The Art of Living, we invite you to reflect on the value of heritage and history, and how the renewal of all that is "old" may trigger the inception of something new and visionary.

Find out how some of the world's leading architects are preserving the character of iconic landmarks and cityscapes, such as Hearst Tower in Manhattan and the CaixaForum museum and cultural centre in Madrid, even as they transform these beacons of history into environs that reflect innovation.

Read too how Montreal, on its 375th anniversary, is reimagining itself through an opulent renovation of the Musée national des beaux-arts du Québec and the revitalization of Quartier des Spectacles cultural district and Viger Square. As well, with renovation advice from experts at Sotheby's International Realty Canada, learn about the enhancements that will preserve the character and architectural integrity of your home, while improving its value into the future.

From historic estates and heritage properties to futuristic skyscrapers in Canada's major metropolitan centres, Sotheby's International Realty Canada proudly represents properties that reflect a wide range of value at every stage of the evolution and renewal of our communities.

This winter, we invite you to discover these homes within the pages of Insight: The Art of Living, as well as online, at sothebysrealty.ca.

Live life luxuriously.
Brad J. Henderson
President & CEO
Sotheby's International Realty Canada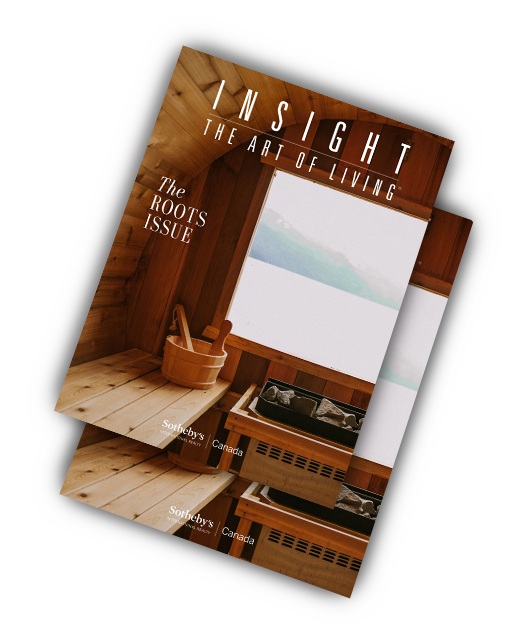 Receive your complimentary subscription to
INSIGHT: The Art of Living magazine