Toronto positioned for greatest gains, momentum continues in Vancouver, Montreal to sustain balance, and Calgary prices to soften, says Sotheby's International Realty Canada
TORONTO, ONTARIO- (Sept. 14, 2016) – Sotheby's International Realty Canada is forecasting that the Greater Toronto Area (GTA) is positioned to lead Canada in $1 million-plus residential real estate sales in fall 2016, with luxury sales over $4 million anticipated to significantly outpace gains in other major Canadian cities, according to Sotheby's International Realty Canada. Tapering sales leading into the summer foreshadowed more normalized fall market behaviour in Vancouver, even as the city absorbs the impact of a 15% foreign buyers tax that came into effect on August 2, 2016. Montreal's $1 million-plus real estate market is expected to sustain modest, healthy growth this fall, while further price declines are expected in Calgary to the end of the year.
According to data released by Sotheby's International Realty Canada in July 2016 for the country's four largest real estate markets, the GTA experienced the greatest year-over-year gains in sales over $1 million (condominiums, attached and single family homes) in the first half of the year, with a 65% increase in sales volume, while city of Toronto sales rose 35%. $1 million-plus real estate sales in Vancouver, Calgary and Montreal experienced year-over-year increases of 26%, 9% and 16% respectively. During this time, luxury real estate sales over $4 million soared 100% in Vancouver and 81% in the GTA year-over-year.
Strong macro-influencers are expected to continue to drive the $1 million-plus real estate market in the GTA, including prevailing consumer demand, confidence in real estate as an investment strategy, low interest rates, and the low Canadian dollar. While economists predict that the introduction of the 15% tax on foreign home buyers in Metro Vancouver will reinforce the moderating trend in the market, it is still early to make widespread predictions about its long-term effect on top-tier Vancouver real estate. Despite temporary uncertainty, the city's market fundamentals are robust and resilient, leading to anticipation that the market will return to more normalized, but healthy levels of activity in spite of changes to tax policy. In Montreal, consumer confidence, political stability, and steady gains over the summer are expected to propel the city's trajectory into a healthy fall market. Steeper price declines will take place in Calgary's $1 million-plus real estate market, the outcome of continued job losses, wage uncertainty, higher vacancy rates and migration from the city.
"The two cities that have been at the forefront of the Canadian real estate market have been Toronto and Vancouver, and we are going to see a clear divergence between their performance this fall," said Brad Henderson, President and CEO of Sotheby's International Realty Canada. "Vancouver's record-setting sprint will return to a more moderate pace, but Toronto's market cadence is set to accelerate."
National Highlights:
Recent downgrades to Canadian economic growth projections, including the Conference Board of Canada's July 2016 adjusted forecast of 1.4% growth vs. the 1.6% forecast earlier in the year, will have divergent effects on metropolitan markets.
British Columbia remains the anticipated leader in provincial economic growth for 2016 and 2017, with strong labour market and net migration statistics that will bolster housing demand and consumer confidence in Vancouver.
Ontario's economic growth trend will continue to fuel the GTA luxury market, while modest growth in Quebec's provincial economy will sustain healthy real estate market conditions in Montreal.
Local unemployment trends will play a key role in metropolitan real estate markets in coming months. In Vancouver, the latest reported unemployment rate has continued to fall beneath the national average of 7.0% (August 2016) to 5.4% in August 2016 vs. 5.7% in January 2016. In Toronto, the unemployment rate remains closely balanced with the national average at 7.2% in August 2016 vs. 7.1% in January 2016. A steeply rising unemployment rate in Calgary (9.5% vs. 7.7%) will dim confidence this fall, while Montreal's relative stable unemployment rate (8.1% vs. 7.6%) is anticipated to have nominal impact.
In light of escalating global uncertainty triggered by international security threats, stock and currency volatility and subdued projections for world economic growth, Canada's position as a political, social and financial haven will attract more international interest into its top-tier markets. Vancouver, Toronto and Calgary were also recently ranked third, fourth and fifth of 140 cities on the Economist Intelligence Unit's annual livability index.
Low interest rates, reinforced by The Bank of Canada's decision to hold its benchmark overnight rate steady at 0.5%, will continue to sustain the $1 million-plus real estate market.
The implementation of a 15% property transfer tax on foreign nationals and foreign-controlled corporations buying Metro Vancouver real estate on August 2, 2016 cast uncertainty into the market and is expected to moderate Vancouver's $1 million-plus sales this fall as local and foreign buyers and sellers reflect on the potential effects of the new tax.
While the longer-term impact of the tax is to be determined, reports from Chinese international property portal Juwai.com illustrated a shift in user behaviour in August 2016: Vancouver saw an 81% year-over-year decrease in searches for housing over $1 million in August 2016, while similar searches for Seattle increased 143% in the same period. This uptick in interest is also being noted in Toronto, Montreal, and Calgary by industry observers.
Vancouver:
More moderate levels of activity are forecast for Vancouver's $1 million-plus real estate market this fall, as the city de-escalates from a heated sellers' market. In particular, the market for condominiums is expected to moderate to the end of the year. Following frenetic sales velocity and double-digit price gains in Vancouver's $1 million-plus real estate market through the first half of 2016, clear signals of self-moderation emerged over the summer when sales resulting from late spring activity began to complete in July and August.
Single family home sales over $1 million declined 30% to 193 units and 65% to 95 units in July and August, compared to the same months in 2015. At the same time, luxury home sales over $4 million dipped 33% year-over-year to 27 units in July 2016, and dropped 46% year-over-year to 14 units in August.
Completion of top-tier condominium sales signalled a more dramatic adjustment. In July 2016, 93 condos sold over $1 million, up 29% from July 2015, while 40 sales were recorded in August 2016, down 49% from August 2015. Luxury condo sales over $4 million experienced a similar trend, with July 2016 sales up 40% year-over-year to 7 units sold, followed by zero sales recorded in August 2016 compared to four units sold in August 2015.
The introduction of the 15% foreign buyer tax by the provincial government on August 2 injected uncertainty into the market, and is anticipated to moderate sales activity and velocity in the fall. Affordability, however, is projected to remain a critical concern: recent policy measures are not expected to significantly dampen real estate prices this fall during an adjustment period that is expected to span several months, while the long term effect of this tax remains to be seen.
With projected economic growth set to lead the nation, continued gains in employment, a low Canadian dollar and an established global reputation for offering a high quality of life, Vancouver remains attractive to local, national and international buyers alike. Long-term market health is expected to be strong.
Calgary:
Since the fall of oil prices in 2014, continued volatility in the oil and gas sector has taken a heavy toll on the real estate market, particularly in its top-tier.In spite of an 11% year-over-year rebound in single family home sales volume over $1 million over the summer months to 97 units sold in July and August 2016, activity is expected to slow in the fall given continued job losses, decreased net migration, lowered wages and decreased levels of spending. Prices are projected to drop further across the conventional and luxury markets, especially in the neighbourhoods where supply has built up.
The market for condominiums over $1 million is also expected to remain soft through the fall, despite two sales recorded over the summer by Sotheby's International Realty Canada that broke three-year records at sale prices of $8.4 million and $5.1 million. With a weak Canadian dollar, continued price adjustments on the horizon and the recent introduction of the foreign buyers' tax in neighbouring British Columbia, Calgary is well positioned for increased international investment, as well as renewed interest from investors from Toronto, Vancouver and other parts of Canada this fall and into 2017.
Greater Toronto Area (GTA):
Coming off of a soaring first half of the year and a more active summer market than anticipated, the top-tier Greater Toronto Area market (Durham, Halton, Peel, Toronto and York) is expected to exhibit the strongest sales gains and price increases of Canada's four key metropolitan markets this fall, driven by local and domestic consumer demand, confidence in the financial returns offered by home ownership, and escalating interest from foreign buyers.
Foreshadowing a brisk fall market, $1 million-plus single family home sales sustained heated growth in July and August, with summer sales up 83% year-over-year in the GTA to 3,026 units and 55% to 959 units in the city of Toronto. Luxury home sales over $4 million rose 74% in the GTA to 47 units, with sales in the city of Toronto up 58% to 30 units. Top-tier condominium market activity is also expected to remain strong following summer gains: sales over $1 million were up 89% in the GTA to 140 units and 86% to 119 units in the city of Toronto.
Hints of newly redirected interest from international investors following the introduction of Vancouver's foreign buyer tax have been observed by industry observers, and is expected to gain traction in the fall, particularly within the top-tier single family home market. Notably, however, strong local market fundamentals and consumer confidence are expected to drive the market.
Montréal:
Year-over-year gains of 16% in the volume of $1 million-plus real estate sold in Montreal in the first half of 2016 followed by an active summer market, indicate a healthy, consistent pace of growth into the fall. Sales of top-tier single family homes and attached homes are expected to increase from 2015 levels, while prices are projected to maintain stability.
Montreal's top-tier condominium market, however, is expected to pivot this fall. Year to date, the number of condos that have come onto the market have been absorbed by consumer demand. In the coming months, as new real estate projects complete and brand new condos are introduced into the market, additional inventory is projected to soften prices across the conventional and top-tier segments.
At the same time, Montreal's top-tier real estate market is expected to see additional foreign engagement in its real estate market this fall, as instability in the European Union and the weak Canadian/US dollar attracts increased interest from France, the rest of Europe and the Middle East to the city. Increased purchase activity from mainland China for the purposes of investment and lifestyle is also anticipated.
Click Here to Download the 2016 Mid-Year Top-Tier Report
on Canada's Luxury Real Estate
---
Disclaimer* The information contained in this report references market data from MLS boards across Canada. Sotheby's International Realty Canada cautions that MLS market data can be useful in establishing trends over time, but does not indicate actual prices in widely divergent neighborhoods or account for price differentials within local markets. This report is published for general information only and not to be relied upon in any way. Although high standards have been used in the preparation of the information and analysis presented in this report, no responsibility or liability whatsoever can be accepted by Sotheby's International Realty Canada or Sotheby's International Realty Affiliates for any loss or damage resultant from any use of, reliance on, or reference to the contents of this document.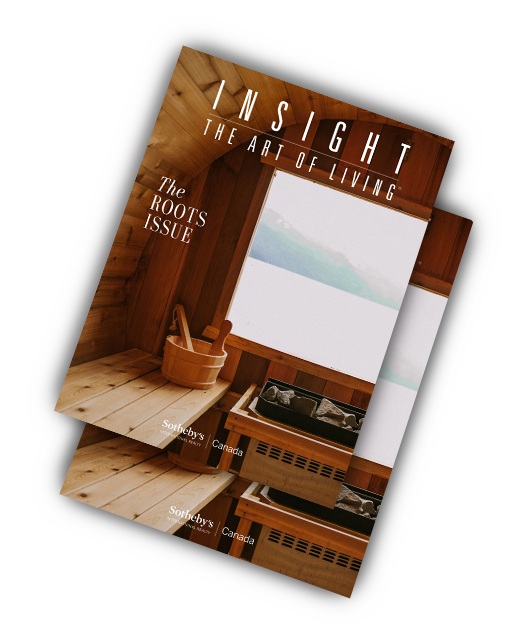 Receive your complimentary subscription to
INSIGHT: The Art of Living magazine