Known for her playful tenacious personal, Calgary-based Interior Designer Amanda Hamilton's bold and unconventional approach to design and business earned her the title of "One to Watch" in the 2013 Western Living Designer of the Year Awards. As the creative director for her eponymous Interior Design Studio, she is relentlessly committed to design education and creative exploration alongside her clients throughout their projects.
Amanda's eclectic home in Calgary is, no surprise, bold and unconventional. While the home is rooted in a classic, timeless palette, Amanda uses it as a platform to explore concepts and express her own ever evolving sense of style. With a well travelled aesthetic, touches of colour, varying patterns and a large collection of artwork, add soul and personality into the home.
With a love for food and wine, Amanda's favourite room is no doubt her kitchen. Fit with an oversized island to encourage connection and conversation, the kitchen acts as the 'heart of the home.' We sat down with Amanda to discuss her real estate experiences and what she loves so much about her home:
1. Think back to the first place you lived in on your own, what were your walls decorated with?
AH: When I first moved to Calgary, I chose this little apartment with loads of character. My grandmother and aunt arrived the next day and promptly moved me out of this charming little spot and into something that had a secure front door and locked mailboxes – ha! Like most 20 year olds, I didn't have much of a dispensable income so I used to tear out fashion photos from magazines like W and display them in flea market frames – a trick I learned from my mom.
2. What did you love most about the first place you purchased?
AH: The first home we purchased was in the Calgary neighbourhood of Marda Loop. It was a brand new build and we bought it from a young couple who had likely purchased it as an investment. I remember that they left us a mini bottle of champagne in the fridge to congratulate us on our first purchase – we were finally adults! I loved that our little one bedroom unit looked into a courtyard with plenty of greenery. It was also within walking distance to a Starbucks, Safeway and other quaint neighbourhood amenities. We still own the condo today and use it for rental income.
3. How would you describe your interior design style now?
AH: Evolved, exploratory, eclectic, soulful. This evolution through design has been inspired by my studies, personal experiences, travel and joint exploration of design with my clients. My style is eclectic because I love everything from bold patterns found in Morocco to the refined, sensible style of a Japanese or Scandinavian aesthetic. My approach is rooted in story telling as I believe homes should embody our character and echo our individual personalities.
4. What room do you spend the most time in now?
AH: Probably the kitchen as we generally entertain most weekends and I love to cook during the week when I have the time. However, we also spend a lot of time in the "cozy room." It was to be a library but was cut from the budget during renovation (gasp! I know – interior designers actually have budgets!). It's actually the most unfinished room in the house but we threw an oversized down filled sectional in there and it's our favourite spot to watch Netflix, drink wine and nap. 
5. What is the #1 feature you'd look for in your next home?
AH: We just completed building our own home and it has certainly enlightened my understanding of what the expectations are as a client versus my perception as designer. It has also given me a new appreciation for the experience of our clients and where I can grow as a professional in the design industry. Given this, the #1 feature I would look for would be very thoughtful considerations for creating public space that encourages entertaining, as well as private space for connection with family members.
6. What does your dream home look like?
AH: I've always imagined that my dream home would be single level with a variation on a 'U' shaped footprint so that there are two wings and a central living space that looks into a private courtyard. There would be floor to ceiling windows that would retract, allowing a seamless relationship with the outdoor environment. It would be on the water and have a large garden so I could cook with fresh ingredients. I have no idea what the interiors would look like – perhaps "well travelled" would explain it best.
Amanda's favourite property on sothebysrealty.ca right now:
Inspired by significant cultural and social influences like literature, art, film, music and fashion, Amanda's design aesthetic is continually evolving. Her recent endeavour includes developing a collection of textiles which will expand to included lifestyles pieces, objects d'art, home accessories and furniture. The brand is available in select retail boutiques and via e-commerce at AmandaHamiltonDesign.com.
In addition to her experience in restaurant design, Amanda has designed a range of other commercial spaces including retail boutiques, commercial office space, medical centers, salons and wellness spaces. Residentially, her growing portfolio includes custom built homes, large scale renovations and multi-family developments.
Visit www.amandahamiltondesign.com or follow the studio on Instagram and Twitter @AHIDstudio or Amanda's personal adventures on Instagram and Twitter @AmandaMHamilton. She can also be found on Pinterest @AmandaMHamilton and Facebook @AmandaHamiltonInteriorDesign.
Photography by Cheryl Wallach, Freelance Photographer. Visit http://www.cherylwallachphotography.com or follow @CherylWallachPhotography on Facebook for more information.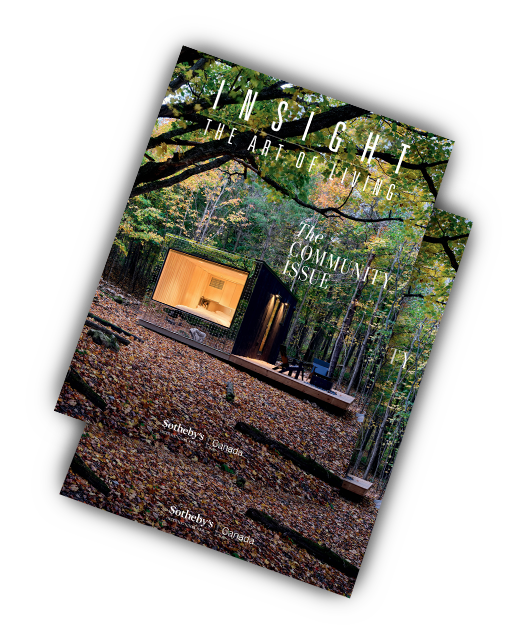 Receive your complimentary subscription to
INSIGHT: The Art of Living magazine