Bojana Sentaler is a very, very busy person. So busy is she that it's taken nearly one month to schedule our interview. That's because since Christmas Day in 2017, this Canadian fashion designer's phone has been virtually ringing off the hook. The seminal moment was the day Meghan Markle, Duchess of Sussex, wore a form-fitting alpaca coat of Sentaler's design — the long wide-collar wrap coat — while exiting a church service on Queen Elizabeth II's private country estate in Norfolk. It didn't take long for the camel-hued coat to sell out worldwide, which explains why Sentalar has been spending so much of her time keeping up with demand. But there's more to her eponymous label than the "Meghan Markle effect." After all, Markle isn't the only royal spotted sporting a Sentaler design.

International expansion, media headlines — no doubt, Sentaler is leading the pack in Canadian fashion right now. But what's perhaps surprising is that this 34-year-old designer has no formal training in the field where she's very much excelling. "Since I was very little, I've been sketching fashion," Sentaler says. "I have always had a desire to create. It's not something learned in school." Nine years old when her family immigrated from Belgrade to Toronto, she is a graduate of York University's Schulich School of Business with a major in marketing and a minor in finance. Fashion wasn't on the curriculum, but chance encounters have a way of changing one's course in life.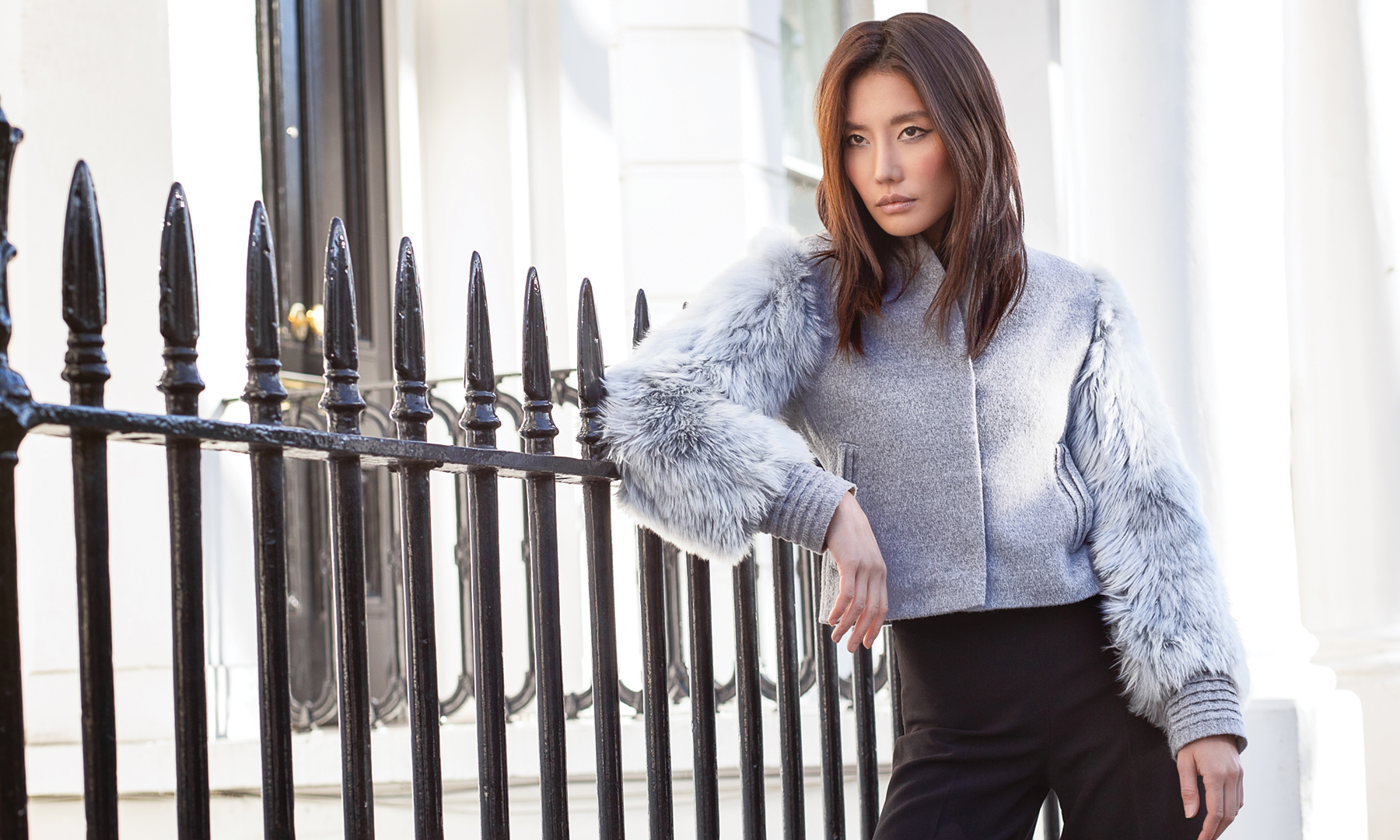 The label's shale grey bomber jacket for fall/winter 2018 features sleeves crafted from cruelty-free Suri alpaca
Take her first brush with destiny, which involved the iconic fashion designer Karl Lagerfeld, long-standing creative director at Chanel and Fendi. Post-graduation, Sentaler had relocated to Dubai, where she worked in publishing. She was interviewing Lagerfeld about a development project he was working on. "You either have it or you don't," he told her. "And if you do have it, go for it." Those words inspired Sentaler to act on her innate love of style and design.

Then, a personal trip to Peru helped blueprint her fledgling brand's DNA. "Growing up in Canada, I have always been aware of how long and cold our winters are and, even more so, how difficult it was to find an elegant but warm winter coat to combat the weather," she says. "When I discovered the alpaca fibre, I knew instantly it was the perfect material."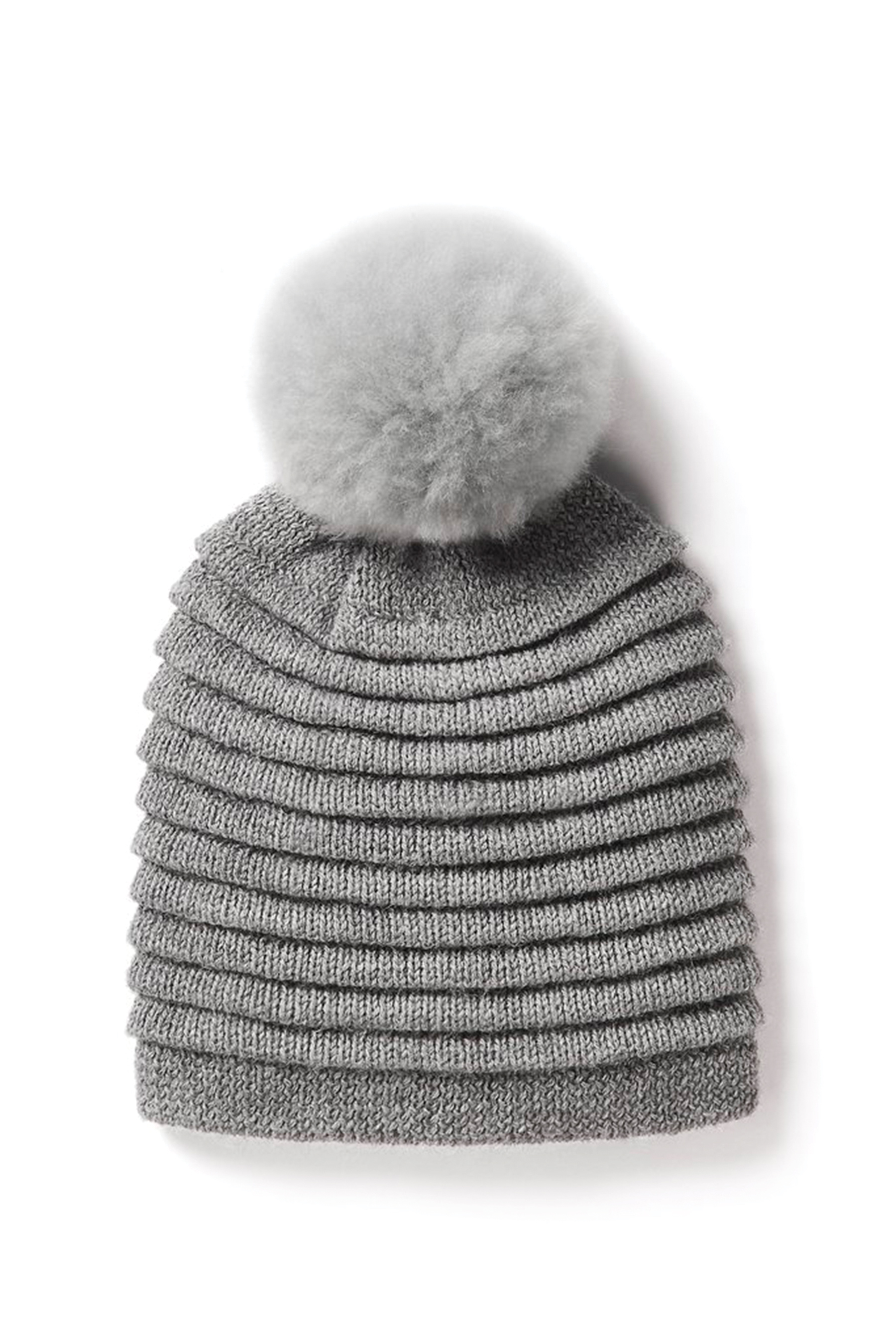 Sales proceeds from Sentaler's alpaca hats and scarves for babies are donated to SickKids Foundation
Alpacas are raised in the frigid temperatures of the high-altitude Andes, where their
coats form microscopic air pockets, boosting thermal insulation. Conversely, when the temperature outside rises, those air pockets compress, providing a cooling effect. The result is a natural fabric ideal for three-season wear, which, unlike wool, also happens to be hypoallergenic.

Sentaler coats have been made in Peru since the brand's inception in 2009. "I've been regularly visiting [that] beautiful country and have grown close to the families I work with there," says Sentaler. "For many who live in the Andes, supplying alpaca raw materials to fabric mills is their main source of income and I am proud to support them." Considered a sacred domesticated animal, the alpaca is protected by the Peruvian government. The animals are sheared for their fleece every two years and are not harmed in the process. Pelts for the fur on Sentaler's collars are sourced from alpacas that have died from natural causes, which is why the label declares itself cruelty-free and sustainable.

The look and feel of the brand's coats, which take inspiration cues from the alpaca fibre itself, came about organically. "[It's] a rare fabric that has a beautiful natural drape on the bias, [allowing it] to hug a woman's figure in a very flattering way," Sentaler explains. But the real stroke of style genius was, perhaps, in the visual codes created to make a Sentaler coat immediately recognizable even from a paparazzi distance. The signature ribbed sleeve detail has been spotted on Tatiana Maslany of Orphan Black fame and, more recently, on Scandal actresses Darby Stanchfield and Tessie Santiago. And there's no denying the impact that having a royal wear a Sentaler piece, which ranges in price from $1,000 to $2,200, has had on the label's bottom line.

Canada's First Lady, Sophie Grégoire Trudeau, first donned one of Sentaler's wrap coats, in white, for her husband's inauguration ceremony in 2015. Kate Middleton, Duchess of Cambridge, sported a similar coat in 2016 for her royal tour of British Columbia and Yukon. But it was Meghan Markle who cemented the brand's it-status by choosing to wear a Sentaler on the most magical of winter holidays, shortly after the announcement of her engagement to Prince Harry. "The effect was instantaneous," recalls Sentaler. "We've seen an immense growth in global awareness, with consumers and media from all corners of the world."

As a consequence, however, that best-selling style falls repeatedly on back order, which
is why Sentaler now allows customers an opportunity to preorder from an upcoming collection in advance — a wait-list scenario of the less-frustrating kind. "Each coat is produced with the highest level of care to provide consumers with the best product on the market," she says, referencing Sentaler's artisanal construction, which explains occasional back-order delays.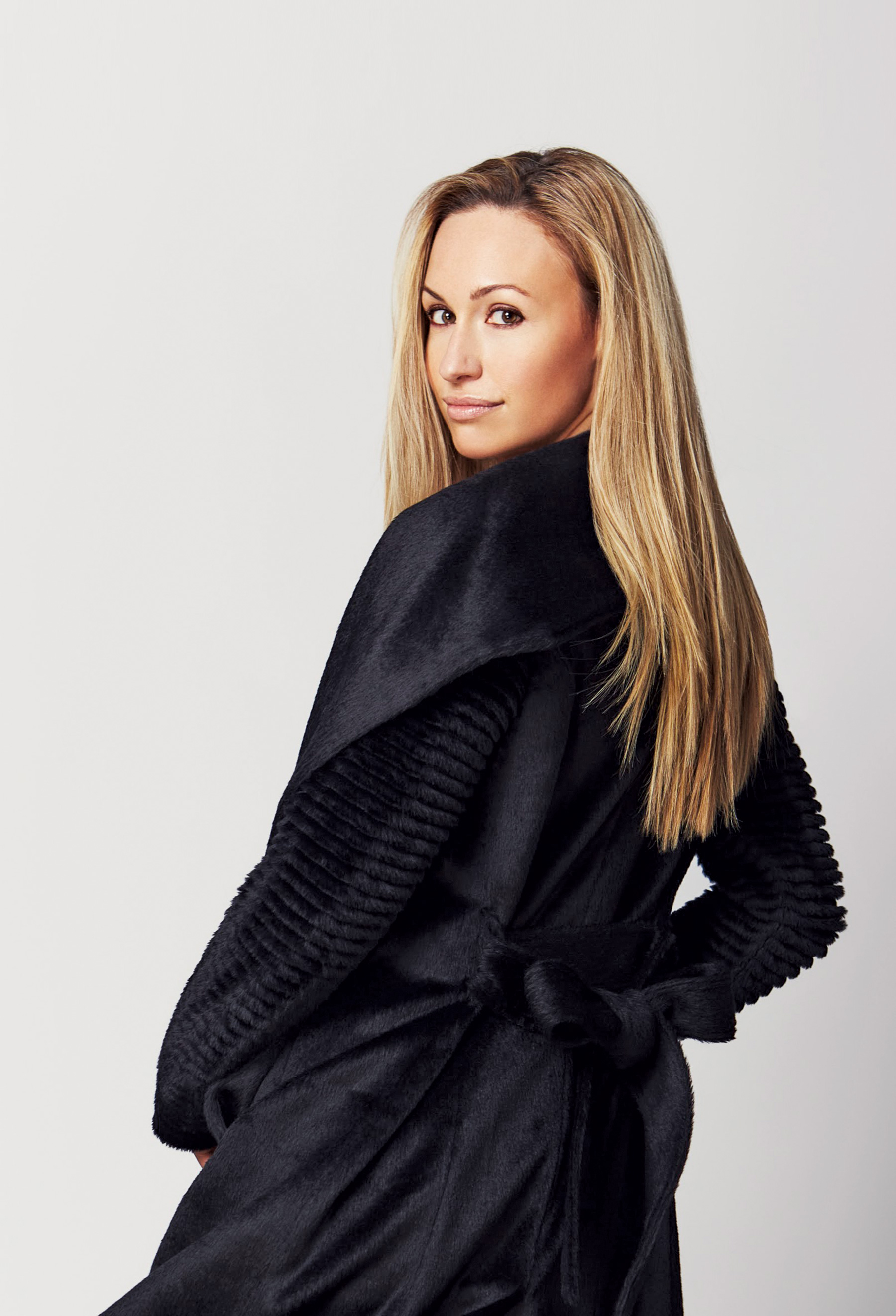 Designer Bojana Sentaler
Aside from being sold on its website, Sentaler is also available at Nordstrom stores across Canada, as well as at select Saks Fifth Avenue locations. Unsurprisingly, its worldwide presence keeps growing. In 2017 the luxe outerwear line expanded into the U.S., at Neiman Marcus and Saks Fifth Avenue, and online at bergdorfgoodman.com. In fall 2018, luxury specialty retailer Lane Crawford started carrying it in Asia, and Sentaler anticipates announcing further expansion details soon.

Meanwhile, all bets are on London after Sentaler debuted at London Fashion Week with its fall/winter 2018 collection. "We were welcomed with such immense support and love," notes Sentaler, who looks forward to returning to the city. There, the designer introduced a new piece — a '70s-style bomber with alpaca fur sleeves and vibrant hues, such as lilac, deep violet and "atomic cerise." Yet, knowing her customers' preference for clothing that's timeless rather than trendy, she was careful not to stray far from the brand's classically feminine silhouettes.

Back at home in Canada, Sentaler is revisiting her other endeavours in recent years. In 2017 the designer launched SENTALER 4 SickKids, a partnership with Toronto's Hospital for Sick Children, wherein proceeds from sales of the label's ribbed alpaca hats and scarves for babies, priced from $225 to $275, are donated to SickKids Foundation. For this winter season, Sentaler is expanding its product range to include gloves, at $195 a pair.

"Supporting SickKids has always been extremely important to me, especially since becoming a mother," says Sentaler, who has two children herself. "I could not be more thrilled to be a small part of [their rebuilding] effort." Kudos to a designer who hasn't let success get in the way of giving back.

---

By Carlene Higgins – This article originally appeared in INSIGHT: The Art of Living | Winter 2018

Photography by: Mike Lewis;