As cities get more crowded and congested, there is an overwhelming need to get away from it all. "Our clients — executives, well- paid professionals and retirees — are looking to leave the city on weekend getaways or settle for a few months over summer and the fall," says Rachael Werner, a sales representative at Sotheby's International Realty Canada.

Niagra-On-The-Lake, Ontario

These city dwellers don't have to look far. Niagara-on-the-Lake (NOTL) is a picturesque and peaceful wine-producing community that's only about an-hour-and-a-half drive from Toronto. Plus, GO Transit recently extended its routes to include Niagara Falls, allowing more travel options for commuters.

"Old Town is in the heart of NOTL, [with] a rich, storied history, fabulous cafés, shops and walking trails, but [it is] also the most expensive residential real estate," says Werner. Possible alternative investment opportunities lie in neighbourhoods such as Virgil, west of NOTL, and St. Davids, to the south. "These [neighbourhoods] tend to be less expensive but are still close to town, major highways and shopping." In Virgil, there is a lot of commercial growth. The Outlet Collection at Niagara is Canada's largest open-air outlet mall and conveniently located close to the highway. And if you're looking for a second property surrounded by agricultural land and vineyards or perhaps just some outdoor space for alfresco entertaining, country lots offer a popular option.

In terms of resale value, NOTL holds the highest average sale price in the Niagara region — and has for decades. It also has a solid reputation for producing top-rated golf courses, luxury spas and talked-about restaurants, like The Garrison House, Treadwell Cuisine and the Oban Inn. "We're a lifestyle destination. Year-round, there are wine events, from casual to black-tie, with many local restaurants doing pairings with wineries," notes Werner. "Buyers from Mississauga, Oakville, Burlington or Buffalo, and foreigners looking to expand their real-estate portfolio can choose from a private waterfront residence, a charming historical home or a custom country estate."
Mont-Tremblant, Quebec

In this popular ski-and-lakefront town, it's becoming difficult to nab a great investment opportunity. "In the early '90s to [the] 2000s, condo-hotel options were popular and very profitable," says Herb Ratsch, a sales broker at Sotheby's International Realty Quebec. "Now I tell people — you either buy for capital appreciation or you buy for income. It's rare that you get both."

Ratsch points out that a prime investment is typically in close proximity to the ski lift or lakeside. For the past 10 years, there has been no development at ski-in/ski-out Versant Soleil, and the timing now is right to buy, especially since there are plans for a soon-to-be-announced local hotel and residential townhome project. Consider too a home with river and lake frontage just a short drive north of the ski hill. "The highway has opened up properties and areas, usually undervalued, that people wouldn't have considered before," says Ratsch. "Lake Nominingue is the largest of the many pristine lakes in the area, but there is also supply on Lake Lacoste, Lake Desmarais, Lake des Trois Montagnes and Lake Ouimet. Or you can buy your very own lake — Lac Ida, Lac Polo, Lac Marie-Louise or Domaine Villeneuve."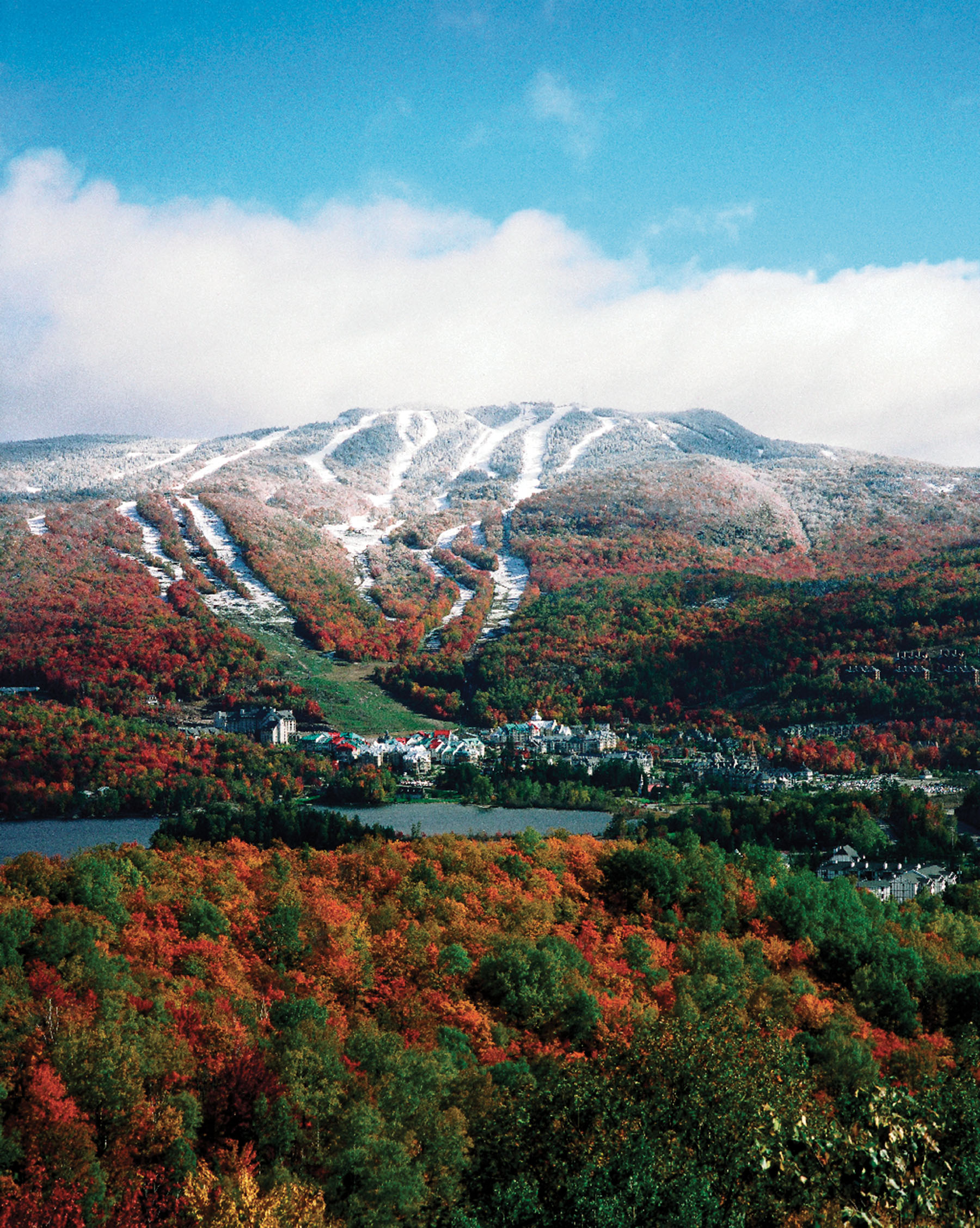 Owning a second home in one of these picturesque destination locations means also being able to enjoy amenities that the area offers all year round
Canmore, Banff & The Bow Valley, Alberta

Being surrounded by parks — national (Banff) and provincial (Kananaskis) — and wildlands means having the outdoors at your doorstep, which is Canmore's biggest attraction. "There is a finite land base and we are in a narrow mountain valley," says Christopher Vincent, senior vice-president of sales at Sotheby's International Realty Canada. Real estate is a solid investment, and The Three Sisters, Silvertip and Spring Creek residential and mixed-use/ commercial developments are the last ones with any sizable landholdings. "When it's all built out — roughly in the next 20 years — there won't be any developmental land left and we'll only see values increase," notes Vincent. "Investors are looking for properties that have a zoning and land-use that allow for short-term rentals, which are in short supply. Gross income [on these properties] can be really strong."

There is something here for everyone, whether it's seniors looking to downsize, young families searching for a weekend base for skiing, biking, hiking or golf, or investment seekers.

Within walking distance to grocery stores, Main Street and the Bow River are South Canmore and Spring Creek — a master-planned community with hotels, short-term rentals, residential areas and assisted living for seniors, redeveloped from a former dairy farm and campground. Larger homes in more secluded settings can be found in the communities of Silvertip, The Three Sisters and Rundleview.

Alongside premium health-care facilities are excellent restaurants, such as the Crazy Weed Kitchen, and local breweries such as The Grizzly Paw Pub & Brewing Company, Canmore Brewing Company and Wild Life Distillery. Bonus: You can be parking in downtown Calgary within the hour.
Whistler, British Columbia

In 1975, when development started in Whistler, considered then as a relatively new town, forward-thinking planners who valued the lay of the land were enlisted. "They limited the density of the areas, created a pedestrian-only main street, left many forested areas intact and maximized views, so that Whistler will always feel like a mountain getaway," says Nicholas Harriss, a real-estate broker at Sotheby's International Realty Canada. Still available here is a wide selection of homes slope-side, lake-side and near a golf course, with condos built for full-time and part-time living, townhome complexes and chalets on generously sized lots.

Whistler is a huge draw for local Vancouverites wanting to up the ante in their outdoor activities, as well as international buyers from Seattle, the U.K. and Hong Kong. "While the main reason for purchasing a second home is for weekend or holiday getaways, there are also investment opportunities," says Harriss. "Quite a few homes in Whistler have zoning that allows for nightly rentals, which can be lucrative." Blackcomb Benchlands, White Gold, Whistler Cay Heights and Blueberry Estates — all have easy access to Whistler Village, the Valley Trail (a network of car-free trails) and lakes. The best time to buy? Soon. In 2016, Vail Resorts, a large American ski- resort company based in Colorado, purchased Whistler Blackcomb, and improvements are already underway, such as a 10-person Blackcomb gondola and a new suspension bridge, all of which are likely increase the value of your investment.
---

By Tracey Ho Lung – *This article originally appeared in INSIGHT: The Art of Living | Fall 2018