Sotheby's International Realty Canada Sells Award-Winning Shim-Sutcliffe Residence Commissioned by Late Dr. James Stewart

TORONTO, ONTARIO- (Sept. 16, 2016) – Sotheby's International Realty Canada today announced the sale of Integral House in Toronto, deemed "one of the most important private houses built in North America" by Glenn D. Lowry, director of the Museum of Modern Art in New York and regarded as one of Canada's most significant, privately owned homes created around the performing arts. Commissioned by the late Dr. James Stewart, an award-winning mathematician, professional violinist and renowned philanthropist, the private residence has been celebrated worldwide for its architectural and cultural significance.
Proceeds from the sale of Integral House, listed at $19.5 million by Paul Maranger, Christian Vermast, and Fran Bennett of Sotheby's International Realty Canada, will be donated to eighteen charitable organizations Stewart supported during his lifetime. His bequests will benefit music, education, architecture, medicine, and the LGBT community, including the University of Toronto, St. Michael's Hospital and Community One Foundation.
"During his life, James was a generous and dedicated patron to the arts, and a proud supporter of his community," says Don Smith, spokesperson for the Stewart family. "We are pleased that Integral House will sustain his legacy not only with its enduring architectural excellence, but with proceeds that will support the many community organizations he believed in."
Integral House was built to reflect Stewart's lifelong passion for classical music and mathematics. The 18,000 square foot estate features a two-storey, acoustically perfect concert hall for over 150 people, and has hosted international musical talent, benefit concerts and esteemed guests. Custom designed by Shim-Sutcliffe Architects, the home's exterior is an architecturally intricate mix of curved glass and oak, providing spectacular views over Toronto's Rosedale ravine.
As a private residence, Integral House spans five floors and includes four bedrooms and eight bathrooms. Sophisticated detailing spans the home's interiors including a stunning blue hand-blown glass stairwell, indoor and outdoor pools, exercise room, sauna, private elevator, and heated driveways and walkways.
"Integral House is a Canadian architectural and musical masterpiece," says Paul Maranger, Broker and Senior Vice President, Sales for Sotheby's International Realty Canada in Toronto. "With new owners, this property will continue to play a role in elevating Canadian arts and culture, just as it did during Dr. Stewart's lifetime."
Click here to view the complete listing for Integral House – 194 Roxborough Drive, Toronto, ON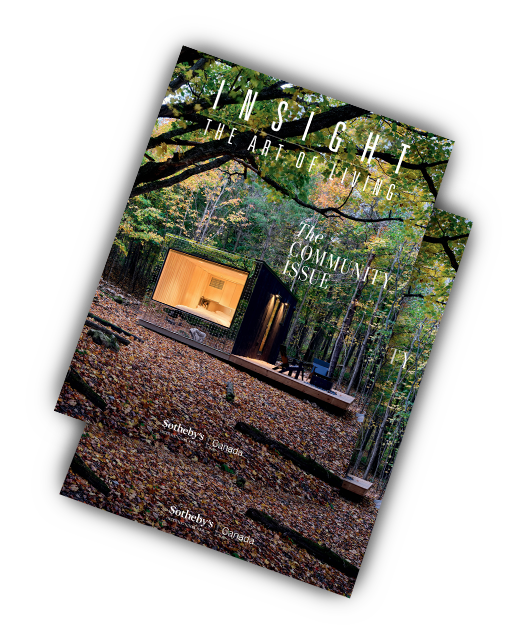 Receive your complimentary subscription to
INSIGHT: The Art of Living magazine