The performance of Canada's major metropolitan luxury real estate markets diverged in the first half of 2023 as local market differences strengthened following the nationwide housing boom from 2021 to the first quarter of 2022 and the period of near-universal market normalization over the past 12 months. Although the country's major metropolitan markets continued to confront the common challenges of rising mortgage rates, economic uncertainty and macroeconomic headwinds, an era of common national performance trends has given way to regional diversity. The first half of the year revealed differentiation in luxury market performance that underscored the predominance of hyperlocal influences and, in particular, the impact of local housing supply and consumer sentiment on top-tier market activity.

"The Canadian luxury housing market has remained remarkably resilient despite the headwinds of multiple interest rate hikes and unpredictable economic performance, and the second quarter of 2023 marked a turnaround point for consumer activity. Following a year-long period of reconsideration and recalibration, qualified and highly motivated real estate buyers and sellers emerged from the sidelines over the spring, driving a bounce back in luxury market activity," Don Kottick, President and CEO, Sotheby's International Realty Canada. "At the same time, Canadian luxury market performance has started to diverge, at times unpredictably, between major cities, neighbourhoods and housing types. Vancouver and Toronto's urban luxury single family home markets experienced some of the most pronounced improvements in spring activity; however, inadequate supply continued to frustrate potential sales and to undermine the housing needs of locals. Over the past few years, Calgary has emerged as one of Canada's most upbeat luxury real estate markets, and in the first half of 2023, its condominium market surpassed expectations with annual percentage sales gains that outstripped other major cities' performance. In contrast, Montréal's luxury market is rebalancing to accommodate negotiation and conditions that skew in favour of buyers, particularly in the city's condominium segment."

According to Kottick, the gap in consumer behaviour and activity in the luxury housing market, and that within the market for conventional properties, has widened significantly since the Bank of Canada started raising its policy interest rate in March 2022, with its most recent quarter-point hike bringing the rate up to 5.00% on July 12. With greater financial means to anticipate and adapt to rising mortgage rates, prospective luxury buyers have steadily adjusted their real estate strategy and are now re-engaging in personal property searches and strategic investment opportunities with readiness. In contrast, escalating mortgage carrying costs, stubbornly high property prices, sticky inflation, as well as concerns of a recession have had a more persistent impact on conventional buyers in the market. A larger segment of this latter cohort remains on the sidelines awaiting greater certainty and more favourable market conditions, a strategy that Sotheby's International Realty Canada experts flag as posing considerable risks given the current unpredictability of the housing market.
Market Highlights

Toronto

Despite a delayed start to the spring market, Canada's largest luxury real estate market gained steady traction through the first half of 2023 as the City of Toronto continued to attract buyers and investors from its position as the epicentre of the nation's economy and as the primary hub for immigration into Canada. However, pervasive housing supply challenges continued to preclude potential sales and to frustrate the needs of prospective homebuyers. Overall residential real estate sales over $4 million were down 32% year-over-year in the City of Toronto, while five properties sold over $10 million on MLS, down from the seven properties sold above this price point in the first half of 2022. $1 million-plus sales in the City of Toronto were down 27% overall. Outside of the city, an influx of spring inventory resulted in more balanced market conditions. Overall, the Greater Toronto Area (Durham, Halton, Peel, Toronto and York) saw residential real estate sales over $4 million contract 35% year-over-year from the first half of 2022, with seven properties sold over $10 million on MLS, compared to 16 residences sold above this price point in the same period last year. GTA residential sales over $1 million saw an annual decline of 29% in the first half of 2023.

Vancouver
Vancouver's ultra-luxury residential real estate market experienced a significant improvement in consumer sentiment and sales transactions in the first half of 2023, as legacy wealth planning and generational wealth transfer underscored enduring demand and renewed spring sales activity. Between January 1– June 30, luxury residential sales (condominiums, attached and single family homes) over $4 million were down 18% from the same period in 2022, while ultra-luxury sales over $10 million on Multiple Listings Service (MLS®) climbed 38%. Despite a resurgence in buyer activity across the conventional and top-tier market over the spring, chronic housing shortages capped potential transactions, while rising mortgage rates continued to curtail the activity of some prospective buyers. As a result, residential sales over $1 million were down 25% year-over-year overall in the first half of 2023.

Montréal

Sales activity in Montréal's luxury real estate market eased in the first half of 2023, as overall $4 million-plus residential sales volume pulled back by 39% compared to levels seen in the first half of 2022, while residential sales over $1 million experienced a 28% annual decline. Despite active listings remaining below historical averages, luxury buyer activity also slackened, particularly in the city's condominium market. This resulted in an increase in conditional offers, price adjustments and days on market, as prospective home buyers negotiated from a position of empowerment, requiring flexibility from prospective home sellers to enable a sale.

Calgary

In contrast, consumer sentiment in Calgary remained consistently upbeat through the first half of 2023. The city's luxury housing market remained active and healthy, gaining steady momentum through the spring as buyer and investor demand continued to absorb available inventory. The city's economic optimism, as well as favourable luxury housing prices, continued to attract in-migration and real estate investment from other parts of Canada. Overall residential real estate sales over $1 million and $4 million were down a nominal 10% and 20% in the first half of the year, respectively. During this time, however, the city's luxury condominium market rebounded, as $1 million-plus sales doubled with a significant 100% gain from 2022 levels.

In a constantly evolving market, let us help you make informed decisions. Get in touch with one of our real estate experts to learn about local market conditions and opportunities, and to help you make your next move. We offer personalized attention tailored to your needs, regardless of the neighbourhood or price of your home.

---

*Disclaimer
The information contained in this report references market data from MLS boards across Canada. Sotheby's International Realty Canada cautions that MLS market data can be useful in establishing trends over time but does not indicate actual prices in widely divergent neighbourhoods or account for price differentials within local markets. This report is published for general information only and not to be relied upon in any way. Although high standards have been used in the preparation of the information and analysis presented in this report, no responsibility or liability whatsoever can be accepted by Sotheby's International Realty Canada or Sotheby's International Realty Affiliates for any loss or damage resulting from any use of, reliance on, or reference to the contents of this document.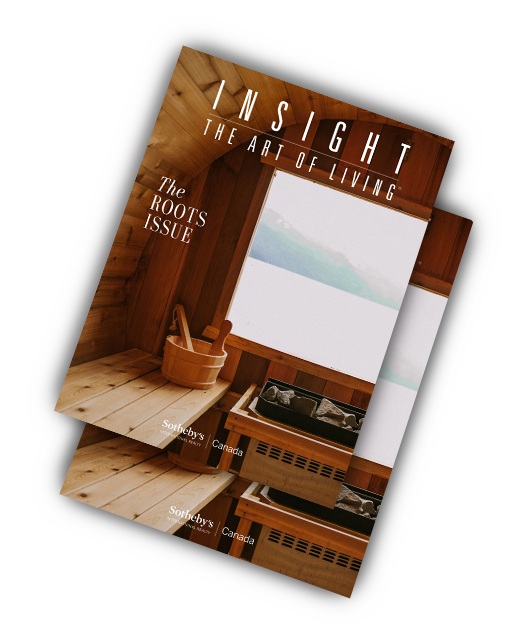 Receive your complimentary subscription to
INSIGHT: The Art of Living magazine