An ancient art form is experiencing a renaissance. Born of the earth, kindled by fire and shaped by hand, ceramic art speaks to many aspects of the unpredictable state of the world we live in. It involves multiple intuitive, alchemical processes that require a certain level of performance — sculpting, throwing, shaping, firing and glazing — which makes it one of the most dynamic art forms today.

The practice of creating with clay, however, dates back millennia, evidenced by two noteworthy examples. Unearthed in1925, in the Dolní Véstonice paleolithic site in the Czech Republic, the Moldavian Venus statuette was sculpted with clay and ground bone between 29,000 and 25,000 years ago and is the oldest known ceramic artifact in the world. The Terracotta Army (210–209 BCE), discovered in 1974 in northwest China, was comprised of 8,000-plus life-size clay soldiers guarding the tomb of China's first emperor.
But in more recent art timelines, ceramics have endured a history of being overlooked, either dismissed as merely decorative, or viewed as anthropological and, consequently, relegated to history museums rather than exhibited in art galleries. One example is Pueblo pottery. Dating back AD 1050–1300, it is considered to be among the most highly developed of American Indian arts. Early Europeans arriving in the American Southwest banished the Pueblo pottery they excavated to anthropological museums and, instead, encouraged local artisans to churn out non-ceramic tchotchkes geared to the tourist trade. The Hopi-Tewa potter Nampeyo (1860–1942), who lived on a Native American reservation in northeastern Arizona, took it upon herself to revive her people's art. Studying the ceramics dug up by the Europeans, she utilized ancient techniques to fire and paint pottery and recreated traditional Hopi designs. Her works are now on exhibit in major art museums in the U.S. and Europe.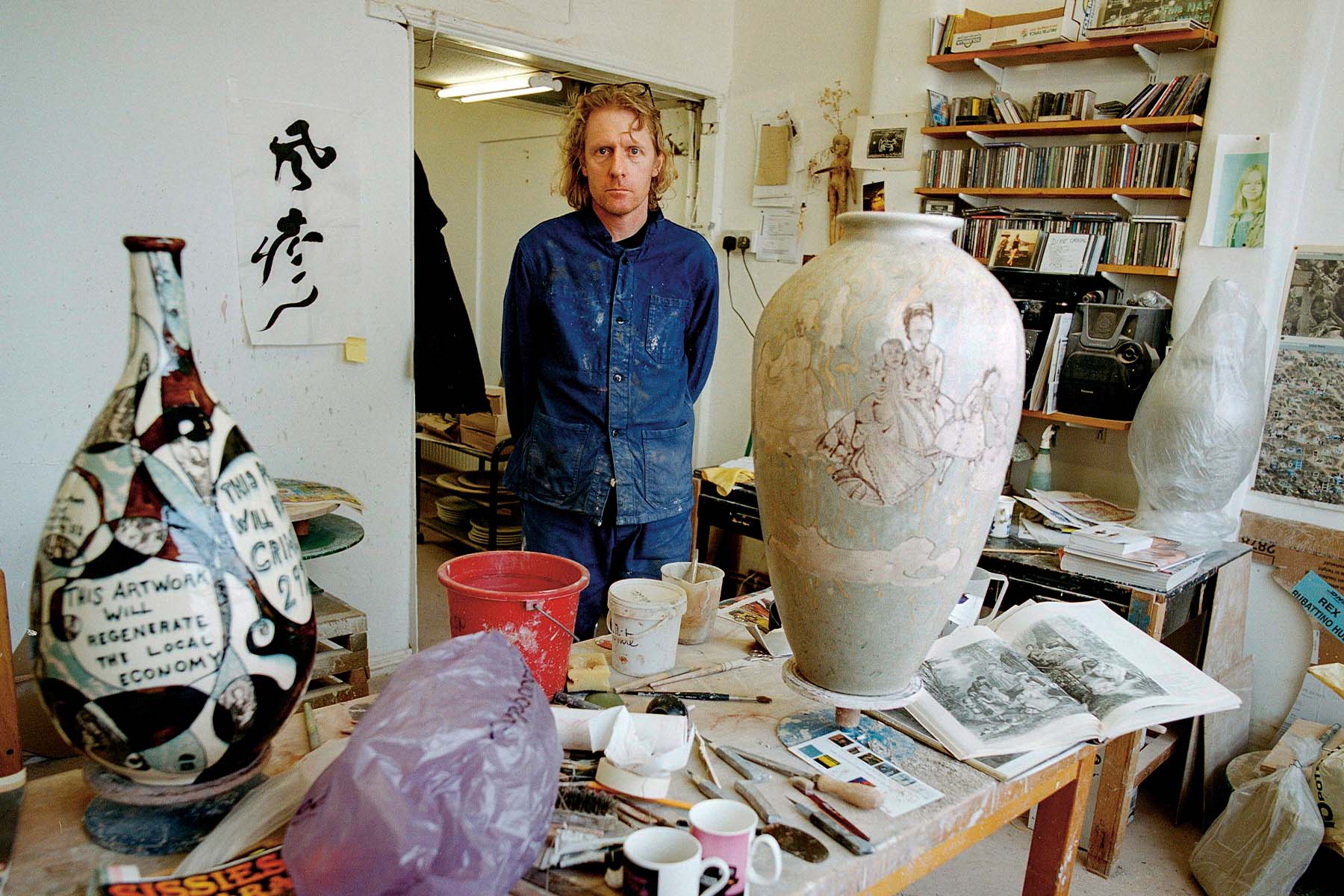 The perception that pottery isn't art-worthy shifted in the 20th century, when iconic artists like Picasso began exploring the art form. By the 2000s, ceramicists who later became cult figures emerged, including British potter Grayson Perry, who won the Turner Prize in 2003 for his autobiographical vases, and L.A.-based Sterling Ruby, who has collaborated with fashion designer Raf Simons. Then, multidisciplinary artists — like Kenyan-born Dame Magdalene Odundo and Chinese contemporary artist and activist Ai Weiwei — arrived on the scene, delving into ceramics in ways that transcended the concept of "applied" arts.

When queried about the distinction between "fine arts" and "craft" ceramics, Dennis Longchamps consulted his team at The Canadian Clay & Glass Gallery (CCGG), in Waterloo, Ontario. "There are no actual solid lines of demarcation, wherein one category starts and [another]ends," says Longchamps, who is the CCGG's executive director and chief curator. "For example, some people [would] argue that fine-arts ceramics explores concepts, such as politics, gender, race, religion…etc.,while craft ceramics is purely functional or decorative. But craft ceramics [is not made within] a conceptual vacuum, either. The [aforementioned] concepts influence production, including the medium, design and price…. The décor for a plate can be conceptual, yet the form is functional. A sculptural teapot, while conceptual in form, is still a teapot, functional or not."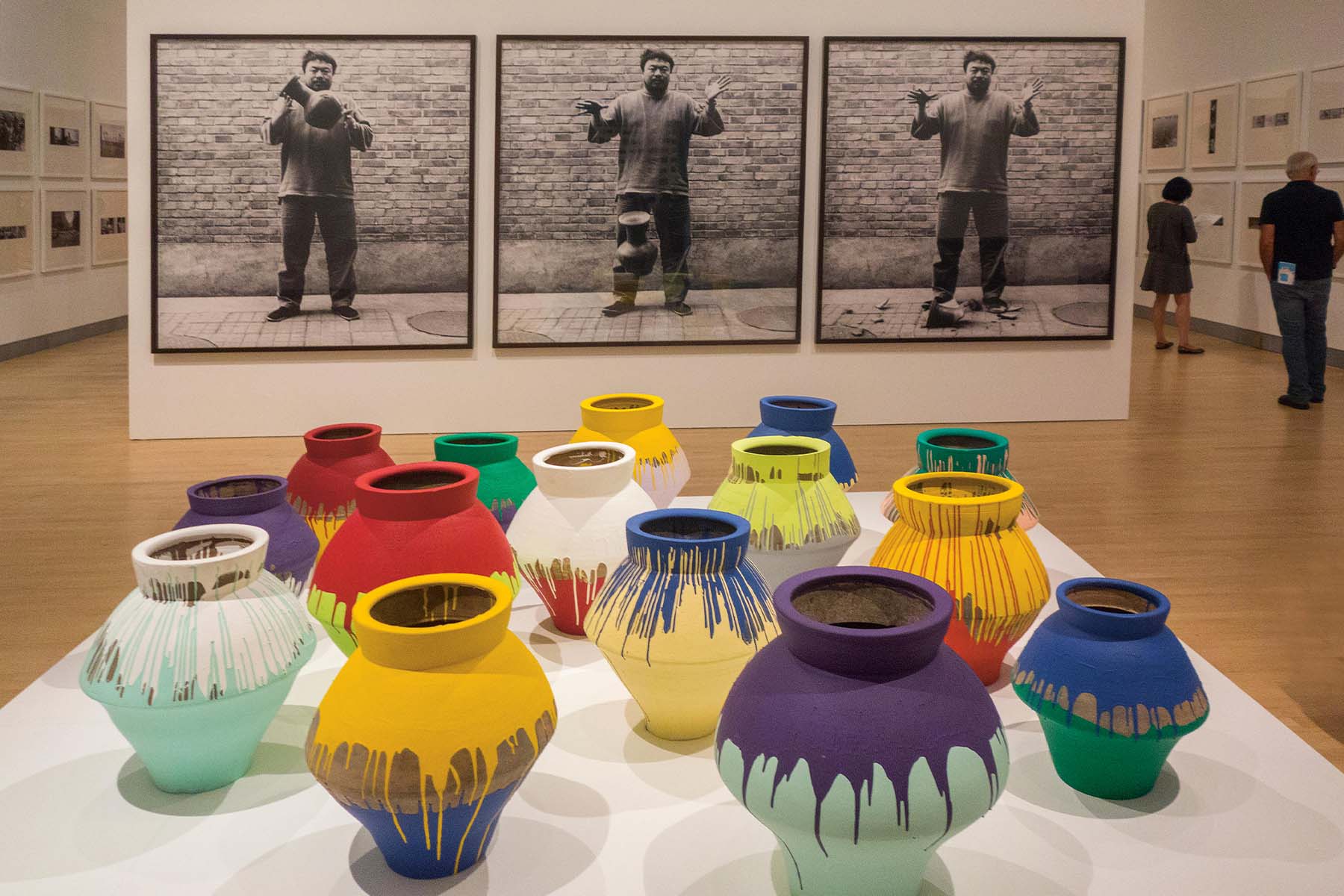 It's precisely this fluidity between conceptual and functional that makes ceramic art exciting. Ceramics are part of our daily lives, and when the art form posits challenging subjects, it's easy to embrace them because the materials are so familiar. Consider Jeff Koons' Banality series (1988–1989). Right from the start of his career, the American Pop artist has been playing with the idea of "ready made art." Koons presented installations that included basketballs floating in fish tanks, and his iconic playful Balloon animals in stainless steel. With the Banality series, he recreated — in oversized, three-dimensional porcelain renderings —everyday objects, such as kitschy collectibles, plush toys and, most famously, a life-size sculpture of pop star Michael Jackson and his chimp, Bubbles.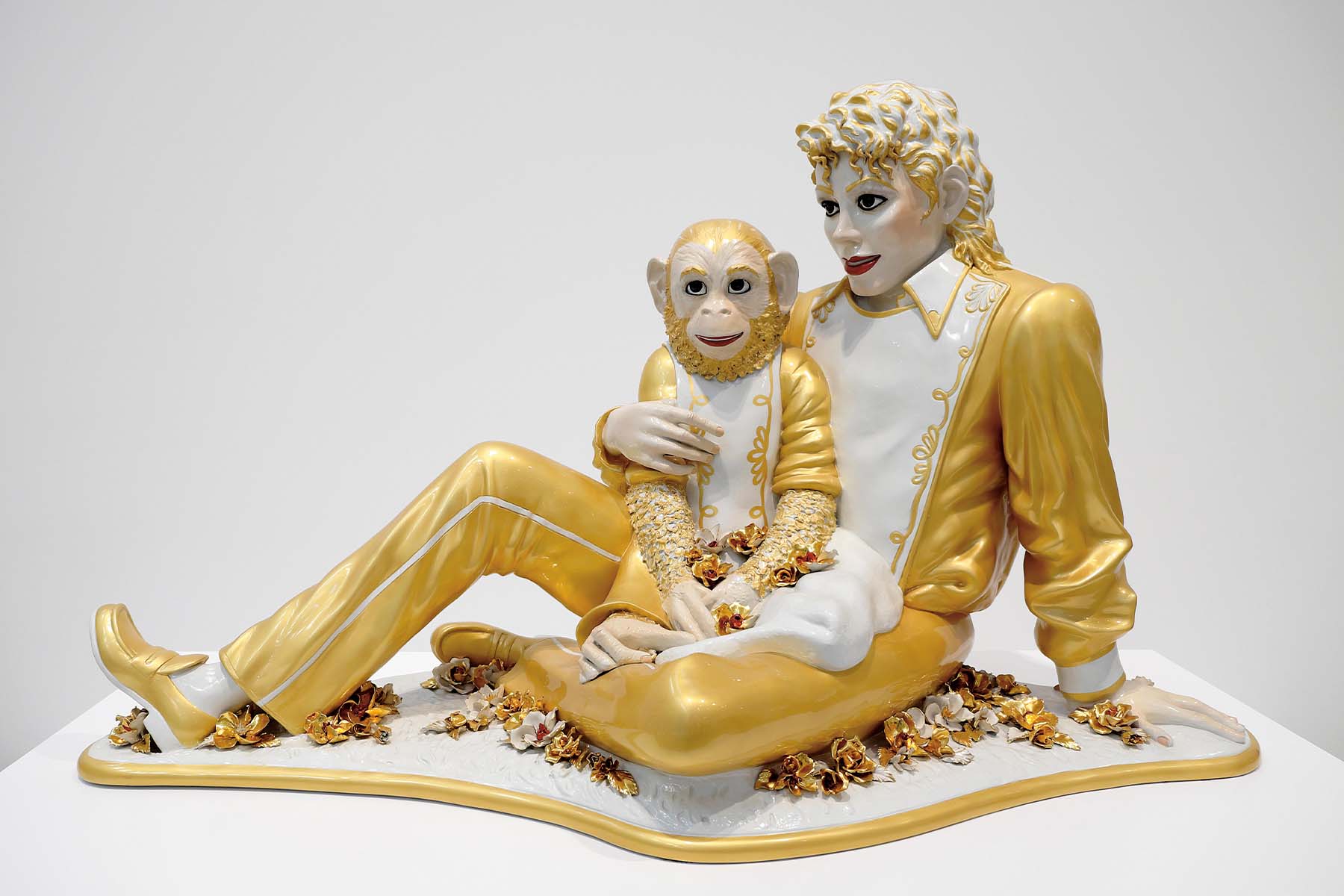 Popples, an artwork from that series, was auctioned in April this year at Sotheby's as part of the historic Macklowe Collection sale. In the auction catalogue, curator and art historian Nancy Spector, who has held positions at the Guggenheim and Brooklyn museums, describes how Koons created an enduring object, using the maudlin ornate Capodimonte porcelain for an old stuffed doll. "The Banality series offers a complex narrative that involves a kind of bait-and-switch for the viewer, who is at first seduced by odd but familiar forms, only to discover that they are more polemical and more demanding at their core. They dare us to like them and then punish us when we do, despite Koons' promises of delight and feigned innocence. This is why the sculptures, now more than three decades old, still retain their incredible shock value."
Created in 1988, Popples is number 1 from an edition of three plus one artist's proof. At the Sotheby's auction, it sold for US$3.9 million, almost twice the already-high estimate of $2 million. Of the record-breaking price, Brooke Lampley — Sotheby's Chairman and Worldwide Head of Sales for Global Fine Arts — said: "This was really a testament to the classics, the greats."

Although price cannot be the sole measure of value, the auction helped to validate the importance of ceramic art in the current market. Also of note about Popples and the rising popularity of ceramics is that many of the most-sought-after works have been created by living artists, which makes collecting them more egalitarian. "Ceramics has a history of tactility, which is one reason it is associated with accessibility," explains Longchamps at CCGG. "I think that many people are striving to [be] in touch with their physical surroundings, and the idea of making something touchable is part of [the allure of ceramics]. As more and more of what [humans produce] is essentially conceptual, the concreteness of clay becomes more and more intriguing."

This past June, at the International Ceramic Art Fair in Toronto, art historian Anya Montiel spoke of how fortunate we are to be living in a time when we can connect, not just with art objects but also the artists themselves. "I spent the [pandemic] lockdown interviewing as many artists as I could," says Montiel, who is a curator at the Smithsonian's National Museum of the American Indian, in Washington, D.C."[And] I was impressed that despite [these] times of uncertainty, artists continue to make works of beauty."
Montiel references in particular the work of multidisciplinary Kahnyen'kehàka artist Santee Smith, of the Turtle Clan from Six Nations in Grand River, Ontario. Trained as a dancer, Smith incorporates performance into her pottery. Her art, notes Montiel, moves beyond boundaries with its scale — to wit, the large, intentionally cracked vessel gracing the entry courtyard of the Gardiner Museum, in Toronto — and also across time, acknowledging intergenerational tradition as well as the present day.

Interested in ceramic art? Montiel'sadvice: "Buy from living artists. [Develop] relationships with artists in your community, not for show but to be a good neighbour."At the end of the day, it's about where clay comes from, she says. "Earth sustains all life. It is not just a natural resource. It is a gift."

---

By Rhonda Riche – *This article originally appeared in INSIGHT: The Art of Living | Fall 2022.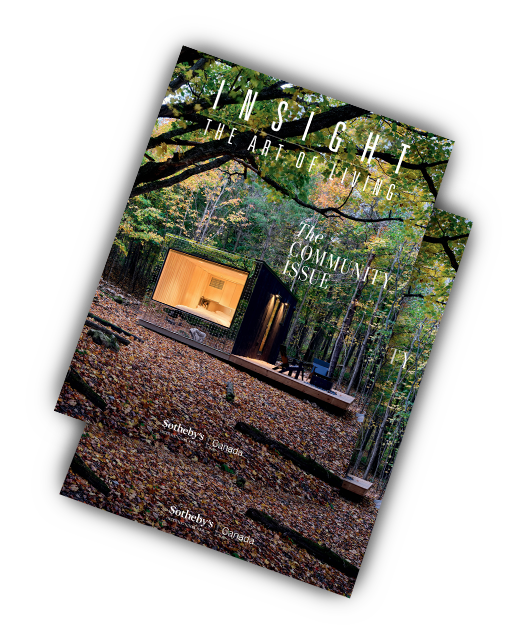 Receive your complimentary subscription to
INSIGHT: The Art of Living magazine