Sotheby's International Realty Canada is pleased to announce the sale of a private estate in Montreal that has set a new benchmark as the highest recorded residential property sale through the MLS® (Multiple Listing Service) system in Quebec's history.

Listed at $20 million, the sale closes as Montreal's real estate market soars following the resumption of real estate brokerage activities in May.

"Situated on almost 30,000 square feet of beautifully landscaped grounds, this estate provided a rare opportunity to own one of the most prestigious properties in Montreal," said Liza Kaufman, listing agent with the Kaufman Group of Sotheby's International Realty Quebec, who represented the sellers and the buyers in the transaction.

"By marketing the property across Sotheby's International Realty's exclusive media network, we generated strong local and international demand and several offers. This sale reflects how confident luxury buyers are in the long-term fundamentals of Montreal. It also reveals a consumer trend that is emerging with the pandemic – more than ever, people are seeking security and a desirable lifestyle by investing in their homes," Kaufman said.

Built in 1924, the six bedroom home, with six full bathrooms, two powder rooms and one powder room in the pool cabana, has been fully restored to merge classic European architecture with stylish contemporary designs, bespoke furnishings and world-class comforts, including a 14-car garage and saltwater pool.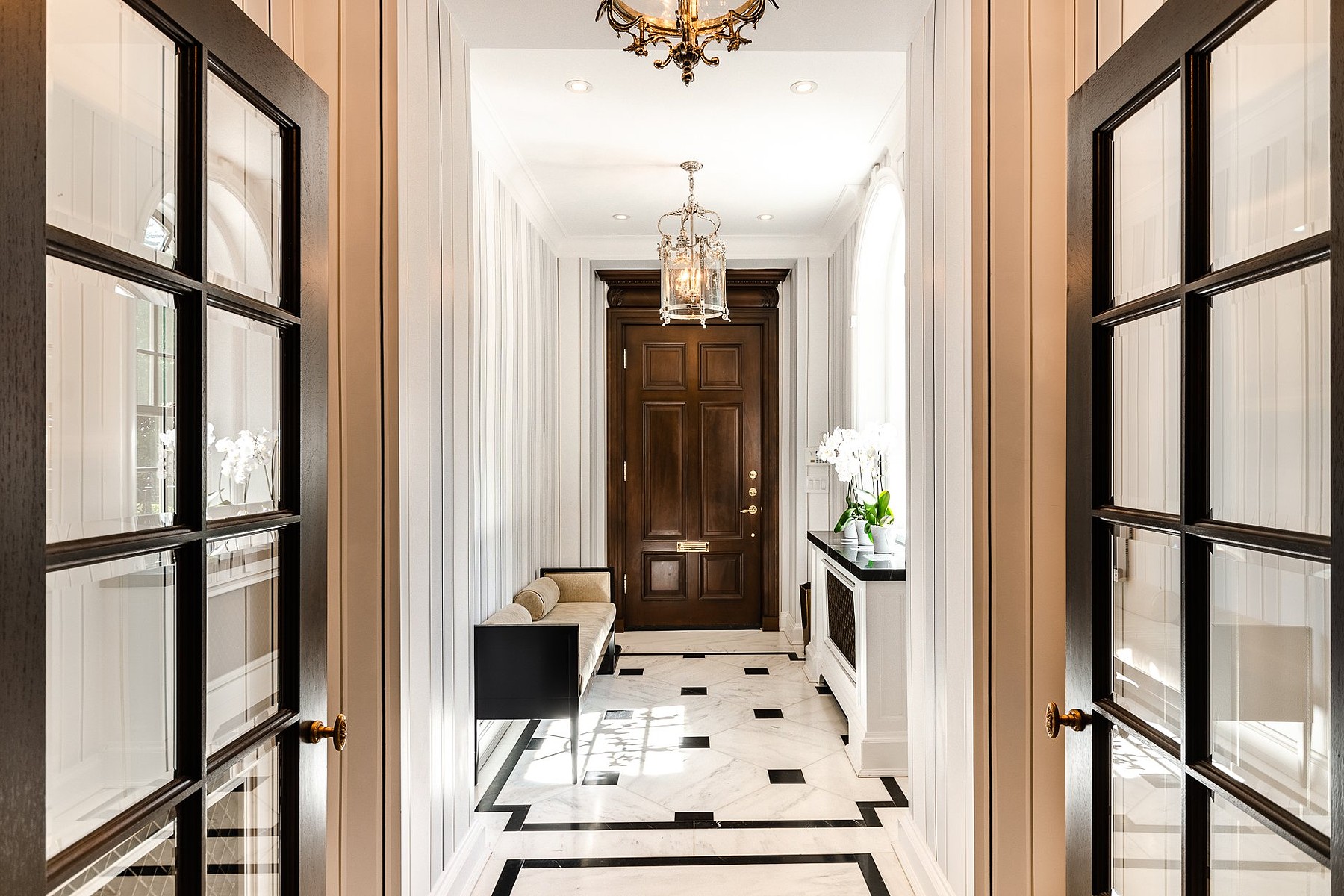 1245 Rue Redpath-Crescent, Ville-Marie, QC
The main kitchen is equipped with a Lacanche Cote d'Or, nine-burner gas stove with double ovens, large Miele Refrigerator, large Miele freezer, Miele dishwasher, compactor, double sink, garburator and pot filler. A grand centre marble island seats four with an adjacent breakfast table with seating for six. An additional pair of writing desks and an abundance of hidden storage make the kitchen a central hub for the home.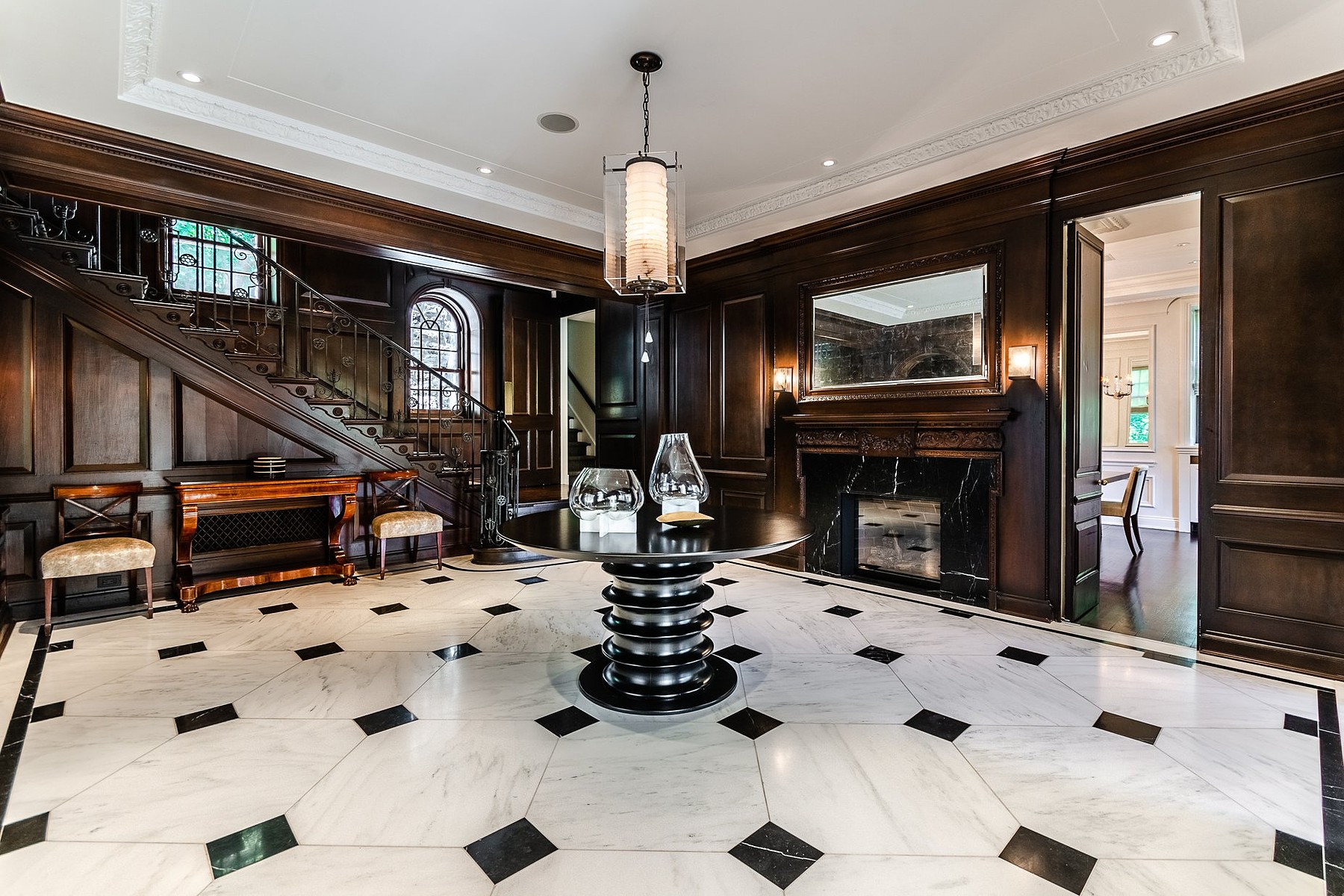 The imposing entry opens to a grand centre hall paneled in rich wood, offering exquisite moldings and a gas fireplace. The cross hall plan is perfect for entertaining. The light-filled living room features large windows overlooking the city and a beautiful marble antique mantle piece. The adjacent dining room is available for intimate dinners or lavish entertaining, and it is serviced by a caterer's kitchen featuring a Wolf oven, Subzero refrigerator, gas stove, dishwasher, microwave and wine refrigerator.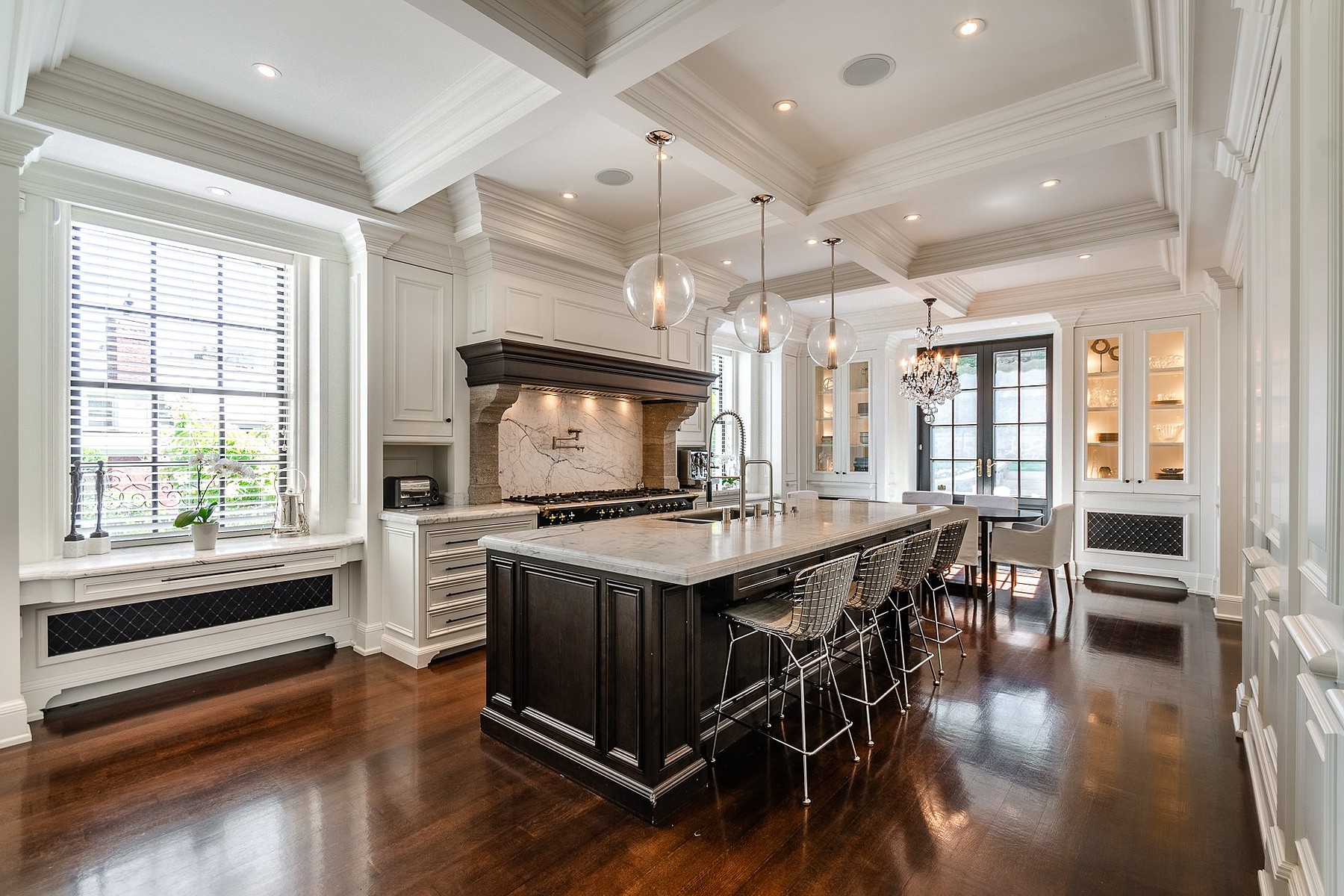 French doors open to a spectacular multi-level backyard which feature the pool and stone terraces large enough to host a wedding party and other large events. A custom stone fire pit, pool cabana with change room and powder room, tree house and children's play area, make this an outdoor paradise.

"Montreal's residential real estate market has been strong across the conventional and luxury real estate market, and across every residential property type this summer," says Daniel Dagenais, Managing Broker of Sotheby's International Realty Quebec. "In fact, according to the latest statistics released for the Montreal Census Metropolitan area by our real estate board, residential sales surged 46% year-over-year from July of last year and set a new record for a month of July."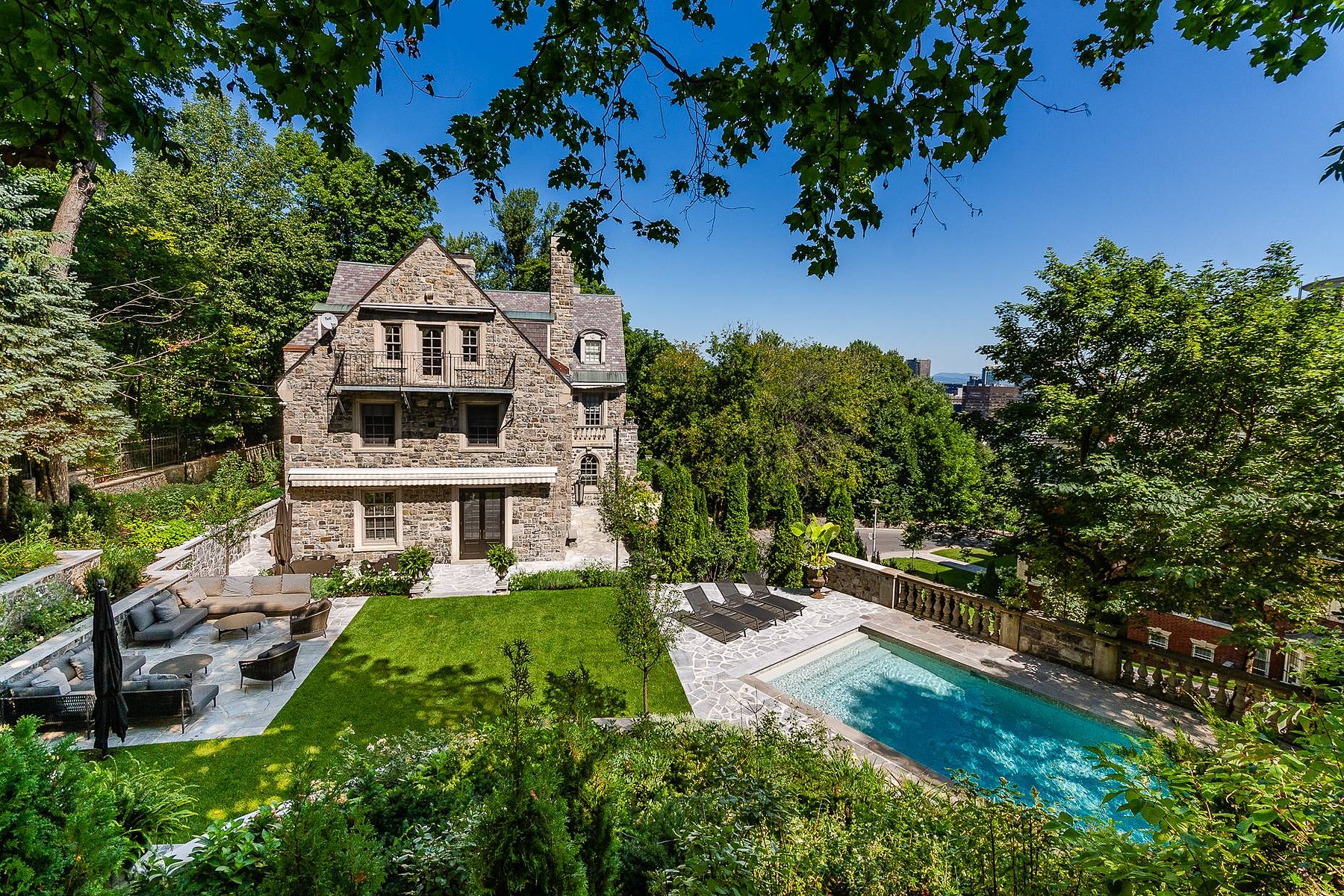 The transaction demonstrates a resurging demand for luxury Canadian properties.

"The Montreal real estate market, as well as major metropolitan markets such as Toronto and Vancouver, saw significant gains in the first months of 2020 before COVID-19 disrupted their momentum," says Don Kottick, President and CEO of Sotheby's International Realty Canada. "We're now seeing pent-up consumer demand surge into new activity. In addition, global uncertainty is firing up new demand for real estate in key Canadian markets including Montreal, not only amongst locals, but from buyers from the U.S. and overseas who are seeking sanctuary and a secure financial investment."

According to Kottick, favourable mortgage lending conditions and continued volatility in the stock market are also positioning Canadian real estate as a desirable and secure investment.

Further details of the sale of this estate remain private.
La vente d'une résidence privée établit un nouveau record dans le secteur immobilier au Québec

Sotheby's International Realty Canada a annoncé aujourd'hui la vente d'une propriété privée à Montréal qui a établi un nouveau point de référence en tant que vente d'une propriété résidentielle la plus élevée jamais enregistrée par le biais du système MLS® (Multiple Listing Service) dans l'histoire du Québec.

Inscrite à 20 millions de dollars, la vente se conclut alors que le marché de l'immobilier à Montréal remonte en flèche après la reprise des activités de courtage immobilier en mai.

« Située sur un terrain superbement paysagé de près de 30 000 pieds carrés, cette propriété offrait une rare possibilité de posséder l'une des résidences les plus prestigieuses à Montréal », a déclaré Liza Kaufman, agente du Groupe Kaufman responsable de l'inscription chez Sotheby's International Realty Québec, qui représentait les vendeurs et les acheteurs dans le cadre de la transaction.

« En annonçant la propriété à travers le réseau de médias exclusif de Sotheby's International Realty, nous avons généré une forte demande locale et internationale de même que plusieurs offres. Cette vente démontre à quel point les acheteurs de propriétés de luxe font confiance aux facteurs économiques fondamentaux à long terme de Montréal. Elle révèle également une tendance des consommateurs qui émerge avec la pandémie – plus que jamais, les gens recherchent une sécurité et un style de vie attrayant en investissant dans leurs résidences », a affirmé Mme Kaufman.

Construite en 1924, la résidence de six chambres à coucher, six salles de bain complètes, deux salles d'eau et une autre salle d'eau dans la cabana qui jouxte la piscine, a été entièrement rénovée pour marier l'architecture européenne classique avec un design contemporain élégant, un mobilier sur mesure et des facilités de calibre mondial, y compris un garage pour 14 voitures et une piscine au sel.

La cuisine principale dispose d'une cuisinière au gaz à neuf brûleurs et fours doubles signée Lacanche Côte d'Or, d'un frigo et congélateur de grandes dimensions ainsi que d'un lave-vaisselle tous trois de marque Miele, d'un compacteur, d'un évier double, d'un broyeur à déchets et d'un remplisseur de marmite. Un immense îlot central en marbre peut asseoir quatre personnes, avec un coin déjeuner adjacent pour six. Deux bureaux supplémentaires ainsi que beaucoup d'espace de rangement dissimulé font de la cuisine un lieu de convergence pour la résidence.

L'imposante entrée mène à un majestueux hall central lambrissé offrant de superbes moulures et un foyer au gaz. Le plan croisé procure un espace idéal pour recevoir. Le salon baigné de lumière possède de grandes fenêtres surplombant la ville et un superbe manteau en marbre ancien. La salle à manger adjacente est idéale autant pour des dîners intimes que pour des somptueuses réceptions; elle est desservie par une cuisine-traiteur équipée d'un four de marque Wolf, d'un réfrigérateur Subzero, d'une cuisinière au gaz, d'un lave-vaisselle d'un micro-ondes et d'un réfrigérateur à vin.

Des portes françaises mènent à une spectaculaire cour arrière à paliers multiples dotée d'une splendide piscine au sel et de terrasses en pierre assez grandes pour y célébrer un mariage et tout autre événement d'envergure. Un foyer extérieur fabriqué sur mesure, une cabana avec vestiaire et salle d'eau, une cabane dans un arbre et une aire de jeux pour enfants en font un paradis en plein air.

« Le marché de l'immobilier résidentiel à Montréal est solide tant pour les propriétés conventionnelles que pour les propriétés de luxe, et à travers tous les types de résidences cet été ». déclare Daniel Dagenais, dirigeant d'agence pour Sotheby's International Realty Québec. « En fait, selon les plus récentes statistiques diffusées pour la région métropolitaine de recensement de Montréal par notre chambre immobilière, les ventes de propriétés résidentielles ont augmenté de 46 % d'une année à l'autre par rapport à juillet de l'an dernier et ont établi un nouveau record pour un mois de juillet. »

La transaction démontre un retour de l'engouement pour les propriétés canadiennes de luxe.

« Le marché immobilier de Montréal, ainsi que les grands marchés métropolitains comme Toronto et Vancouver, ont enregistré des gains importants au cours des premiers mois de 2020 avant que la COVID-19 ne vienne perturber leur élan », affirme Don Kottick, président et directeur général de Sotheby's International Realty Canada. « Nous constatons maintenant une recrudescence de la demande des consommateurs qui avait été refoulée, donnant lieu à une nouvelle activité. De plus, l'incertitude qui plane partout dans le monde déclenche une nouvelle demande immobilière dans les principaux marchés canadiens, y compris à Montréal, non seulement parmi les acheteurs locaux, mais aussi les acheteurs des États-Unis et de l'étranger qui sont à la recherche d'un sanctuaire et d'un investissement financier sécuritaire. »

Selon M. Kottick, les conditions de prêts hypothécaires favorables et la volatilité continue de la bourse font aussi du marché immobilier canadien un investissement attrayant et sécuritaire.

Les détails supplémentaires sur la vente de cette propriété demeurent privés.