Among jaw-dropping properties, every so often, one defies categorization as a residential home, making the leap to "landmark" instead. Case in point: Eppich House II. With its dazzling expanse of glass walls and revolutionary cascading steel-beam frame, this architectural wonder appears like a mirage high up on a West Vancouver hillside, nestled between mountain and sea, yet invisible from the road. Water elements add to its mystical quality — a shimmering koi pond, fed by a redirected creek, and an infinity-edge pool that blends into the landscape.

One of Canada's first modernist glass-and-steel homes, the daring residence has hit the prestige real-estate market for the first time, offering a once-in-a-lifetime opportunity for discerning design enthusiasts. "The buyer of this home will be someone who appreciates a fine iconic piece of architecture [that] is completely unique. It is really like owning your own private museum," says listing agent Eric Latta of Sotheby's International Realty Canada.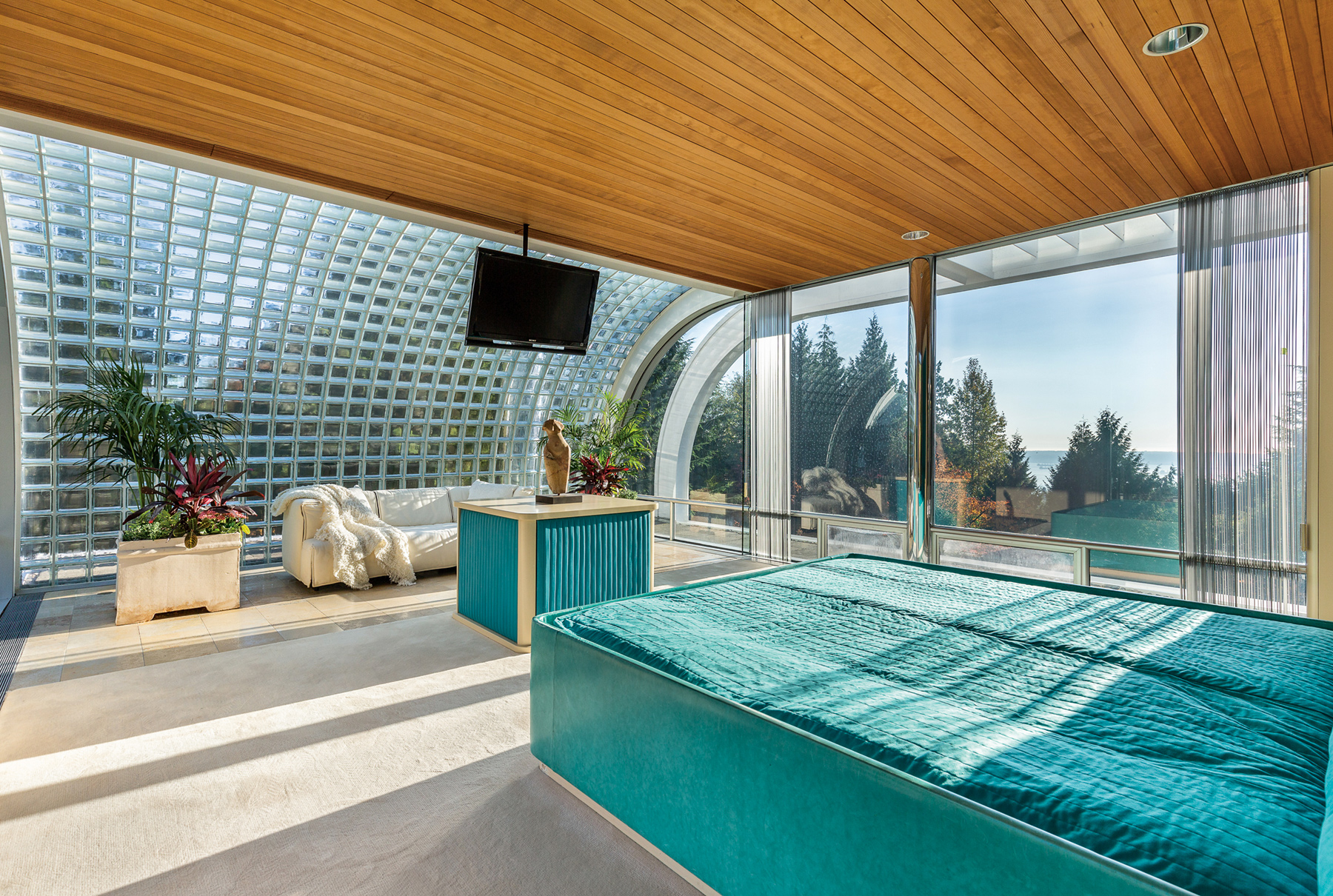 Just one of the homes's many sun-drenched spaces.
Designed by legendary Canadian architect Arthur Erickson, the circa-1979 masterpiece is the crown jewel of North Shore/West Vancouver, a region known for its trove of West Coast modernist gems. "Starting in the late 1950s and '60s, people were developing the North Shore in this 'crazy' modernist style. It was an outlier across the bridge from Vancouver and immune from the architectural traditions of the city proper," says Javier Campos, president of the non-profit organization Heritage Vancouver. It was within this unique cultural context that Eppich House II was conceived.

In steel magnate Hugo Eppich, Erickson found his dream client-cum-partner. "At the time, Erickson was Canada's most famous architect and recognized worldwide," says Campos. Eppich, co-owner of custom metal manufacturers Ebco Industries Ltd., in Richmond, B.C., was a materials expert with the latest technology at his disposal.

Ironically, steel wasn't foremost in Eppich's mind when he commissioned Erickson. "I wanted something different — concrete or whatever the case," Eppich said this past November in a virtual home-tour video of his residence. "But since we had a steel fabrication company, [as well as] electroplating and upholstery — all these companies in our group — Arthur thought it would be nice to make the house out of steel."

Once convinced, Eppich helped Erickson push the boundaries of residential architecture. "Usually, steel houses are just [linear], but in our case, he wanted to…make it roll into the landscape."
Manufacturing the home's seemingly effortless flowing curves — from roofline to balconies to bespoke interior furnishings — took considerable effort. Eventually, Eppich's manufacturing team perfected the curved steel beams and other material improvements necessary to meet the project's demanding specifications. "We did everything. We had a heavy machine shop, a heavy fabrication shop, light metal fabrication — we had it all," said Eppich. This extraordinary wherewithal gave his builders access to materials not available elsewhere.

With the latest technology from Hugo Eppich's company, Ebco Industries Ltd. created a cascading, waterfall-like effect using curved steel beams.
The result: a curvilinear 7,000-square-foot split-level home that Latta describes as "gently cascading down the [1.2-acre] property, creating a waterfall-like feeling." Its wall-to-wall windows and glass doors seamlessly merge indoor and outdoor spaces, showcasing furniture designed and fabricated by Erickson and Eppich's respective teams. The custom living, dining and bedroom sets channel a mid-century modern vibe and colour palette. Echoing the house itself, bold curves and steel abound, ranging from a gleaming chrome-and-orange dining set to sculptural sofas in a distinctive mustard hue.

Arthur Erickson is among B.C.'s most cherished creative talents, and his stamp is all over Vancouver, including public landmarks such as the Museum of Anthropology at UBC, Vancouver Law Courts Complex and Robson Square. And yet, the renowned architect reportedly considered Eppich House II his "most complete" endeavour.

Preservationists are often concerned about the fate of architectural gems, but when it comes to one of Canada's foremost glass-and-steel residences, Latta is confident in its staying power. "It is a truly unique landmark home recognized globally for its significance. It was built to last generations."
---
By Yuki Hayashi – *This article originally appeared in INSIGHT: The Art of Living | Spring 2019