The moment you enter through the gates of Chelster Hall, a grand home in Oakville, Ont., it feels like you've entered a retreat where all stress and worry seem to disappear. Once you're past the wide front doors, a magnificent chandelier comes into view. Hanging from a domed ceiling some 30 feet above you, it's in perfect elegant symmetry with the custom oval Persian carpet underfoot. Just ahead of you are vistas of Lake Ontario sparkling in the distance. On a cold winter day, you can see the mist rising from Niagara Falls.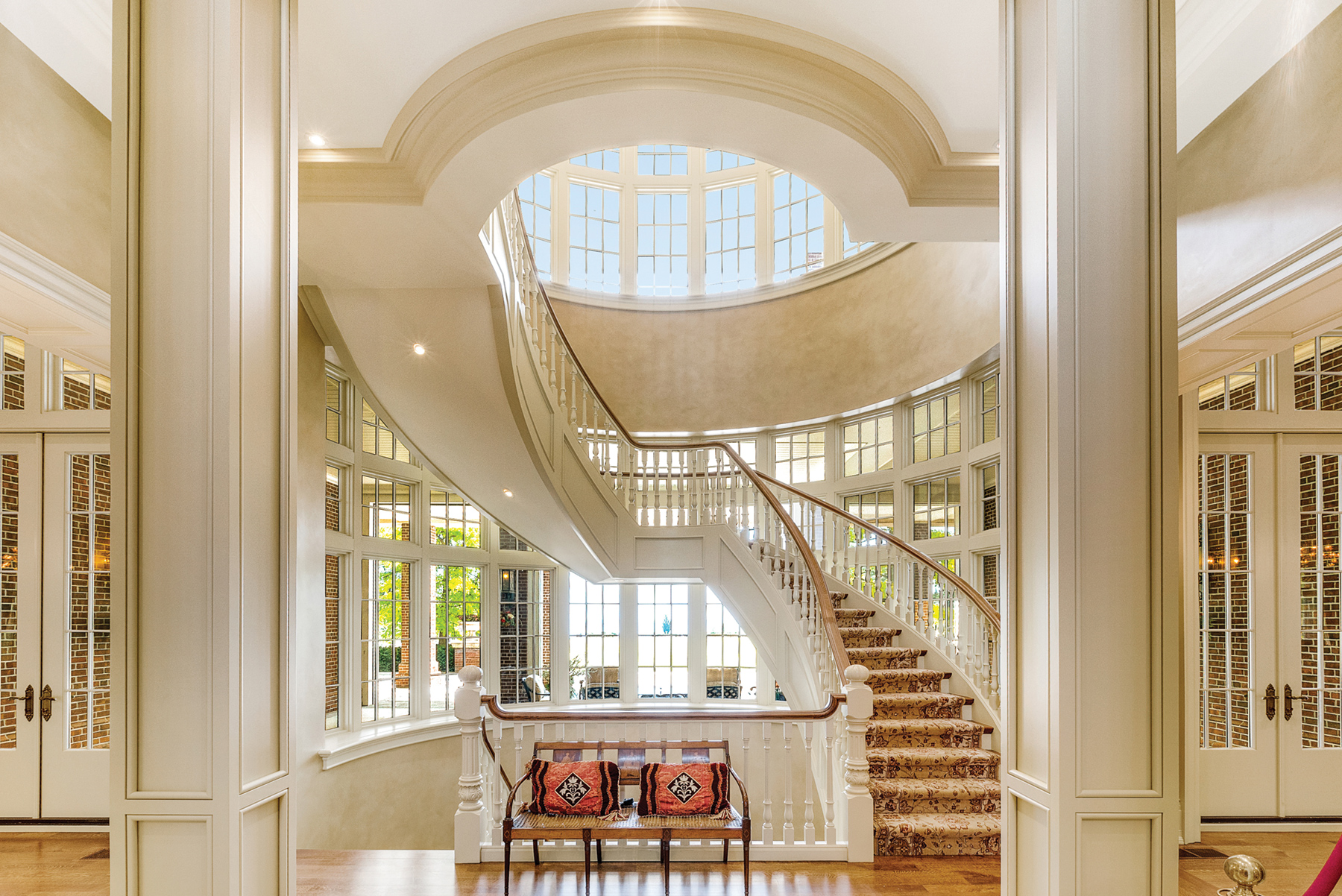 Expansive windows & magnificent domed glass ceiling allow natural light to stream into the foyer
Represented by Paul Maranger, Christian Vermast and Fran Bennett, senior vice- presidents of sales with Sotheby's International Realty Canada, Chelster Hall is without a doubt one of the most striking residences in Canada. The estate, which was completed in 2006, sits on about 4,000 square metres (44,000 square feet), taking up three lakeshore lots. Much of its appeal is the uniqueness of its size. It's likely one of the last homes in the country to be built on such a scale. Equally remarkable is the story of its origins. Chelster Hall is the singular vision of Hugo Powell. The former CEO of Labatt and Interbrew, Powell is an accomplished businessman whose long list of achievements includes two World Series titles (Labatt owned the Toronto Blue Jays when they won in 1992 and 1993) and a Belgian knighthood. Retired since 2002, Powell was in New York on 9/11 for investor meetings. He was on his way to one at 9 o'clock at the World Trade Center's North Tower when the building was attacked, just 15 minutes before his meeting was to begin. Powell immediately returned to his hotel in midtown Manhattan, where he witnessed the second plane crash. The experience changed his outlook forever, including towards the home where he wanted to spend time with his wife and daughter. "That event gave me cause for reflection. This felt like an opportunity to create calm and space and privacy."

And seize the opportunity he did. Powell was very involved in the design and construction of Chelster Hall, building his home with heart through the expertise of local artisans and contractors whenever possible. Its façade was modelled after Blickling Hall in Norfolk, England — the birthplace of British monarch Anne Boleyn — an historic site where, Powell says, he spent many happy hours visiting with his family while growing up. "The fact that it is now 450 years old and still looking marvellous inspired me to a design and construction [that will] last," he explains.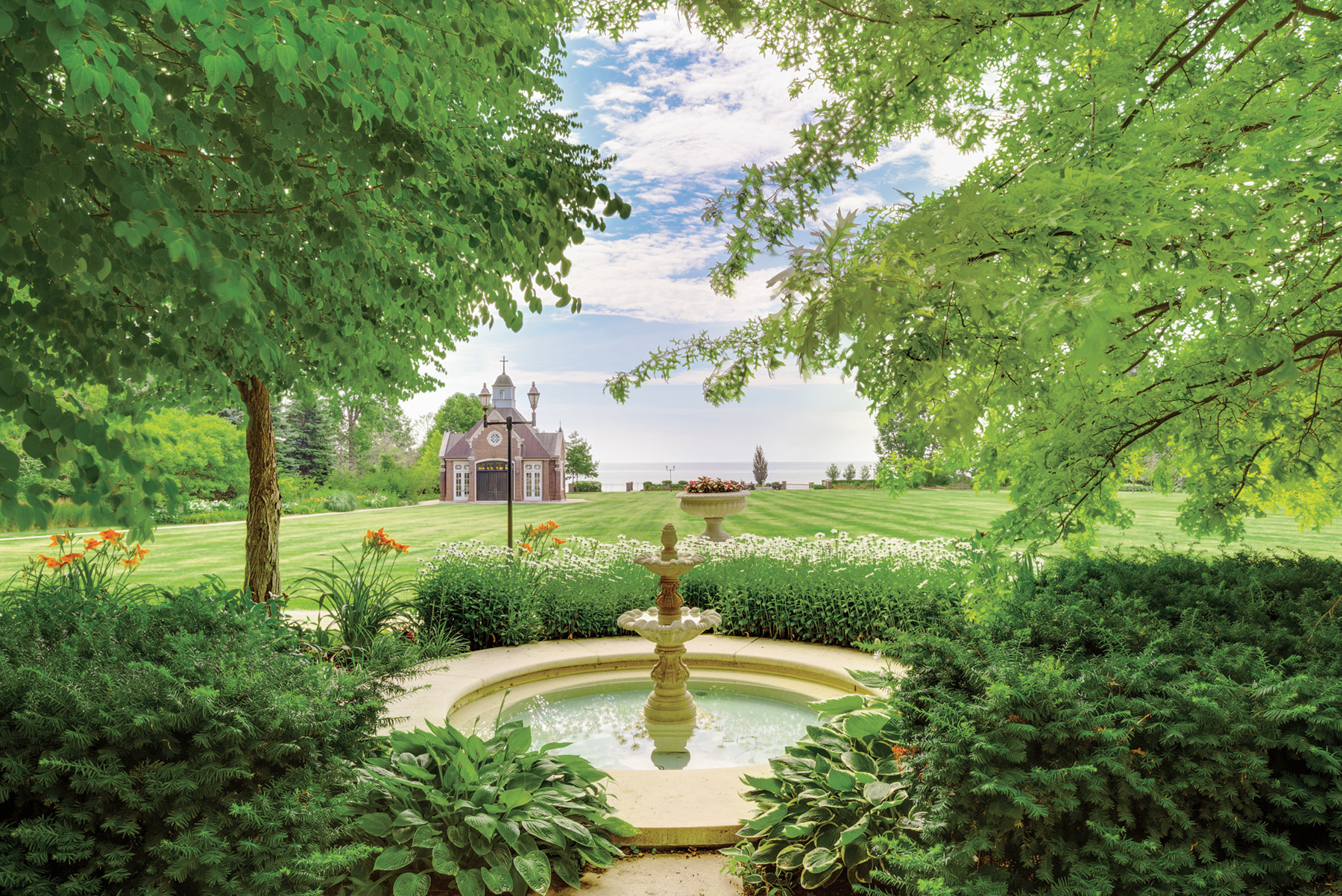 Tranquil gardens & a fountain frame a view of the private chapel on-site
Like Blickling, Chelster was built in the style of the Jacobean era, which originated in 16th-century England under the reign of King James I. Chelster is further characterized by its classical Elizabethan lines with an Italian twist, used by Canadian architect William Hicks to highlight features such as oversized windows and imposing towers, which are typical Jacobean elements. The interior is equally Anglo-inspired, with a library, stately fireplaces and a billiard room. A chapel dedicated to Saint Francis of Assisi sits on the lawn. "It was my intent that the home would look 100 years old when newly constructed and that it would still look 100 years old when we look back in 400 years' time," Powell says. The established timelessness of the Jacobean style provides an immediate sense of calm, something Powell seeks out in Chelster's classic study and two-storey library, which provides a home for generations of the family's prized accomplishments, from sports trophies to photos of Powell with Fidel Castro.

Yet, even with those royal proportions, Chelster Hall maintains the warm feel of a family home (it was named after the Powells' two golden retrievers, Lady Chelsea and Manchester), with countless cozy nooks and crannies to curl up in, such as the doll-filled playroom on the lower level. Each of the six bedrooms has its own theme, like the purple Maharaja Room, a nod to Powell's upbringing in India. His long-term vision for Chelster Hall ensured that the home would have everything its future inhabitants could desire. That means modern features, including the 12-car garage tucked away underground, a tennis court, a fitness room, a spa and two pools, indoors and out, the former of which runs on a chlorine-free filtration system, so there's no chemical odour. The lower level takes the concept of the rec room up several notches to house a bowling lane, home cinema, dance floor and a Tuscan wine cellar to accommodate some 7,000 bottles. Chelster Hall's most virtuous feature, however, is its role as a sanctuary. Its timelessness offers a true refuge from the demands of everyday life. It's a calm that washes over you as soon as you arrive, and it's one you won't soon want to leave. "Whatever happens in the day, when you come home the gates close and you can leave it behind, if you choose," Powell says.

But with his daughter and wife now busy running their own clothing businesses, the decision was made to move on. The time has come for Chelster Hall to become home to a new family. It's a move that Powell makes with great perspective. "Some would describe it as downsizing. I might say, 'rebalancing.' "
---
By Caitlin Agnew – *This article originally appeared in INSIGHT: The Art of Living | Winter 2018

Photography by: Andre McKenzie/Silverhouse