With its cool-climate viticulture, British Columbia's Okanagan region is a wine-producing Eden. The long, sun-filled summer days, tempered by cool, crisp nights, yield wines with a natural acidity and a unique flavour profile. Many first-time visitors to the vineyards of Liquidity, in Okanagan Falls, come with a purpose — swirl, sniff and sip, perhaps a fruity viognier, a savoury pinot noir or maybe a peachy chardonnay. That is, until they arrive at the estate.

"At this point, guests realize we are much more than a winery," says Ian MacDonald, Liquidity's founding partner and president, and client of Sotheby's International Realty Canada.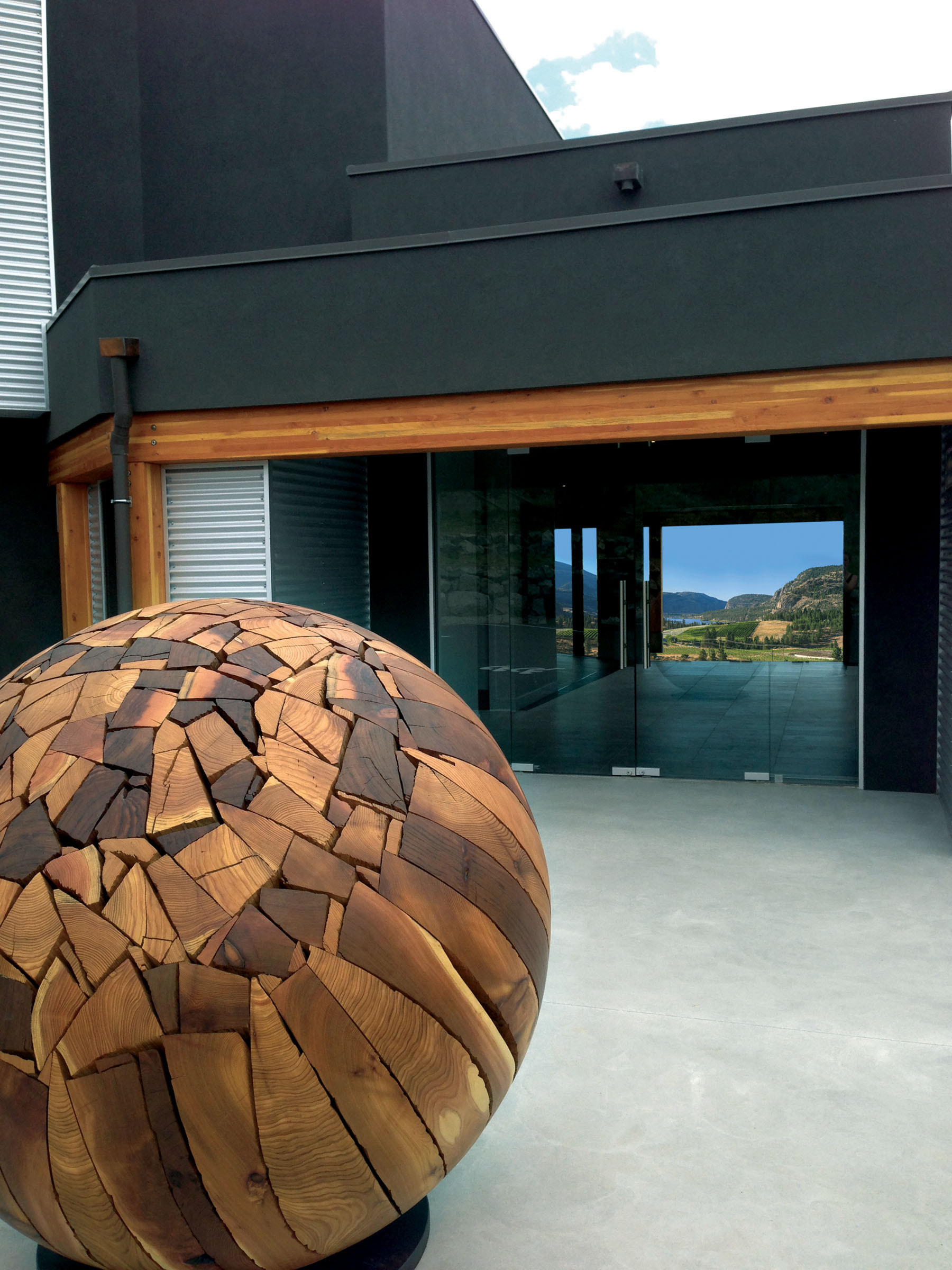 Shattered Sphere, by sculptor Brent Comber, greets visitors at the entrance to the main building
It's a realization that becomes apparent right at the entrance. Grand black iron gates open to reveal a tableau of 18-foot-tall tree sculptures built from reinforced-steel bars and designed by MacDonald himself. The massive scale of the man-made trees, juxtaposed against natural grasses, is an intimation of what's to come.

"When I purchased the land in 2008, it was just a well-established old vineyard and not much else," Macdonald notes. "I knew it had to be more than that to keep people's attention. It needed to be experience-driven, so I designed it that way — from the ground up."

And MacDonald knew how to do that. He was a marketing executive who'd built a successful clothing company that supplied uniforms for 13 consecutive Olympic Games. The business took him around the world and, along the way, presented the chance to work with wine producers that were sponsors of the Olympics.
"I lived in Italy and France, where food is part of the wine experience and where it's sourced from what surrounds you — the terroir. In many ways, [people have] lost that connection to the land and I wanted to go back to [it]."

He added a bistro to his property, where everything is made using local ingredients, most of which are grown on the grounds. "It was a crazy proposition — building a restaurant in the middle of nowhere — but I'm really proud of it." His venture also ticked the experiential box and would become a magnet for wine- loving day-trippers who appreciate good meals. But it wasn't enough for MacDonald.

"I felt like there was still something missing," he says. "I am passionate about art and have been collecting for years. I thought [that] now is the opportunity to show off my collection."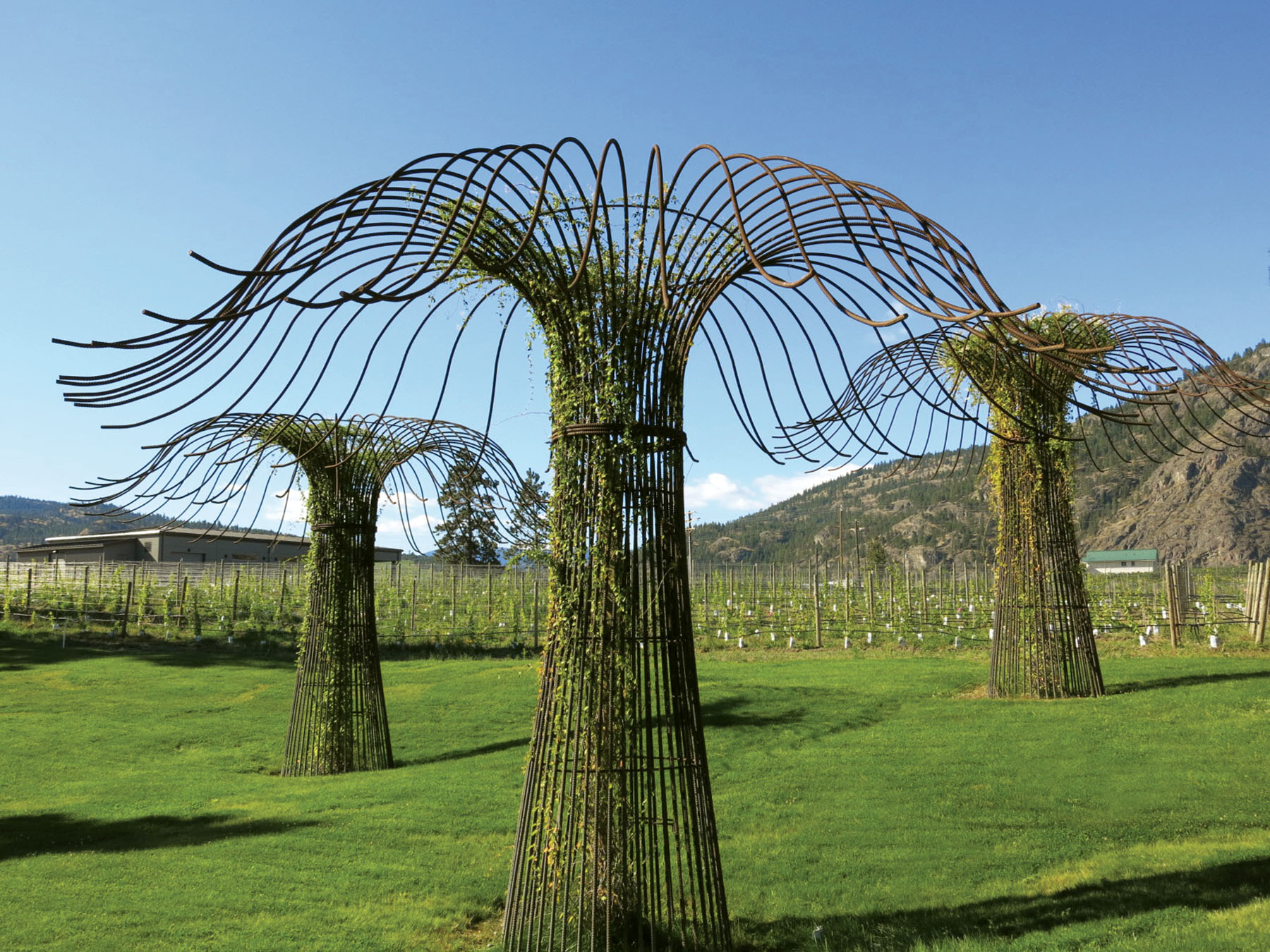 Grid interiors of the steel trees have been planted with silver lace vines
He likens arriving at Liquidity to going on a self-guided art tour that encourages guests to stroll through the tree-sculpture park, then wind their way through the vineyards to the main building. "The art at the gates helps set the tone for things to come, including other sculptures that dot the landscape," MacDonald explains. Those artworks include Arlo Argoseris (Mountain Dandelion), a mammoth installation in polished stainless steel and aluminum, by Mark Baltes and Ken McCall; People, free- standing abstract steel forms of humans, by Martha Sturdy; and Shattered Sphere sculpture by Brent Comber, using old-growth wood from fallen trees in Vancouver's Stanley Park.

The Shattered Sphere marks the entrance to the main building. If anything can compete with its visual impact, it's the view — from an 11-by-11-foot glass wall fronting the lobby, which leads to another glass wall with the exact same dimensions, which, MacDonald says, acts as a "sort of viewfinder" to the vineyard. The breathtaking vista is a series of verdant rolling hills facing south over a spectacular view of Vaseux Lake and McIntyre Bluff. It's an optic so stunning that BC Tourism used it for more than 20 years in its promotional material. It's also an image that visitors always remember. "Guests tell me [that] the minute they walk into [Liquidity's] lobby, they feel at ease," says MacDonald, "and that creates an intimacy heightened by the art."
MacDonald curates his art with that intimate connection in mind. "I have been collecting for over 25 years. Almost everything I own is because of a relationship I have with the artist. It means a lot to me to know something about the person and [the] creative process and technical skills. Most of the art I show at Liquidity is meant to create a reaction and some conversation. That's part of the experience."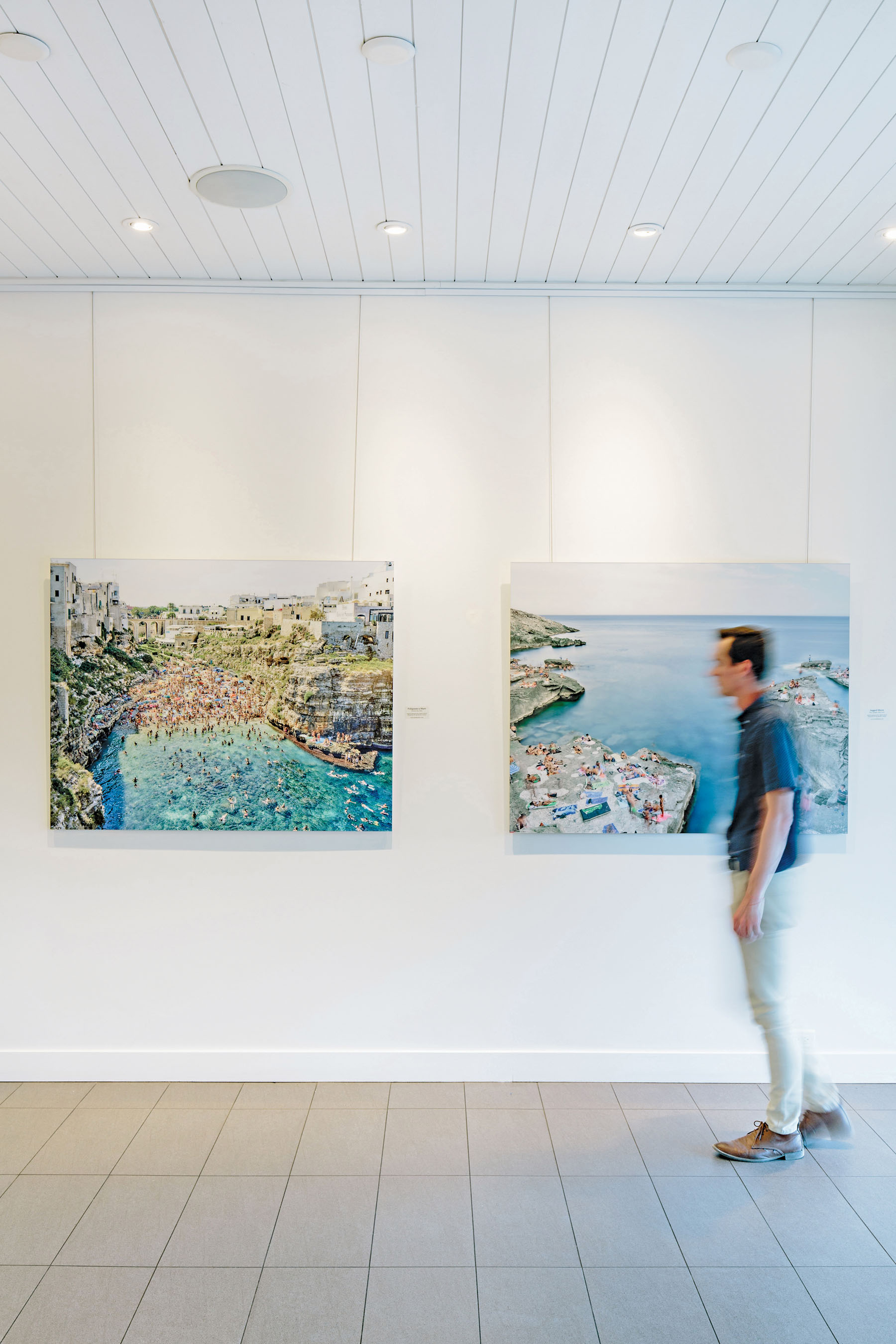 The on-site art gallery enhances the visitor experience for wine aficionados
All of the exhibits are by North American artists — pieces from MacDonald's permanent collection, which he rotates year-round — shown alongside the works of guest artists. Liquidity also hosts special events, including a recent touring exhibit — "Photo Ark" — of National Geographic photographer Joel Sartore's intimate portraiture of endangered species in captivity.

For MacDonald, creating this unique experience extends beyond viewing art at the winery. Liquidity has launched the Equity Tasting Club where twice a year, members are delivered three 200ml samples of upcoming releases which they can sip in the comfort of their own home, before they place their order.

While membership involves a commitment to purchasing wines, MacDonald points out that entry to view the art on site is free. "I can't imagine a world without art, and sharing the experience of art should not come at a price."

Uncorking Art

Like Liquidity, other vineyards are offering unique experiences that pair fine wines with fine art

Castello di Ama

This winery's historical setting — a restored Etruscan village in Tuscany's Chianti region — is enhanced by spectacular con- temporary art. Its site-specific works include sculptor Anish Kapoor's light installation — a fiery red bowl carved into the floor of a 12th-century chapel on the property. Another is Daniel Buren's wall of mirrors installed on the exterior of a building; 25 metres (82 feet) long, it reflects the surrounding countryside and takes "landscape painting" to a whole new level.

Château La Coste

Art de vivre is cultivated in style at this 200-hectare (500- acre) biodynamic vineyard in Provence, nestled in an idyllic setting of olive groves, rocky hilltops and lush valleys. In the lobby are paintings by Damien Hirst, a tapestry by Fernand Léger and embroidered pieces by Louise Bourgeois. Also of note are the on-site installations of other renowned artists, includ- ing architects Tadao Ando and Frank Gehry, sculptor Alexander Calder and activist artist Ai Wei- wei. Bonus: there's a Michelin- starred resto and a chic hotel.

Huff Estates Winery

Closer to home, in Southern Ontario's vibrant Prince Ed- ward County, is Huff Estates, whose award-winning wines are paired with original art on-site, at Oeno Gallery. Specializing in contemporary Canadian art and secondary-market paintings by Tom Thomson and Maud Lewis, it also represents Canadian art- ists, like Milly Ristvedt and Scott Pattinson, glass sculptor John Paul Robinson, photographer Ryan Van Der Hout and mixed- media sculptor Philippe Pallafray.

---

By Christy Wright – *This article originally appeared in INSIGHT: The Art of Living | Fall 2018

Photography courtesy of: Lionel Trudel; Jon Adrian