Nestled amid majestic pine trees, a luxe-rustic 20-room boutique hotel boasting a spectacular waterfront with jaw-dropping views of Lake Bernard offers all-season accommodations, five-star dining and a slew of recreational amenities. Thanks to a modern refresh, the Northridge Inn and Resort is causing a stir and becoming the destination of choice for the Muskoka set and vacationers from Toronto.

David Clemmer and Stephane Auben purchased the once run-down hotel in 2014 after falling in love with the size of the property and its location, a mere stone's throw from the lake. "It has great bones [and] also this cool, raw space that looked like it had come straight from a '70s movie set," says Clemmer. "It had stained wallpaper and wall-to-wall forest green carpet in the dining room, but we could see the potential."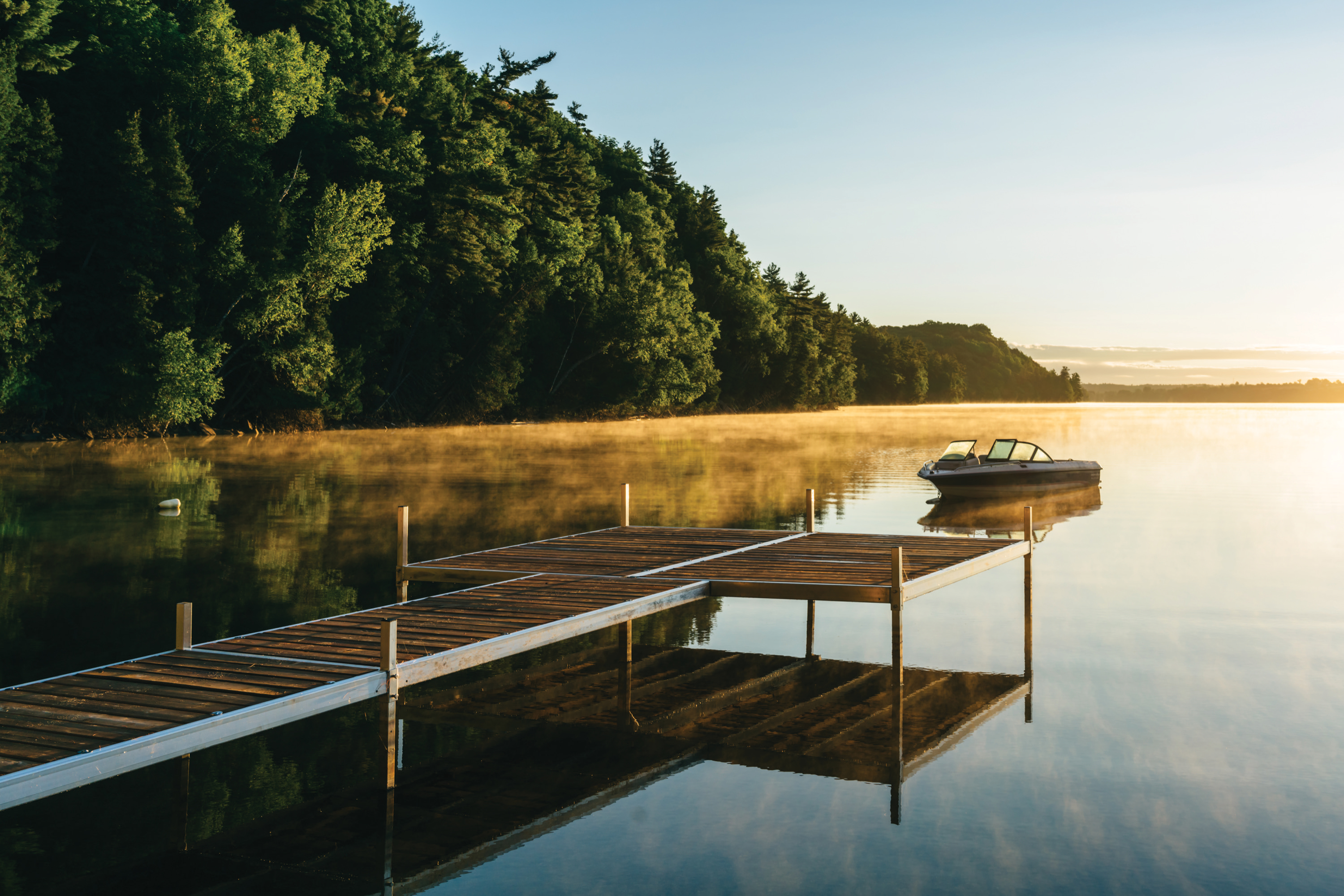 As co-owner of Judy Inc., a photography and artist management agency with offices in Toronto, Montreal and Vancouver, Clemmer typically works with stylists and interior designers such as Tommy Smythe, Candice Olson and Suzanne Dimma, formerly the editor of House & Home magazine. "Being around all that talent and constantly looking at décor magazines, you can't help but want to create something beautiful," he says.

When Clemmer and Auben brought in their style mix of modern and refined rustic to refurbish the resort, luxury and individuality were always top of mind. "We didn't want to follow a traditional template, and so, all 20 rooms have their own unique décor and personality," Clemmer explains. "We want every guest to have a different experience."

That vision was translated into rooms furnished with Hudson's Bay blankets, Philippe Starck and Eames chairs, custom fur pillows and throws, sumptuous Montauk loveseats and elegant Restoration Hardware beds. Lodging options are wide-ranging, from four family-geared cedar chalets replete with private hot tubs and 20 lakeside rooms with wood-burning fireplaces and rain showers to four glamping tent suites and even a fully equipped Vintage Airstream. But don't expect to be roughing it at the Northridge. For starters, the glamping tents come all kitted out with king-size beds, spacious seating areas and whimsical Moooi chandeliers (yes, there's electricity in the tents).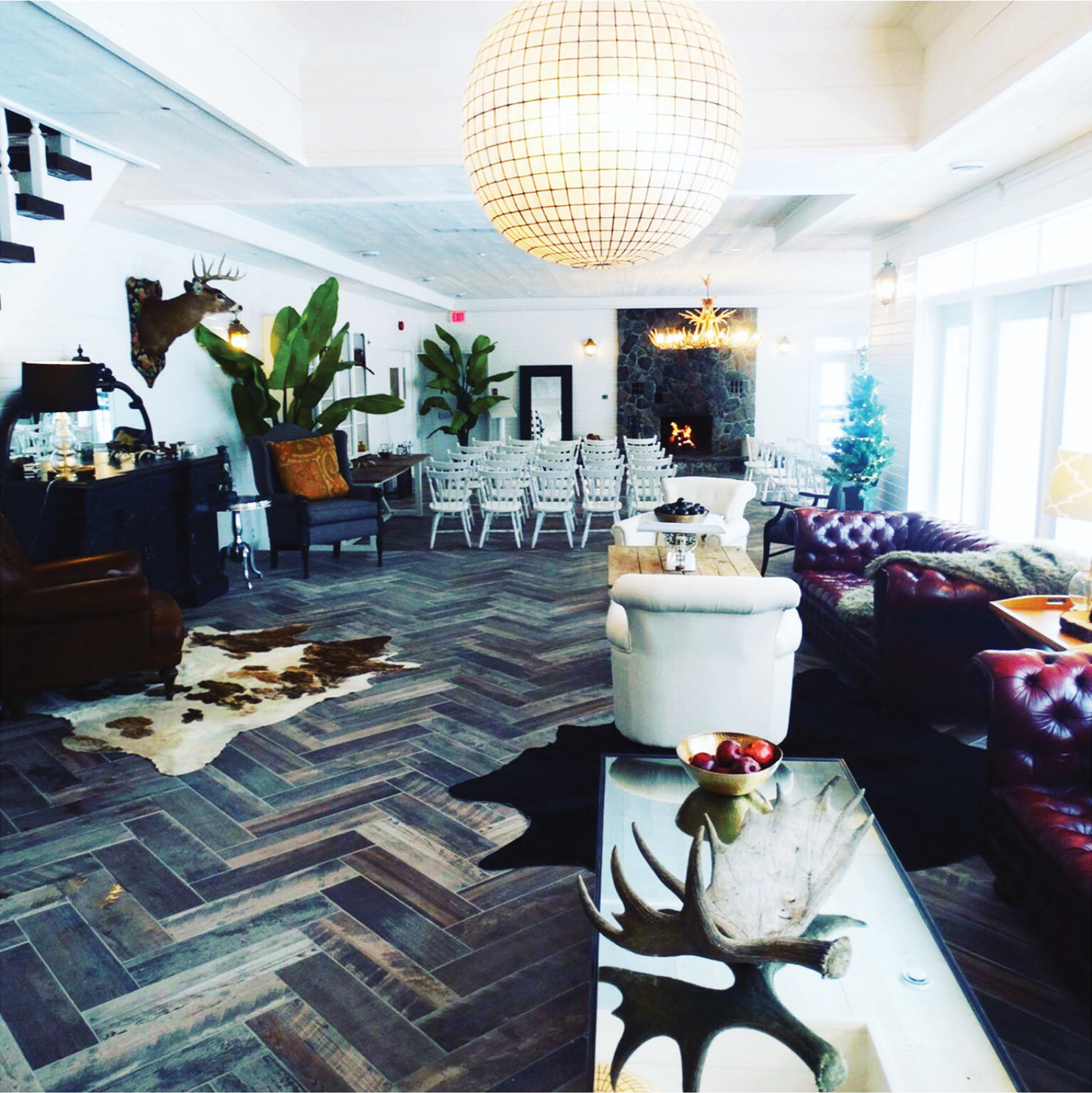 The star of the inn is the well-appointed Lakeview Dining Room and Patio, with its original stone fireplace, dramatic oversized antler chandelier and vintage armoires. The 1,500-square-foot room is bright and airy — more reminiscent of a Scandinavian spa than a Canadian inn — and in summertime, when the doors are wide open, it affords a picture-perfect front-row-seat lake view. The designer duo's eye for detail was applied to the flooring, viewed as a blank canvas by Auben, who created a work of art by choosing wood-look tiles laid out in a herringbone pattern. The menu, by award-winning chef Luca Ballard, is dictated by the seasons and locally sourced ingredients and offers a modern take on Canadiana dishes, such as rosemary-garlic prime rib with aged Quebec cheddar and buttermilk fried chicken with waffles. Highlights in the Copper Fox Lounge are the rustic cedar-log walls, the new energy-efficient gas fireplace, comfy tufted-leather couches and a walkout to the Moroccan-inspired Sandbar poolside courtyard.
It's no surprise that Northbridge has been named by Trip Advisor as one of the top 25 boutique hotels in Canada and is now a popular go-to destination, be it for a wedding, business conference or family get-together. "We've had people come back and bring items that they think would look great here — kind of a hostess gift," says Clemmer, laughing. "One guest brought us a vintage fur blanket that we made into pillows."

Ultimately, however, it's Clemmer and Auben's expert, yet warm, approach to hosting that brings back city slickers who book months in advance, just to take an outdoor yoga class, relax on the beach, play cricket or perhaps grab a drink or two with the inn's proprietors. It's commonplace for Northbridge guests to end up becoming friends with them, says Clemmer. "I think it's the best problem to have!"

---

By Tracey Ho Lung – *This article originally appeared in INSIGHT: The Art of Living | Spring 2017

View Real Estate listings in Muskoka | Photos: Jen Grantham/stocksy